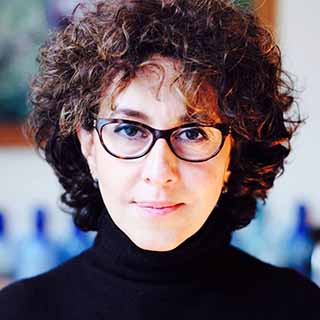 'How Is Your Daughter Doing?'
Working from London, Iranian journalist Nazenin Ansari has greater freedoms and protections than colleagues in her home country. But the managing editor of the independent news websites Kayhan London and Kayhan Life says people close to the regime still try to pressure her and other journalists in exile with threats to family.
London I was in my second year of university in Washington when Iran's 1979 Islamic Revolution overthrew the nation's monarchy. The revolution upended my life. Iran's new Supreme Leader Ayatollah Ruhollah Khomeini ordered the executions of those who had worked under the regime of ousted Shah Mohammad Reza Pahlavi, including my father, who served as one of the shah's ministers. He was abroad though and avoided that fate by remaining in exile, along with my mother and two siblings.
Agents confiscated my parents' Tehran home and belongings and broke into the homes of relatives who remained in Iran, including my grandparents, uncles and aunts. One uncle was questioned for hours while blindfolded.  
Journalists who've reported on repressive regimes sometimes have no choice but to flee for their safety. But exile is no shield for loved ones back home. The threat of family reprisals puts journalists in a fraught corner. Here, they tell their stories:

Jessica Jerreat,
Press Freedom Editor
Like many other Iranians, including technocrats, military personnel, entrepreneurs, artists, writers and bankers, my parents, siblings and I became refugees: helpless, stateless and intimidated in exile by the regime. We stopped all communication with relatives and friends inside Iran – for their safety. 
After I was granted political asylum in the U.S. my new status shielded me from having to deal with the Iranian regime's machinery. It also gave me the freedom to cover stories involving Iranian dissidents, prisoners of conscience and abuses of human rights.
But I have faced subtle forms of interference.
From Iran to United Kingdom
In recent years, sources unhappy with my news organization's reporting email me and ask, "How is your daughter doing? Is she well?" Although this kind of email is not a direct threat to my family, it is a familiar form of intimidation by agents of the Iranian regime's intelligence arms.
I remember the first such email that I received. It sent a shiver up my spine. I was trembling for a few days, because a mother's primary responsibility is to protect her child. 
We have been put under legal pressure by individuals close to the Iranian regime in response to stories that we published. Like all publications, sometimes we end up removing articles from our website rather than engaging in legal letters going back and forth. 
Kayhan London (Persian) and Kayhan Life (English) are independent internet-based news outlets. The best way to close us down is to take us to court and force us to waste our time, energy and funds fighting legal battles rather than concentrating on reporting the news. 
Our Iranian journalists work not just from Britain but also from Cyprus, France, Germany, Italy, Turkey and the U.S. Many still have family members in Iran but do not go back there. 
Some of those journalists have experienced subtle forms of harassment. Relatives in Iran receive phone calls from people asking them to contact the journalists and say, "please don't write this" or "please be careful" when writing about specific issues. 
These kinds of pressures energize you. They show that what you are doing is very important and that you have to continue. 
So we are continuing our work by documenting events related to Iran and bringing to light stories that other news organizations may not be aware of, or do not cover. 
For example, Kayhan London was the first news outlet to report that Iranian airline Mahan Air continued to operate flights to and from cities in China in January and early February, despite warnings from international health organizations about the spread of the coronavirus. We also published exclusive interviews with Iranian oil workers who started going on strike.
We need to report on such developments because of who we are as journalists. We have to fight back. But at the same time, we have to be extra careful and weigh our options on whether it is worthwhile to publish stories that could put us in legal trouble, when those stories already are posted by large news outlets that have more resources to fight legal battles. 
This interview has been edited for length and clarity.

Iran's representative to the United Nations did not respond to VOA's request for comment. The country has previously rejected criticism of its harassment of journalists, telling a United Nations General Assembly committee that Iran is a victim of "media warfare" funded by adversarial governments including the United States.