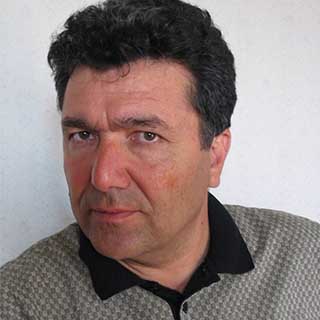 'They Have to Denounce Me'
Persecuted over his reporting first under Soviet rule and later under Turkmenistan's first president, Ak Welsapar fled Turkmenistan in 1993. The journalist now lives in Sweden with his wife and children. From exile, Welsapar produces the weekly YouTube show, Erkin [Free] Turkmenistan, which has 30,000 followers, and runs Gun Publishing House, which produces books in Turkmen and European languages.
Stockholm, Sweden During Soviet rule, I was banned from publishing and declared "enemy of the public" because of my investigative journalism.
After independence in 1991, I was once more labeled "enemy of the public" by Saparmurat Niyazov, Turkmenistan's first president. I was dismissed from the Writers' Union and Union of the Journalists of Turkmenistan. My books were banned from bookstores and libraries and burned. My oldest child died under suspicious circumstances in 1991. He was 11.
Journalists who've reported on repressive regimes sometimes have no choice but to flee for their safety. But exile is no shield for loved ones back home. The threat of family reprisals puts journalists in a fraught corner. Here, they tell their stories:

Jessica Jerreat,
Press Freedom Editor
In October 1993, after years of house arrest, I left the capital, Ashgabat, in secret and arrived in Moscow. I had to leave my wife and three children behind.
In Moscow, I worked for Radio Liberty's Turkmen service. Turkmenistan pressured my wife to try to make me quit, and when I refused, my wife was expelled from her teaching position, and a school barred one of my children.
Through the help of international pressure, I was able to reunite with my family in 1994.
Continuing to live and work in Moscow became difficult, and the same year, under the protection of the United Nations, we emigrated to Sweden.
From Turkmenistan to Sweden
Niyazov died in 2006, but hope for freedom and democracy didn't see light under the new president, Gurbanguly Berdimuhamedow.
Berdimuhamedow's authoritarian rule led to a more restricted Turkmenistan. Requests for a visa so I could visit my ailing parents were denied without reason. My father died in 2012 and my mother in 2017.
None of my siblings are allowed to leave Turkmenistan. I have not seen any relatives in Turkmenistan for 27 years. They will be persecuted if they reach out to me or I to them. They have to denounce me and cut off our relationship to avoid persecution.
This interview has been edited for length and clarity.
Turkmenistan's Foreign Ministry did not respond to VOA's request for comment.