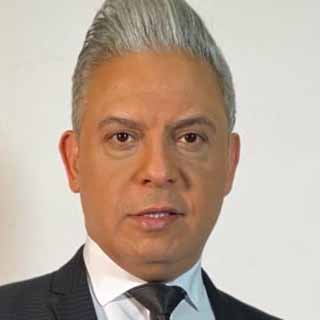 A Father Gone, A Brother In Prison
Moataz Matar started a social media campaign to draw attention to the plight of his brother, who was jailed in retaliation for Matar's journalism. Cairo responded by raiding their mother's home and arresting two other siblings. Since 2015, when Matar was sentenced in absentia to 10 years in prison on anti-state charges, authorities repeatedly harassed his family.
Turkey I fled Egypt following President Abdel-Fattah el-Sissi coming to power in 2013. Security forces repeatedly arrested my father, Alawi Matar, and four brothers.
My brother Montaser, who was detained for several days in 2016, fled Egypt after his release.
Journalists who've reported on repressive regimes sometimes have no choice but to flee for their safety. But exile is no shield for loved ones back home. The threat of family reprisals puts journalists in a fraught corner. Here, they tell their stories:

Jessica Jerreat,
Press Freedom Editor
In 2017, my father and two other brothers, Moaz and Muhannad, were arrested for 10 days.
My father was a well-known football player and coach in Egypt for the professional Cairo club al-Ahly SC. After he was released from prison, he was fired.
My father loved his profession so much. He couldn't handle the loss of his job and passed away in October 2017.
My younger brother, Moaz, was arrested again in Cairo in 2018. Our family didn't know his whereabouts for six months. He remains in custody.
I started a campaign on social media – "You are not alone" – to shed light on his case and what detainees go through. One week later, in March 2019, security forces raided my 67-year-old mother's house. They arrested my brothers Mo'tasem and Muhannad, along with their wives and four children. The wives and children were released after few hours, but my brothers remain in prison. No one knew their whereabouts till later in 2019, when they were taken to a court in Cairo.
The scale of the crackdown on Egyptian journalists and dissidents is getting worse, especially when authorities resort to arresting family members and relatives.
Editor's note: As part of its pandemic restrictions, Egypt barred visitors from prisoners.
After the spread of the coronavirus, visiting my brothers became almost impossible, and the families of the detainees don't know much about family members in prison.*
I worry about my mother and sister, and my brothers' wives and children. The men in the family either fled Egypt, are in prison, or, in my father's case, died from a broken heart.
This interview has been edited for length and clarity.
Egypt's Foreign Ministry did not respond to VOA's request for comment.