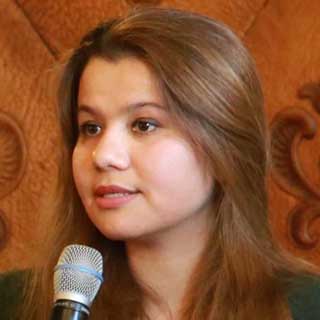 'They Searched Me, Even Followed Me'
Tajikistan likes to keep close tabs on Humayra Bakhtiyar. Before the journalist moved abroad, agents would call every time she published an article, often pointing out where she was at that exact moment. After years of threatening calls and a smear campaign, Bakhtiyar moved away, but authorities still call. Only now they threaten to arrest or harass her family if she doesn't return to Tajikistan, where she faces charges of justifying extremism.
Germany I covered everything that's going on in Tajikistan. I started my career covering social issues, very simple topics. Then, I found myself interested in parliamentary issues while working in 2007 for radio station Imruz (Today).
I became a parliamentary reporter for eight or nine years, until I left Tajikistan. I was interested in nepotism and corruption in the Tajik government, freedom of speech, women's rights, human rights, education and so on. Every topic I covered, I found some connection with the government.
Journalists who've reported on repressive regimes sometimes have no choice but to flee for their safety. But exile is no shield for loved ones back home. The threat of family reprisals puts journalists in a fraught corner. Here, they tell their stories:

Jessica Jerreat,
Press Freedom Editor
From 2013, I started receiving signals from the intelligence service that I should stop writing.
Sometimes [intelligence services] said I should be careful, sometimes they said that I should think about myself and my family. Every time I published something, someone from the intelligence service would talk to me. He would call and harass me, saying, "You should answer me. We should talk, we should meet."
Every time, he signaled that he knew where I was: at home, on the bus, or the gym. I met once with this person and he tried to explain that my views and work were wrong and suggested I be a spy and report about my colleagues. Of course, I did not accept.
After that, the harassment became more serious. They searched me, even followed me on the street. My friends and colleagues started to know about my situation. Some were with me all the time, saying I shouldn't be alone. It was a horrible period.
Editor's note: Students and teachers claim the Tajik government pressures them to troll government critics. RFE/RL's Tajik Service reported.
I was subject to an online harassment campaign by trolls controlled by the intelligence service who receive salaries from the national budget.*
They started publishing dirty photos and false stories about my life and even about my family and parents. It was a very difficult period.
From Tajikistan to Germany
A friend advised me to take a break. I got an internship at Deutsche Welle (DW) in Bonn, in its Russian service for the summer of 2015. My first article was about a former colonel, Gulmurod Khalimov, who joined ISIS. The second was about how China was slowly getting Tajikistan under control.
Immediately after that article, a DW reporter in Dushanbe was [questioned] by the Ministry of Foreign Affairs and the intelligence service. They asked why I was working in Germany.
My editor showed that email to me and I was like, "It's OK, I am used to live in such a life."
When my internship was nearing its end, I started talking to my friends in Tajikistan telling them I would likely return. They said I shouldn't because it could be dangerous. But I still returned.
The harassment continued. I found a scholarship in Germany in September 2016. When I made it to Germany, it was difficult to think about settling for a normal life with all the problems in Tajikistan. I'm afraid because I'm here in Europe, but I feel responsible for the safety of my family.
My family has been harassed by the authorities. The police called me twice and said that I should return, or they can arrest my family, including my brother and father. It started in May 2018, and the last phone call was December 2019. They told me that I should return to Tajikistan, it is safe for me there. I recorded these conversations.
My father had a heart attack. He says nobody disturbs him nowadays, but in June 2019, police told him that if I wouldn't return, he would lose his job as a teacher, or the police could give my name to Interpol. They told my father he had no right to teach young Tajiks if he couldn't teach his daughter the "right things" about the country.
The government opened a criminal case against me in Tajikistan in December 2018, which can send me to jail for up to seven years. I was charged with public motivation to carry out extremist activities and mass justification of extremism. The government also put my name on a list of people who have contact with extremist groups.
This interview has been edited for length and clarity.
Tajikistan's Foreign Ministry did not respond to VOA's request for comment.