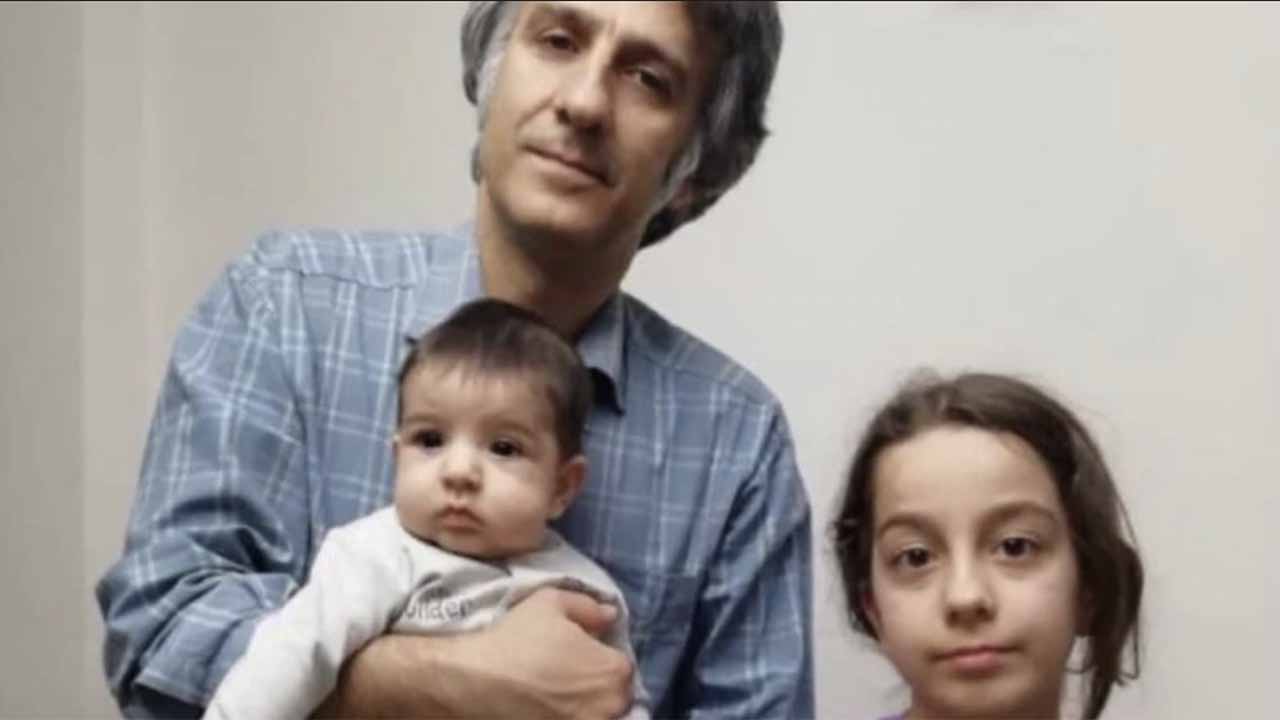 Alireza Alinejad, brother of New York-based VOA Persian TV host Masih Alinejad, with his infant son and daughter prior to his September 2019 arrest by Iranian authorities. (Courtesy of Masih Alinejad)
 Defiant in the Face of Persecution
Tehran's harassment of relatives is psychologically harmful but drives us to work harder, exiled Iranian journalists say
Iranian journalists living in exile say Tehran's years-long practice of persecuting their relatives takes a psychological toll but bolsters their resolve to keep reporting.
Senior journalists at three Europe-based news outlets told VOA Persian that Iranian authorities try to pressure exiled reporters by calling in elderly relatives for questioning, freezing family assets, threatening legal action and, in extreme cases, jailing siblings.
Iran in July sentenced the brother of a VOA Persian TV host to eight years in prison for alleged national security offenses. Masih Alinejad, the New York-based host of the Tablet show, accused Iran of taking her brother Alireza hostage to try to silence her criticism of the nation's ruling clerics.
The harassment spikes during periods of heightened unrest in Iran. The Paris-based media watchdog Reporters Without Borders noted a surge in November 2019 that coincided with exiled journalists reporting on anti-government protests over a sudden increase in Iran's subsidized gas prices.
The targeting of family members and colleagues of journalists in exile is a common tactic used by authoritarian regimes globally. Reporters from China, Turkey, Venezuela, Pakistan and elsewhere described to VOA how relatives are jailed, threatened or forced to denounce them.
Iran's representative to the United Nations did not respond to VOA's request for comment. The country has rejected criticism of its crackdown by U.N. experts, saying at a U.N. General Assembly committee in October 2018 that it sees itself as a victim of "media warfare" funded by "adversarial governments" pushing "blind hate, fabricated, false news, and provoking disruption and destruction."
Under threat
The exiled Iranian journalists who spoke with VOA said threats toward relatives of their colleagues have declined in recent months. During that time, Iranian authorities have struggled to control the deadliest coronavirus outbreak in the Middle East. 
But the journalists said the cumulative impact of years of harassment has been harmful, not just to themselves and their colleagues, but also to their families. 
Several Iranian journalists working for the London-based BBC Persian network received anonymous death threats this year. BBC Persian TV host Rana Rahimpour told the U.N. Human Rights Council in March that she received a written message threatening that the journalist, her children and husband would be assassinated within a month and warning that her elderly parents in Iran also could be targeted. 
The source of the threats was not identified, but four U.N. human rights experts issued a statement saying that "if confirmed," the messages would indicate that "Iranian authorities are prepared to use force extra-territorially, in violation of international law."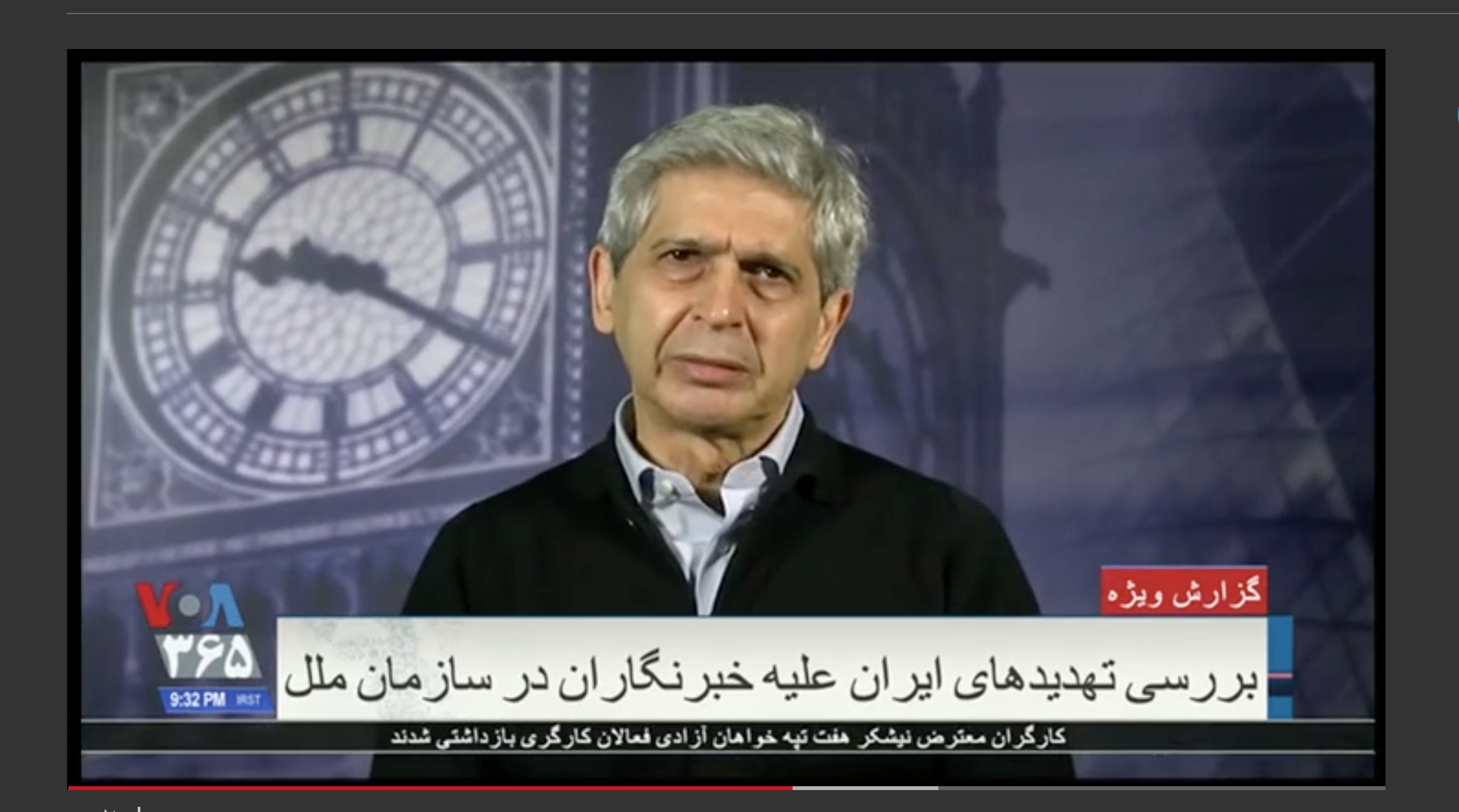 BBC Persian Special Correspondent Kasra Naji
BBC Persian Special Correspondent Kasra Naji shared with VOA the results of a previously undisclosed BBC Persian staff survey conducted in March, showing the extent of harassment its journalists face. It found that 69 out of 102 respondents reported one or more family members in Iran being called in for questioning, harassed or threatened by authorities. 
In some cases, intelligence agents threatened the relatives by warning that the journalists could be killed in a traffic accident or kidnapped and brought back to Iran to face punishment, Naji said.
Naji also said a criminal investigation and a government-ordered asset freeze targeting 152 current and former BBC Persian staff and contributors have remained in effect since 2017.
As a result, BBC Persian journalists traveling to Iran to visit family face arrest and imprisonment, so they no longer take the risk, he said. 
"At the most basic level of suffering, 49 of the BBC Persian journalists who took the survey said they had learned of the deaths of parents in Iran, and were too afraid to attend the funerals," Naji said. 
"The asset freeze also has caused untold problems for our family members who are still in Iran and cannot divide or sell their shares of inherited property because the name of a BBC Persian journalist appears on the deed," he added.
Niusha Boghrati, chief editor of VOA sister network and Prague-based Persian broadcaster Radio Farda, described the persecution of relatives as painful. "That has been the most disgusting method that I have ever seen a government deploy in order to pressure journalists whose job is solely to further the free flow of information," Boghrati said. 
Outlets run by exiled journalists also face threats of costly legal action.
Nazenin Ansari, chief editor of independent Iran-focused news sites Kayhan London and Kayhan Life, said individuals close to the Iranian government send messages complaining about articles she published and warning of legal measures if they are not removed.
"Like all publications, sometimes we end up removing articles from our website, rather than engaging in legal letters going back and forth," Ansari said, adding that the information in the deleted articles already had been widely reported by other news sites. 
All three journalists said their news teams have channeled personal pain from Iran's harassment campaign into a stronger effort to inform audiences in their native country about its multiple crises, from the pandemic to a mismanaged economy under toughening U.S. sanctions, anti-government street protests and human rights abuses. 
"While some of our colleagues have left the BBC because of Iranian harassment pressures, there are far more who want to join our team in spite of them," Naji said. 
The typical reaction of family members is defiance, the BBC Persian journalist said. "Many tell the intelligence agents that they have no control or sway over what the journalists do in London," Naji said.
Ansari, of Kayhan London, said the pressure energized reporters. "It shows you that what you are doing is very important and that you have to continue."
Her outlet has published exclusive interviews with striking Iranian oil workers, and at the start of the year was the first to report that an Iranian airline was still flying to China despite the spread of the coronavirus.
Boghrati said Radio Farda has also increased its reporting, including expanding investigative projects and human rights programming.
Boghrati added that a drop in harassment in recent months could be a sign that Tehran thinks its actions are backfiring. "How many times do they want to drag an old man or woman to the Intelligence Ministry or threaten the sister or brother of a journalist and see that there is no result whatsoever coming from it?"
This article originated in VOA's Persian Service