'I thought that through marriage, I would be able to finish school'
Kalar, Iraq At 16, Shaima married a man 12 years her senior to ease her parents' money troubles. Soon after her marriage, her husband inflicted a beating that permanently damaged her left eye because she was studying for classes at the local arts institute. Shaima, who thought she had his support to continue her education, attempted suicide. She survived, only to endure a divorce that left her isolated in her lifelong hometown in Iraqi Kurdistan. Today, she has resumed her studies in theater, music and the arts.
Transcript:
My father was a peshmerga (Kurdish national soldier), and our economic situation wasn't good. We are four kids at home: three girls and a boy.
Therefore, I decided to shoulder some of those responsibilities. I didn't want to be a burden on them, but I couldn't find any kind of job.
I really looked hard to find a job, but I couldn't find one. So, I had to get married because I thought that through marriage, I would be able to finish school.
I thought (my husband) would encourage me, but unfortunately, he didn't. He abused me.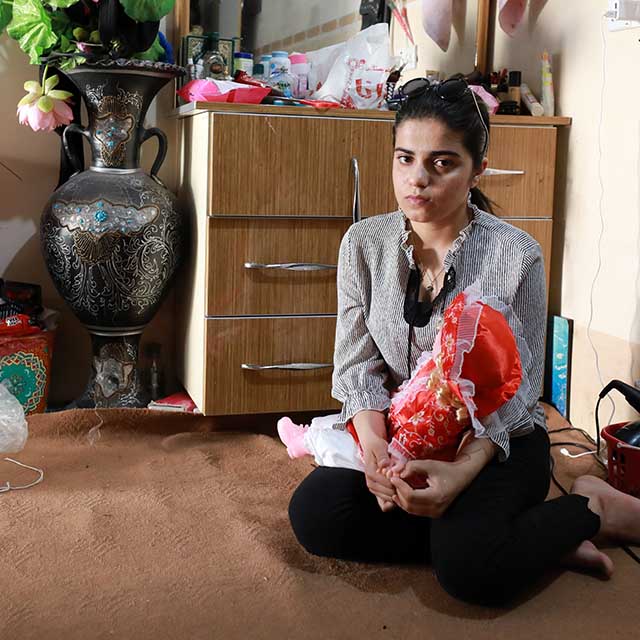 Married at 15 in 2014, Shaima holds her favorite childhood doll. After going through a difficult divorce, she says her friends looked down on her. (Photos by Micah Garen for VOA News)
I got my marriage license outside of the Kalar court in the Khanaqin District, where underage girls easily get approved for marriage.
At a very early age, you have to put a huge responsibility on your shoulders. It's overwhelming, because you don't know whether to behave according to your age, or as a wife and mother.
You normally need time to be spoiled, but when you marry and have kids, you have to take care of others.
It was very difficult after my divorce. I went through hard times. I was depressed because I couldn't live a normal life. I was afraid and very stressed. I was worried about what people thought of me.
In this society, which is a closed-minded society, people look down on divorced women.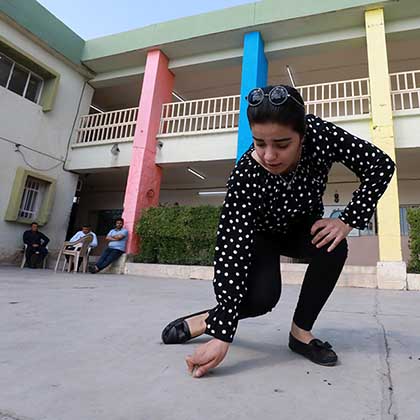 "To alleviate my suffering, I got involved in theater, acting, to forget my pain, become empowered, and enhance my skills."

Before marriage, Shaima dreamed of attending college. Now back at home, she teaches theater, art and music. She wants to leave Iraq. She says she's open to a second marriage so people would stop talking about her.
To alleviate my suffering, I got involved in theater, acting, to forget my pain, become empowered, and enhance my skills.
I participated in many festivals and international events, and I received a second-place award for best actress.
Two months later in Baghdad, I played a role in "Shaqam." Many other countries participated: Iran, Egypt, Qatar, Tunisia and many Iraqi cities.
Our play was about the Shingal tragedy and Yezidis girls. I wrote the play with the help of Mr. Hunar, a teacher in Koya. Everyone liked our play the best, and I received an award for Best Female Actor.
I am asking parents: Do not let your daughters marry younger than 18. Do not let them make decisions by themselves, because they have a different mentality at that age and cannot make good decisions about their future.
Only when their daughters reach age 18 should parents give them the right to decide about their marriage.
A version of this video originally appeared on Facebook.
What the community says
ئەگەر کەکۆمەڵگا خۆی لەکێشەی کۆمەڵایەتیوو سیاسیوو ئابووری ناڕێکوو ناجێگیردابێ ،زەواج لەتەمەنە جیاوازەکانی تریشا ئەو سەرکەوتوەنیە. جاران ئەگەر ئەمە ڕەخنەی لەسەربوبێ، وە لەژێر فشاری گەورەکاندا کرابێ، ئەمڕۆ بوە بەشتێکی سەردەمیانە، جیلێک درووست بوە ئەگەر ئەم کارەی بۆنەکەی هەڕەشەی خۆ سووتانوو خۆکووشتنوو ڕۆشتنەدەرەوە لەووڵات ، لەگەورەکان دەکا.
TRANSLATION: If the community is full of numerous unstable, society, political and economic crisis, then marriage at any other age can be unsuccessful too. This process in the past may be was enforced by elders but today , the generation grow up in away that if you don't let them marry at early age then they will threaten the elders to set themselves on fire ,commit suicide or leave the country.

Rebwar AD
Li Agiriyê keçikên 16 salî difiroşin 30 zêrî. Navê firotinê jî lê kirine "qelend".
TRANSLATION: In Agri, Turkey , 16 years old girls will be sold for 30 Ounce Gold and they call it a (Dowry)

Bawer Agiri
Istanbul, Turkey
Global perspective
Percentage of women married before 18