'My father believed it was sinful' to delay marriage
Wed at 13, a concerned mother plans a different outcome for her young daughter.
District Dadu, Pakistan In Qubra Bibi's Pakistani family, "my father believed that it was sinful" not to marry off a daughter as soon as she could carry a heavy vessel of water to the household, she says.
So, as a slender 13-year-old, Qubra was wed to a man roughly twice her age. Dodo Khan brought her to live in his family's compound in Pir Baksh Lashari, a village in Pakistan's southeastern province of Sindh. He needed someone to care for his ailing, widowed mother and their home.
Now 19, Qubra muses about the decisions — made by others — to end her schooling in eighth grade and set her on a course of housework and motherhood. She and Dodo have a 3-year-old daughter and baby son.
"After marriage, the responsibility of the whole house fell on me," Qubra says, between chores such as cooking over an open fire and hanging laundry to dry. "I still cherish the desire to get an education. … When my daughter turns the proper age, then she will marry. Otherwise, how can she pursue an education?"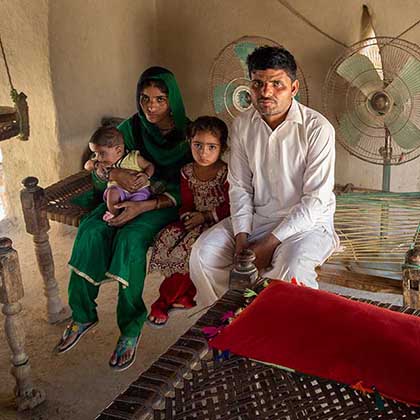 Qubra, now 19, sits with her husband, Dodo Khan, 30, and their son and daughter. (Photos by Zoral Khurram Naik for VOA News)
Qubra, now 19, sits with her husband, Dodo Khan, 30, and their son and daughter. (Photos by Zoral Khurram Naik for VOA News)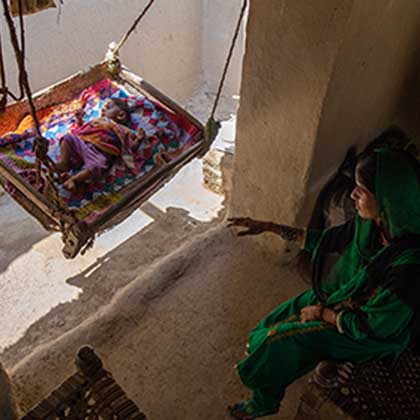 Qubra gently pushes the cradle that lulls her 5-month-old son, Abdul Wahab.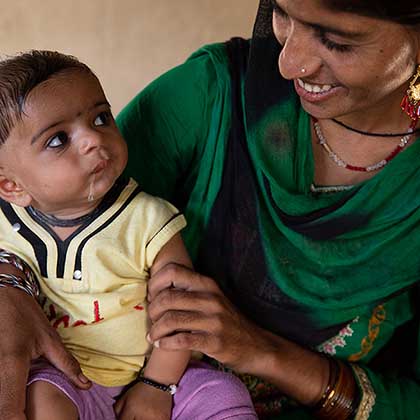 Qubra holds her son, Abdul Wahab, and holds onto the hope of more education for herself.
LEFT: Qubra gently pushes the cradle that lulls her 5-month-old son, Abdul Wahab. RIGHT: Qubra holds her son, Abdul Wahab, and holds onto the hope of more education for herself.
Early marriage remains common
Though the prevalence of child marriage has been declining in recent decades, tradition still prods hundreds of thousands of Pakistani girls like Qubra into unions by age 18.
UNICEF estimates that at least 1 in 5 marriages (21%) in Pakistan involves a partner younger than 18. Activists contend that's an undercount, especially among girls in rural areas and from poor families.
"You have a lot of child marriage that's not being reported in all the areas of Pakistan," says Valerie Khan, executive director of Group Development (GD) Pakistan, a nonprofit that advocates for children.
By the numbers

Pakistan
| | |
| --- | --- |
| 21% | 3% |
| Married by 18 | Married by 15 |
A generational decline in the prevalence of child marriage exists in Pakistan, according to UNICEF. Levels have dropped by nearly half over the past 25 years, a trend that correlates with other South Asian countries. As a region, South Asia has seen the greatest declines in child marriage in 25 years, and has driven the global decline over this period.
Regional comparison
Married
by 18
Bangladesh
59%
Nepal
40%
Afghanistan
35%
India
27%
Bhutan
26%
Pakistan
21%
Iran
17%
Sri Lanka
12%
Select a country to explore how it compares to the region.
In the Muslim-majority South Asian country of 208 million, some believe a girl should be wed upon reaching puberty to capitalize on her virginity and safeguard her honor, reports Girls Not Brides.
The global coalition, whose partners include Pakistani health and civil society organizations, cites other factors behind early marriage, such as families marrying off daughters to settle debts or disputes, sometimes committing a girl to a union before she's even born.
Pakistan has joined the international community in pledging to end child marriage by 2030, one of the United Nations' Sustainable Development Goals, convinced that abandoning the practice will raise living standards and improve the nation's prosperity.
The economic toll of early marriage could run up to $6.3 billion a year by that point, based primarily on the impact of prematurely ending girls' education and limiting earnings, the World Bank and International Center for Research on Women calculated in a 2017 study.
Push to raise legal minimum age
Pakistan's current law sets the minimum legal age of marriage at 16 for girls and 18 for boys. In April, Pakistan's Senate passed a bill proposed by a female legislator that would raise the minimum age to 18 for girls, too. But the Council of Islamic Ideology, which advises the parliament on whether legislation is consistent with Islamic law, issued a statement in early May opposing the legislation.
However, according to Pakistan Today, the council's report acknowledged "various negative consequences and problems" with child marriage and said it "should not be encouraged." The council had objected to a similar 2017 bill.
The country's four provinces also have jurisdiction over marriage. In 2014, legislators in Sindh, the province where Qubra lives, set 18 as the minimum legal age for both males and females. The law threatens at least two years of imprisonment and a possible fine for any male involved in an underage marriage.
In 2015, Punjab, the most populous province, passed a law calling for clerics, and not just parents, to be punished for permitting early marriage. The Punjab Child Marriage Restraint Act says any male older than 18 who negotiates a child marriage faces up to six months in prison, a fine of up to 50,000 rupees ($318), or both. It also can penalize parents or guardians who force an underage child to marry.
Such deterrents, though not always enforced, are being supplemented with public awareness campaigns about early marriage's negative impacts.
"I think there is an increased mobilization," says Khan, noting that her group routinely meets with community members of all backgrounds for "an exercise of projecting what's going to happen" if a girl marries too young. "And, surprisingly, men are now becoming more vocal, especially fathers."
In late 2016, the Sujag Sansar Organization, a civil society group based in Sindh, began working with nikah khawans, who perform legal and religious marriage rites. The organization trained the nikah khawans to require birth certificates, screening out underage individuals. It also has used social media messaging and theater, bringing plays and role-playing to 30 villages to spark discussions about the consequences of early marriage.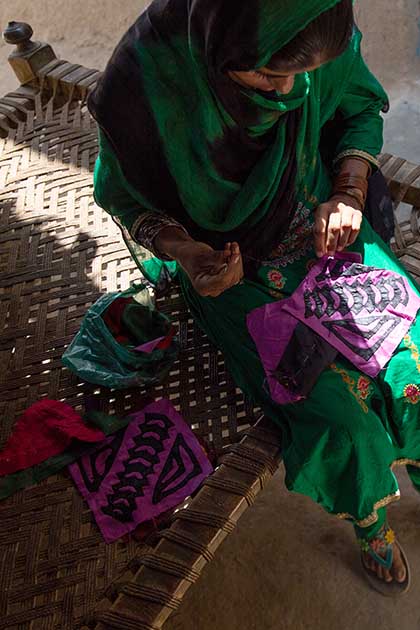 "I used to be free. But after I married, I became responsible for all of the housework and child care."
A housewife, Qubra occasionally produces custom-made embroidery to supplement the family's income.
Plans to break cycle
By the time Sujag Sansar reached Qubra's village in the District Dadu, Qubra was already married and had her daughter, Areeba.
Qubra says she had wanted to marry eventually, but also had hoped to continue her schooling. She and her husband, whose formal education also ended at eighth grade, can't afford tuition. He's a laborer, and she supplements that income by doing custom embroidery.
"I used to be free," Qubra says, reminiscing about her childhood. "But after I married, I became responsible for all of the housework and child care."

بلوغ کے بعد جنسی ضرورت شدت سے محسوس ہوتی ہے اور شادی کے بغیر جنسی ضرورت پوری کرنا غیر مذہبی، غیر فطری، غیر انسانی اور ایک حیوانی عمل ہے... فطری راستہ ترک کرنے سے زناکاری، ہم جنس پرستی اور خود لذتی کو فروغ ملتا ہے جو کئی لاعلاج بیماریوں کا باعث بنتا ہے.. لیکن لبرل طبقہ اس کو کبھی Highlight نہیں کرتا...
TRANSLATION: One feels a strong urge for sexual intercourse after reaching adolescence, and trying to fulfill this urge outside wedlock is against the religion, unnatural, inhuman and devilish. If the natural remedy is not provided, sex outside wedlock, homosexuality and masturbation get promoted, which results in incurable diseases. However, the liberal elements of the society do not highlight this aspect.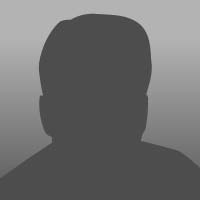 Gul Muhammand
Swat, Pakistan
What do you think? Add your voice to the conversation on Facebook.
Those duties and childbearing taxed her health, she says. Qubra had not reached puberty when she married and required unspecified surgery late last year when son Abdul Wahab was born prematurely.
Qubra's mother, Mehar Bibi, was also a bride at 12 and had three children, including two sons. But now, she vows to break the family's multigenerational cycle of child brides.
In forcing Qubra's marriage, Mehar Bibi admits she and her husband "committed a wrong."
"We now see education has become a necessity," she says, speaking of her daughter and granddaughter. "We must think ahead. If a daughter is young, we must not marry her off. She must continue her education. Now we understand this."
Global perspective
Percentage of women married before 18