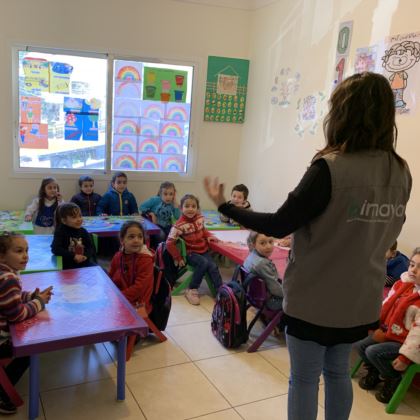 Syrian children in a classroom at Himaya Center, a nongovernmental organization based in Lebanon that protects and educates children, mainly girls and their families, of the risks of child marriage. (Photo by Nisan Ahmado for VOA News)
A Search for Solutions
Approaches that foster information, skills and networking – and engage communities — make headway against child marriage
Support groups for girls. Donated school supplies, from pencils to notebooks to uniforms. Goats and chickens for parents who prolong their daughters' formal education. Laws raising the legal minimum age for matrimony.
Those are some of the diverse tools and tactics used to discourage child marriage, a practice most common among poor families in impoverished rural areas scattered around the globe.
"There's no one silver bullet — it's all highly contextual," says Lyric Thompson, who directs policy and advocacy for the International Center for Research on Women, a Washington-based nonprofit.
National and local governments, often with assistance from international partners and nongovernmental organizations, are trying various efforts to delay marriage. Many of these aim to do so by keeping girls in school. The likelihood of a girl marrying before age 18 declines for every year of secondary school she completes, according to a 2017 study by the ICRW and the World Bank.
In Bangladesh and other developing countries, clubs for girls provide mentoring, help with homework, training in life skills and solidarity in resisting the pressure to marry too soon. In Niger, Plan International sponsors clubs for boys that encourage supporting women's goals for education and work, plus sharing household responsibilities and decision-making. In Afghanistan, Pakistan and elsewhere, activists start "community conversations" that point up the negatives of child marriage and solicit input from parents, youths, and local and religious leaders.
Some efforts add incentives.
In rural Ethiopia, the Berhane Hewan program, sponsored by the research-focused Population Council in partnership with Ethiopian federal and regional governments and others, has rewarded families that kept girls unmarried and in school by giving them goats or chickens to generate income and compensate for education costs. The program, which began in 2004, was expanded to Burkina Faso and Tanzania. It also provides basic school supplies. More recently, instead of livestock, it gives schoolgirls solar-powered lanterns that can be used to charge mobile phones and thus bring in revenue in places lacking electricity.
"Interventions that really focus on building girls' assets … can be very effective in convincing communities to take other alternatives and marry their daughters later and keep their daughters in school," says Annabel Erulkar, Ethiopia country director for the Population Council. She helped design the Berhane Hewan project.
Erulkar, a social scientist who has worked extensively in sub-Saharan Africa, says strategies should be tailored to a community's specific needs and based on evidence. She encourages local dialogue, so "the issues are coming from the community, and the solutions are coming from the community."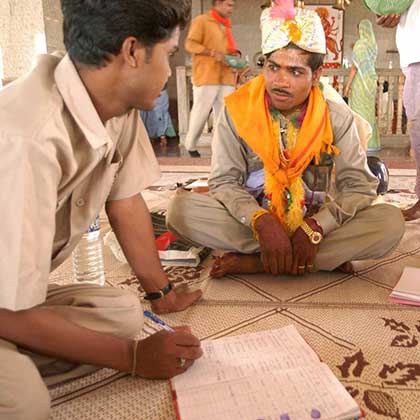 FILE - After a May 12, 2005, wedding ceremony in Rajgarh, India, a women and children welfare department counselor, left, urges a bridegroom to refrain from living with his minor bride until she turns 18. (AP)
But even a customized, localized effort can fall short, as ICRW found with Apni Beti Apna Dhan ("Our Daughter, Our Wealth"), a program in India's northern and largely rural state of Haryana. From 1994 to 1998, the state offered low-income parents a 25,000-rupee savings bond within weeks of a girl's birth with the understanding that she could cash it in at age 18 — if she remained unmarried. The hope was that it would extend her formal education and also challenge the traditional notion of girls as an economic burden. The reality: It did neither.
Among girls who turned 18 in 2012, those enrolled in the program were more likely than their peers to complete eighth grade, but the program had little effect beyond. Girls married right at age 18, using the cash benefit "to pay for the wedding or to increase the dowry to the husband's family," the ICRW wrote. "If girls do stay in school longer, it is to make them more eligible for marriage."
Overall, though, India has been a success story in combating child marriage. It drove down the proportion of underage brides from 47% a decade ago to 27% last year, according to UNICEF. Heightened public awareness contributed to the decline, observers say, as did 2006 legislation raising the legal minimum age from 14 to 18 for females and from 18 to 21 for males.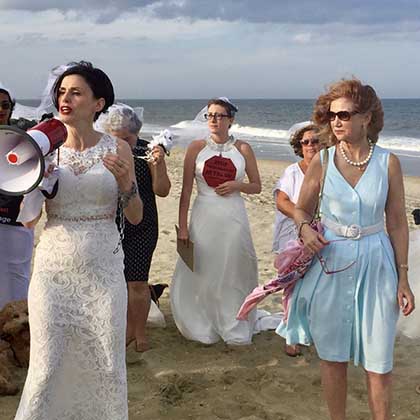 Fraidy Reiss, left foreground, founder of the nonprofit "Unchained at Last," and supporters celebrate passage of the first U.S. laws prohibiting child marriage in Delaware and New Jersey. (Photo by Carolyn Presutti for VOA News)
Activism also can make a difference in halting child marriage. Thompson points to Memory Banda, a young Malawi woman who began campaigning against child marriage after her younger sister, then 11, got pregnant at a traditional sexual "initiation camp" and was forced to marry. Memory rallied other girls to help her persuade local tribal leaders to end the initiation, as she explains in addressing the Oslo Freedom Forum.
And, working with the Girls Empowerment Network of Malawi and Let Girls Lead, she was instrumental in pressing the country's parliament to amend the constitution and ban marriage before age 18. The measure took effect in 2017.
"Anyone can do something, and everyone should do something," Thompson says. She adds that in ICRW program evaluations, "what we saw was that at any point of intervention, either as an individual or organization, there is a role for you to successfully delay marriage."