'I called the police officers'
After refusing to marry, a schoolgirl sought help and now champions female empowerment.
Dar es Salaam, Tanzania The most critical lesson Mwanahamisi Abdallah learned as a student in Tanzania came during a primary school graduation ceremony when she was 14. A faculty member, noting that several students had dropped out to marry, shared an emergency phone number for any girl coerced toward that kind of entanglement.
"I wrote down the number and went home," says Mwanahamisi, now 15, who comes from a village near the coastal town of Kilwa in the country's southeastern Lindi region. She tucked the number away.
On the day her mother informed her she soon would be wed to a stranger, Mwanahamisi says she burst into tears and sobbed, "I don't want to be married!'' Her mother ignored her pleas, countering that the man was young and a good person.
Mwanahamisi's grandmother gave her a cellphone to communicate with her prospective groom. Instead, she used it to arrange her escape.
"Immediately, I called the police officers. They asked me to get the man's name and the wedding date," Mwanahamisi recalls. Once she had extracted a few sketchy details from her mother and passed them along, police notified a local official. He showed up at the family's home on the eve of the planned wedding, asking the girl whether she wanted to marry. By then, she'd learned the man already had three wives.
"When I said no, he halted the ceremony," she says of the official.
A district social worker eventually arranged for the girl to move to a shelter in Dar es Salaam, some 325 kilometers (200 miles) to the north.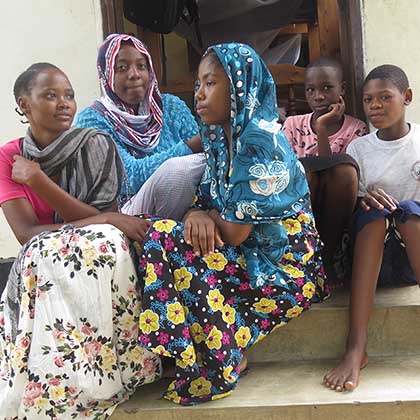 Mwahanamisi Abdallah, center, with other vulnerable girls. The 15-year-old worked with counselors after escaping a child marriage. (Photos by Faraja Filbert Dogeje for VOA News)
Child marriage in Sub-Saharan Africa
Mwanahamisi eluded an unwanted marriage, unlike many other young women in sub-Saharan Africa. The region has the world's highest prevalence of child marriage, with more than 3 million girls a year marrying before they turn 18, according to the United Nations Children's Fund. The region also has some of the highest incidences of child grooms, UNICEF notes in a spring 2019 report.
Girls are pushed into early unions by custom or the lack of good alternatives, research shows. Children most at risk of early marriage tend to live in poor households in rural areas and have limited access to formal education. In sub-Saharan Africa, 7 of 10 girls finish primary school, but only 4 in 10 complete the lower secondary level, according to the World Bank. In a November 2018 report, the organization said women with secondary education "are more likely to work, and they earn twice as much as those with no education."
By the numbers

Tanzania
| | |
| --- | --- |
| 31% | 5% |
| Married by 18 | Married by 15 |
According to UNICEF, there is some evidence of a generational decline in the practice, although the rate of change has been slow. The prevalence of child marriage was above 50% before 1980, there was some decline through the 1980s, and progress has been slow since around 1990.
Regional comparison
Married
by 18
South Sudan
52%
Mozambique
48%
Somalia
45%
Malawi
42%
Madagascar
41%
Eritrea
41%
Uganda
40%
Ethiopia
40%
Zimbabwe
32%
Zambia
31%
Tanzania
31%
Kenya
23%
Burundi
20%
Rwanda
7%
Djibouti
5%
Select a country to explore how it compares to the region.
The World Bank estimates that child marriage could cost a collective $63 billion in lost earnings over the lifetimes of women in a dozen African countries representing half the continent's population. Child marriage rates tend to be highest in West and Central Africa, with 4 out of 10 young women wed underage, UNICEF says. Niger's rate is highest, with 3 out of 4 (76%).
"There are a lot of (social) norms that push families to get their daughters married early," says Moustapha Ibrahim, a program manager with the development and humanitarian organization Plan International Niger. Particularly in poor and traditional cultures, families welcome the prospect of a suitor's gifts, such as cash or livestock, and fear dishonor from pregnancy outside marriage, he says. Girls' worth comes from housekeeping and childbearing.
"Big families look powerful. A huge family is seen as an asset," Ibrahim adds, though he says that mindset is shifting, particularly in urban areas.
An African Union campaign to end child marriage, begun in 2014, "has created quite a lot of buzz on the continent," says Mundia Situmbeko, Africa engagement officer for the global coalition Girls Not Brides.
The campaign has targeted 30 high-prevalence countries, including Niger and Tanzania, pointing up the personal and societal benefits of delaying marriage. It calls for "supporting legal and policy actions" to protect human rights, raise public awareness and build a social movement. And, Situmbeko says, the AU has shown respect for traditional and religious leaders, amplifying their voices at its gatherings.
"They are the ones who can lead the agenda of changing social norms and the value that is placed on the girl," she says.
In Tanzania, where Mwanahamisi left her family to avoid marriage, roughly a third of girls marry by 18, according to Girls Not Brides. Consequently, just more than a quarter of all girls complete secondary school. In a January report on Tanzania, the World Bank calculated that ending child marriage and early childbearing in the country could bring annual savings of up to $5 billion a year by 2030, by slowing population growth and lessening the demand for social services and the strain on infrastructure.
Tanzania's government and courts are wrestling with child marriage. A legal challenge led its high court to strike down two sections of the country's marriage law in 2016, essentially raising girls' minimum marriageable age to 18 from 15. But the government appealed the decision last year on the grounds that the lower minimum age actually protected girls who became pregnant out of wedlock. A verdict is expected soon. Meanwhile, the government expels pregnant girls from school.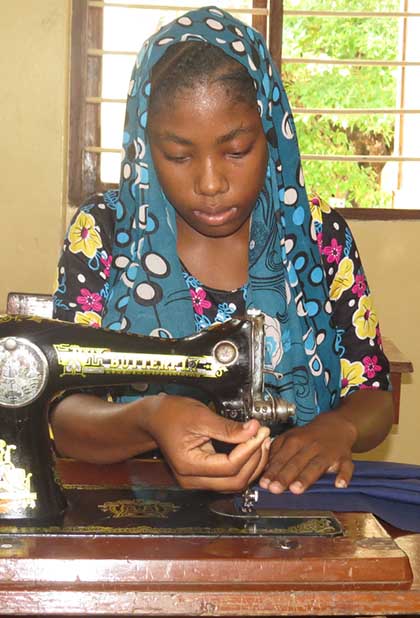 "My dream is to become a great fashion designer!"

Mwanahamisi Abdallah, 15, takes vocational classes in cooking and textile arts, as well as computers and financial literacy.
Despite the unsettled law, Tanzanian girls like Mwanahamisi have been able to get help when faced with an unwanted marriage.
Like Mwanahamisi, they can turn to the federal Tanzania Police Force, which has trained teams across the country to respond sensitively to complaints involving domestic or sexual violence, human trafficking, or threats to children. Authorities can remove children from a situation they believe is unsafe.

Tatizo si kuolewa tatizo nikuolewa na Asie kuwa chaguo lake binafsi...kwanini alazimishwe ao achaguliwe wa kumuoa...ikiwa amebaleghe tayari mwambiye amlete mtu wa chaguo lake mumuoze
TRANSLATION: The problem is not getting married. But it is marrying someone of your choice… Why she should be forced to marry or someone else should decide on her choice… if she has reached puberty let her bring a fiancé of her choice to get married to.

Kibalo Mwenye Ngoma
Bujumbura, Burundi
What do you think? Add your voice to the conversation on Facebook.
Mwanahamisi landed at a Dar es Salaam shelter run by Kiota Women's Health and Development (KIWOHEDE), an NGO that also operates drop-in centers for vulnerable girls and women. She has worked with counselors to recover from trauma and has moved on to vocational classes in computer and financial literacy, cooking, and textile arts.
"My dream is to become a great fashion designer!" she says.
Once shy and reticent, "she has become an inspiration," says Justa K. Mwaituka, KIWOHEDE's executive director. She says Mwanahamisi was instrumental in starting a peer group that meets daily to reinforce goals for education, female empowerment, and a greater say in whether and when to marry.
Communication with Mwanahamisi's family is tentative. The girl's mother sends greetings through a social worker, although Mwanahamisi won't have direct contact until she, the social worker and KIWOHEDE decide she's ready, and the situation is safe.
The goal is to reconnect the family but delay an unwanted union, says Regina Mandia, who manages the shelter at which Mwanahamisi lives.
"Rushing these children to marry is to curtail their dreams."
Global perspective
Percentage of women married before 18