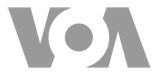 Rebuilding From the Ravages of Terror
Despite military gains against Boko Haram, it may take Nigeria years, even decades, to stabilize and restore destroyed northeastern towns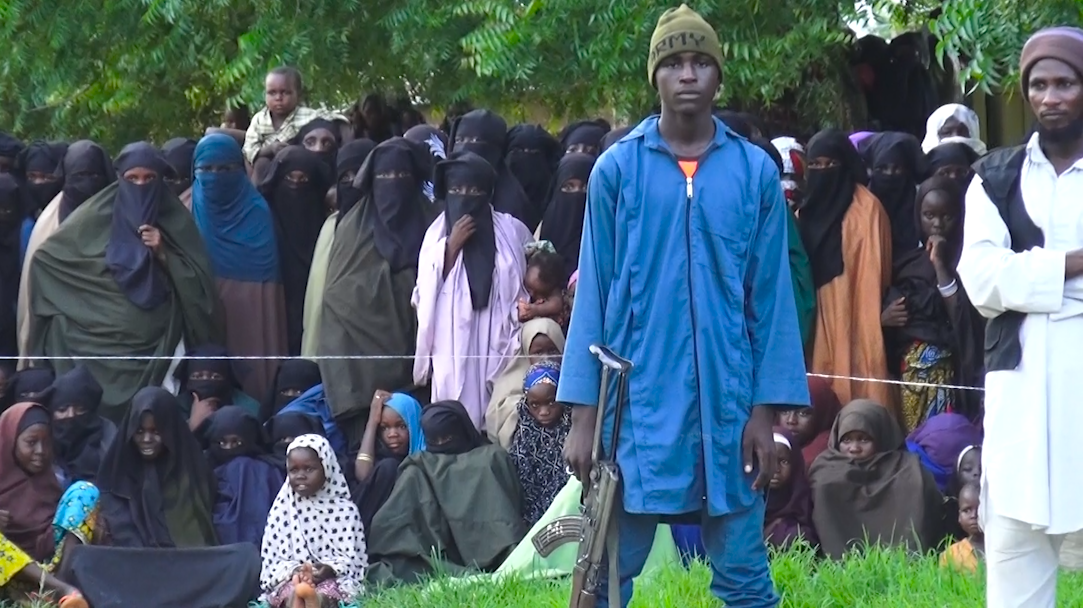 To hear Nigerian President Muhammadu Buhari tell it, Boko Haram is just about done for. The day before Christmas, he announced that troops had captured the militants' last hideout in the vast Sambisa Forest. He said the capture marked the "final crushing of Boko Haram," and that according to his army chief of staff "the terrorists are on the run and no longer have a place to hide."
Two days later, a pair of suicide bombers – both women – targeted a cattle market in Maiduguri, with 1.1 million people the biggest city in northeastern Nigeria. One bomber killed only herself, while the other was lynched by a mob before she could trigger her explosives. There was no claim of responsibility but suspicion fell on Boko Haram, whose suicide bombers, many of them female, have killed thousands of Nigerians in public places over the last five years.
Few Nigerians were surprised by the attack. Buhari and his predecessor Goodluck Jonathan have promised imminent victory over Boko Haram in the past, only to see new waves of deadly violence crash over the northeast. If the war against the Islamist radical group is making progress – and by some criteria, it is – that progress hasn't yet ended the suffering for millions of Nigerians trying to cope with the destruction of their homes, the loss of their livelihoods, erratic food and water supplies, worry about kidnapped friends and family members, and the still very real possibility that a Boko Haram suicide bomber will appear at their local market or bus station.
When it comes to terror threats, Islamic State and al-Qaida often come to mind as the most notorious. But in 2014, Boko Haram killed more people than any other extremist group in the world, and in 2015 was second only to IS. Now, VOA News has obtained an exclusive cache of raw videos recorded by Boko Haram that reveals the group's inner workings in brutal detail, underscoring why it remains one of the most feared jihadist organizations anywhere.
In one of the most shocking scenes, most likely recorded in late 2014, militants in the village of Kumshe force residents to watch the repeated flogging of 10 alleged drug users and deliver some of the lashes themselves. Then, as villagers chant "God is great," three men accused of selling drugs are executed with bullets to the heart or head.
When the killing is done, one of the executioners announces: "We have meted God's judgment," as the dead men's bodies ooze blood behind him.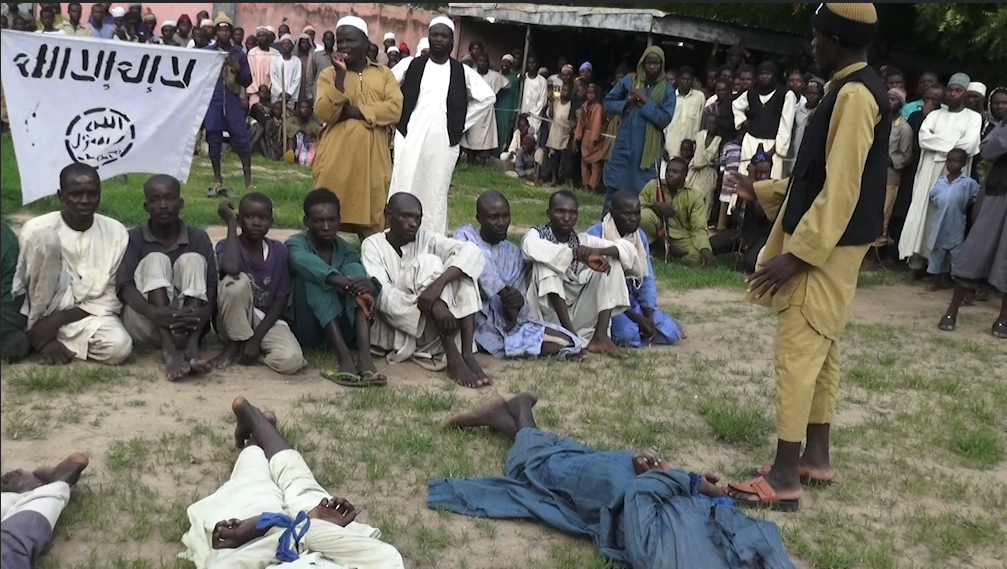 This incident and others showing Boko Haram members callously going about the daily business of their self-proclaimed caliphate are the subject of a VOA four-part video series, "Boko Haram: Terror Unmasked." The previously unreleased recordings provide a chilling reminder of what's at stake for Nigeria as the government asserts progress in a war that's claimed at least 18,000 lives and witnessed the abduction of thousands of women and children by Boko Haram.
Whatever the latest military gains, the road to recovery remains long.
Jacob Zenn, an expert on African affairs at the Jamestown Foundation, a think tank in Washington, D.C., said a real military victory over Boko Haram is at least three to five years away. By then, he said, it's possible the group "can be pushed into the far depths of northeastern Nigeria and reduced to something of a menace, and not the threat to Nigerian sovereignty that it was."
But that is just the start. Rebuilding the region's schools alone will take years. Many were burned to the ground by Boko Haram, whose name, translated from the original Hausa, means "Western education is forbidden." The United Nations, in its most recent report on humanitarian needs in northeast Nigeria, said 3 million school-age children lack access to education. And an estimated 1.7 million Nigerians remain displaced from destroyed homes and villages.
Some reconstruction has begun. Still, stabilizing the northeast, a vast and remote area of scattered towns and villages where the Boko Haram insurgents continue to operate, could take decades, Zenn said.
"This sometimes surprises Nigerians when I say this, but I think it will take at least 20 years," he said. "It's going to take a generation to build society back together again after all the conflict that has been placed on the people of that land."
One Town, Four Times Destroyed
Boko Haram's purpose, as stated by its longtime leader Abubakar Shekau in propaganda videos, is to wage a holy war, ridding Islam and Nigeria of any Western influences and creating a caliphate where strict Islamic law reigns supreme. But in practice, the group has shown little mercy for Nigerian Muslims, attacking some mosques and majority-Muslim towns.
Take Mainok, a small town about 60 kilometers west of Maiduguri. Four times since March 2014, Boko Haram forces have swept into town, killing dozens of people each time and laying waste to homes, shops, schools, a health center and the police station.
VOA News visited Mainok in September of 2016 during a trip to report on locations shown in the Boko Haram videos. Local chief Lawan Bukar Kyari told VOA that residents had no way of defending themselves. "When Boko Haram was attacking us left and right, we didn't have any security here. We had only an outpost with about four policemen," he said. "They come here any time they want, and they kill people and they go away without anyone accosting them. We suffered this for two or three years and everybody in this town left … Boko Haram has killed over 200 people in this town."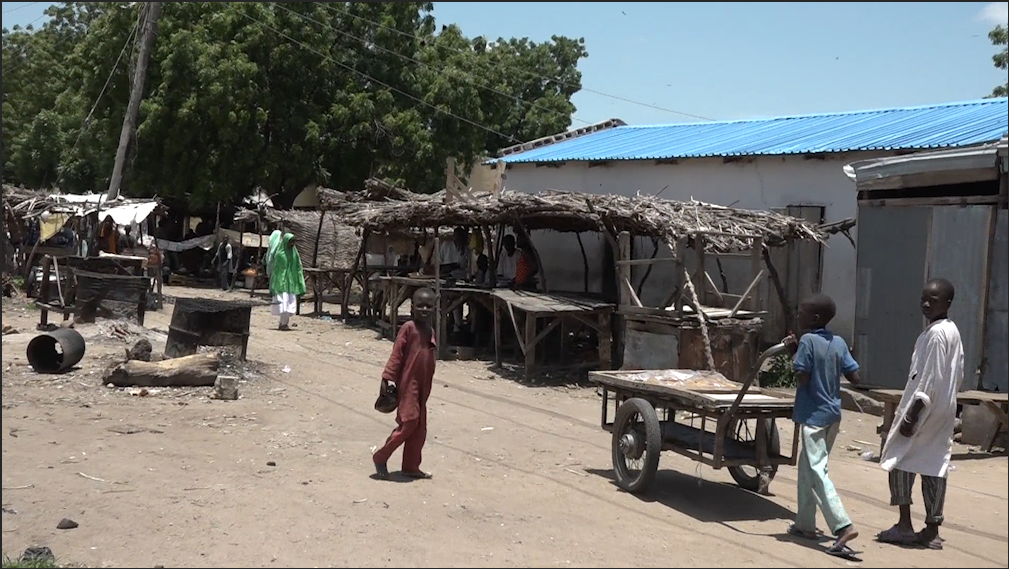 Since the government retook the town early last year and established a military post, people have begun to trickle back, and Mainok is being rebuilt for the fourth time. "Our children have not been in school for the past three years," Kyari said.
Sadly, Mainok's story is not unique. Parts of Borno state, the epicenter of the insurgency, have become essentially unlivable. Gov. Kashim Shettima told VOA that according to a recent World Bank study, Boko Haram has destroyed more than 950,000 homes across the state, about 30 percent of the housing stock. The militants also wrecked more than 5,000 classrooms, about 200 health clinics and more than 1,000 water sources, he said, and impaired much of the power-generating capacity.
"It's horrendous, the level of destruction," Shettima said.
Possibly no people suffered more than residents of Bama, a trading center southeast of Maiduguri, near the border with Cameroon. Boko Haram fighters seized the city of nearly 300,000 in September 2014 and turned it into a ghost town. Hundreds of residents were slain by the militants before most of the others fled. A ghastly video that surfaced online showed gunmen trucking people to a bridge over the Yedzaram River, shooting them in the head, and then tossing them into the water.
Bama's structures fared no better. Shettima said the city is 90 percent destroyed; VOA journalists who went there confirmed his observation, finding street after street devoid of people and scarred by torched buildings.
The governor pledged that the state's destroyed towns will be rebuilt, using local materials and labor to reduce unemployment. "We are building homes, schools, clinics, and in order to challenge the Boko Haram narrative, we are even constructing mosques," he said.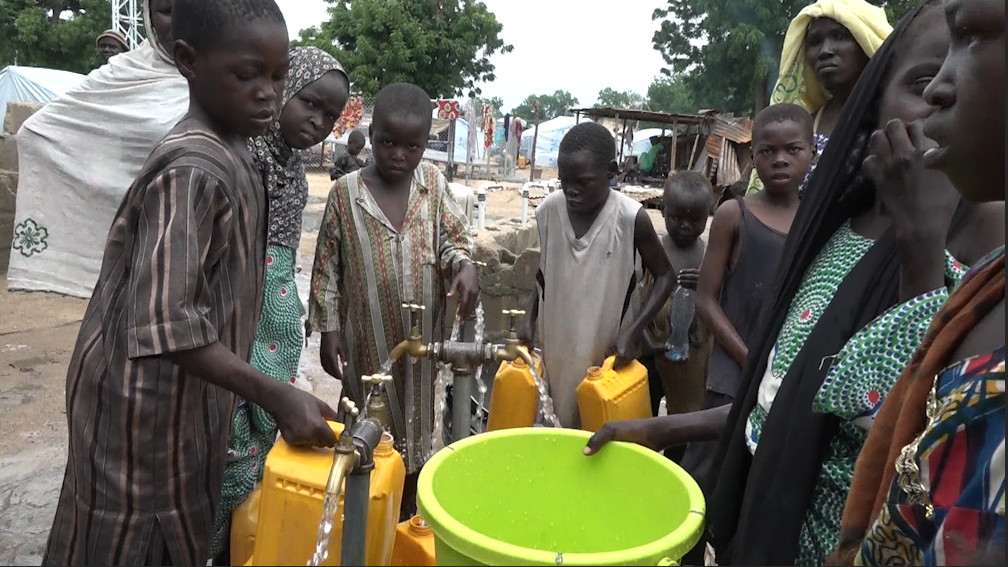 But the immediate needs are enormous. The International Organization for Migration reported in January that a quarter of the nearly 1.7 million Nigerians displaced by the Boko Haram insurgency are living in camps or camp-like settings.
Parts of Borno that aid workers can't safely access are likely suffering through a famine, according to the U.N. Office for Coordination of Humanitarian Affairs (OCHA), and some 5 million Nigerians are facing "extreme food and nutrition deficits." On a smaller scale, the situation is similar in parts of neighboring Chad, Niger and Cameroon, where Boko Haram has based camps and carried out attacks since 2013.
The food situation is unlikely to improve soon, OCHA warned, as "the conflict and risk of unexploded improvised devices have hampered farming for a third year in a row."
Shettima praised the efforts of UNICEF, the World Food Program and Nigerian billionaire Aliko Dangote to help people trying to regain their footing. And in a things-can't-get-any-worse kind of way, he remains optimistic.
"We are literally at ground zero. I am not exaggerating," he told VOA News. "Our people even in the best of times are poorest of the poor. Boko Haram has further pauperized them. But it is not for us to be lamenting about our plight, but to be taking concrete steps toward picking up the pieces of our lives."
That said, there will be no steps forward unless Nigeria's government, working with its neighbors, can ensure that Boko Haram doesn't come roaring back.
'How many times have you killed us?'
For much of 2014, Boko Haram seemed to act at will. In April, the group kidnapped 276 teenage girls from a school in the town of Chibok; the large majority remain missing today. As the year unfolded, the militants seized control of towns across Borno, Yobe and Adamawa states. That August, leader Shekau announced the creation of a caliphate, to be ruled under the group's severe interpretation of Islamic law.
Then the group overreached. On Jan. 25, 2015, hundreds of militants tried to invade Maiduguri, the Borno state capital, from two directions. Army troops drove them back with the help of Nigerian Air Force strikes. A week later, Boko Haram fighters assaulted Maiduguri again, this time from three directions. Again the army fought them off, aided by the air force and fighters from a vigilante organization, the Civilian Joint Task Force, some of whom plunged into battle armed only with machetes and clubs.
Boko Haram: Civilians Killed
The failed attacks broke Boko Haram's momentum, and within weeks the military, aided by forces from Chad and Cameroon, began to push the terrorists from populated areas. But the turnaround came too late for then-President Goodluck Jonathan, who was ousted in the March elections in favor of Muhammadu Buhari, a former military ruler who built his presidential campaign largely around a pledge to end the insurgency.
Since Buhari took office, the joint military operation involving Nigeria and its neighbors has made undeniable progress. Boko Haram no longer controls any major towns or cities in Nigeria, and its suicide bombings and attacks on military targets have been less frequent and deadly than in years past.
"The current situation, I will say, is virtually calm," Nigerian Defense Minister Mansur Mohammed Dan Ali told VOA in early January. Troops only see sporadic ambushes, he said.
But calm, to the extent it exists, does not equal peace. Boko Haram fighters still go after targets and sometimes reach them. In November 2016, the group killed two Nigerian officers with ambushes in Borno state, including one of the army's most decorated commanders, Lt. Col. Muhammad Abu Ali. In early December, a double suicide bombing in the town of Madagali killed more than 50 people. In mid-January, three bombers — including a 12-year-old girl — attacked the University of Maiduguri, killing a professor and wounding 17 other people.
And on Jan. 17, the Nigerian Air Force stunned the country by bombing a camp for civilians displaced by the fighting in the town of Rann, in Borno state. A local official said more than 230 people died in the airstrike, which the air force called accidental and promised to investigate.
Recently, the army has been focused on uprooting Boko Haram from its many small camps, hidden in the Sambisa Forest and among the mountains, caves and isolated rural areas of Borno. The way Nigerian Brigadier General Victor Ezugwu described it, troops are engaged in a game of cat-and-mouse with the militants.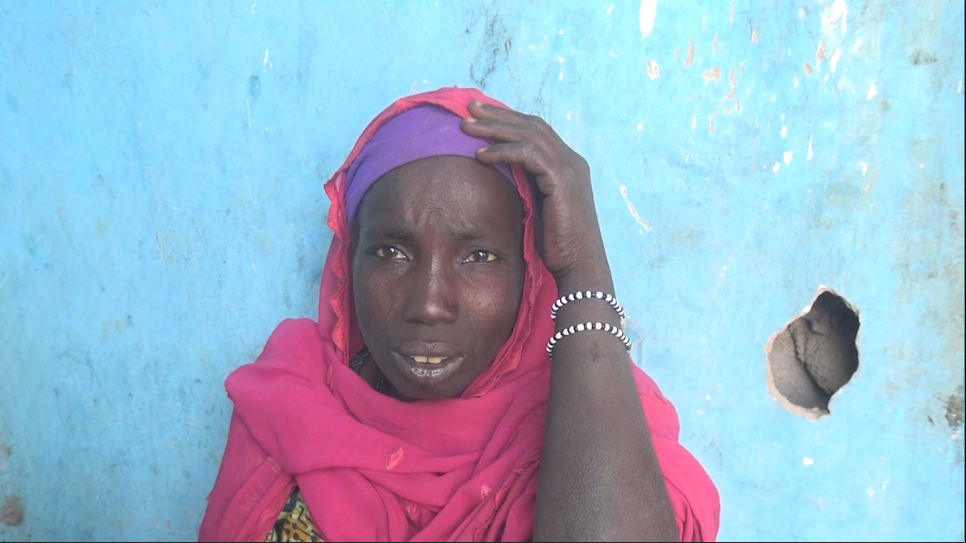 "What happens as we destroy these camps, the remnants of the Boko Haram try to regroup and set up fresh camps," he said. "When camps were destroyed two months ago, we go back again and if there is activity in the camp, we destroy them again. These camps don't cost much to put up. They look for [spots] under trees, they look for [places] in the hills, where there's cover. Maybe they don't even put anything there. They just live like animals."
Another facet of Boko Haram that keeps coming back is its very animated, agitated leader. At least three times, the Nigerian military has declared Abubakar Shekau to be dead — only to see him reappear in new videos, delivering threats in his trademark torrent of machine-gun speechifying, air-chopping arm gestures, theatrically mocking laughs and the occasional bird trill. Based on his performance in the videos, Shekau would have the makings of a great comic actor, if his rhetoric wasn't so murderously serious.
His most recent appearance came in a late-December video in which he trashed Buhari's claim that Boko Haram had been flushed from the Sambisa Forest. "You should not be telling lies to the people," he said in the local Hausa language. "If you indeed crushed us, how can you see me like this? How many times have you killed us in your bogus death?"
'If we don't stop this hate…'
The fact is that Boko Haram can't be eradicated, not completely, until Nigerian society addresses the problems that spurred its creation. Nigeria is Africa's largest oil producer and its richest country in terms of gross domestic product, but the oil is in the south and the revenue it produces mostly stays with the elite. More than a few observers tie Boko Haram's rise to the deep chronic poverty of northeastern Nigeria, and the government's failure to alleviate it.
Nigerian officials don't have a "strong hand" in helping people in the region, said Zenn, who has extensively studied Boko Haram. "These are very remote villages, so it's not like the people have loyalty to the government based on interaction of services."
There are also ecological issues, he added. "There are people losing their livelihood to desertification, and without jobs Boko Haram is sort of an employment for them."
Like extremist groups across Africa and the Middle East, Boko Haram also takes Islamic theology and twists it to preach violence, which can appeal to youths who see nothing but struggle ahead in their lives. The Boko Haram videos obtained by VOA show leaders in numerous settings expounding teachings that depart from mainstream Islam.
One video captures a commander lecturing his fighters before an assault: "Allah said we should fight those who do not believe in our religion," he said. "For Islam to be propagated, there has to be bloodshed – either ours or the unbelievers."
In another, a messenger from Shekau tells a crowd, "Allah has tested us with hypocrites from among us. Any religion in which you stay peacefully with unbelievers is not from the prophets."
Nigerian Islamic scholars who spoke to VOA flatly reject this interpretation.
"There is a problem in their understanding of Islam," said Professor Ibrahim Mohammed, director of the Quranic Studies Center at Bayero University in Kano. "There is misrepresentation and misinterpretation and reading of the verses of the Quran out of context."
"When you put these three together, they will give you zero," he said.
Khalifa Aliyu Abul Fathi, the leading Sufi Islam scholar in Maiduguri, concurred.
"What Islamic principle have they followed? None. They have killed women. They have killed children. They have killed the innocent. And they have killed Christians in their churches and in their homes," he said.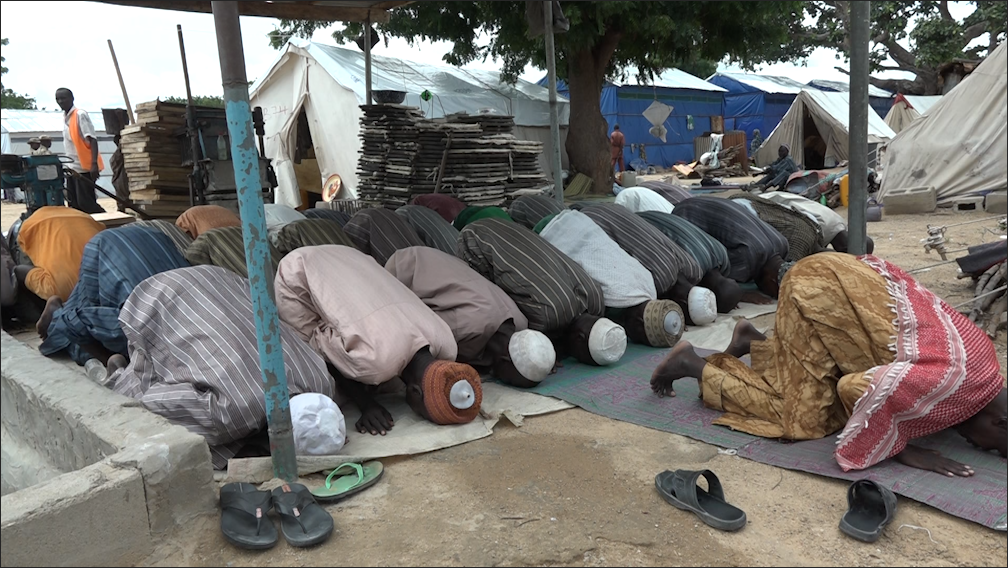 Fathi predicted that extremist groups like Boko Haram will persist until Islam resolves its internal debate. "If we don't stop this hate among us, we will be done [with] Boko Haram but will be dealing with another group with a different name," he said.
"Many out there keep forming because it is the creed. This creed needs to be tackled."
Fracture Inside Boko Haram
"Another group" may already be emerging in Nigeria. In early 2015, Shekau pledged allegiance to the Iraq-based Islamic State militant group. But in August of last year, IS turned its back on Shekau, naming Abu Musab al-Barnawi – the son of Boko Haram's deceased founder – as the new leader of the group.
A furious Shekau rejected the move in an audio message two days later. Within days, Boko Haram split into factions, and clashes between the two sides were reported by the end of the month.
The factions have distinct ideological differences. Al-Barnawi argues that jihadists should focus on attacking Christians and military targets. Shekau argues that anyone who fails to strictly follow the teachings of Allah and the Prophet Mohammed – including non-fundamentalist Muslims – can be targeted with violence.
A third faction, led by Mamman Nur, is closer to al-Barnawi in beliefs but has no connection to IS.
The division, assuming it lasts, may help the Nigerian military keep control of the territory they've regained, although the multinational military coalition fighting Boko Haram has shown strains of its own. Analysts say the forces have rarely cooperated across borders as envisioned.
A greater threat to the army might be the Civilian JTF. Amnesty International said it has documented abuses by the group, including beatings and killings of Boko Haram suspects. With the war against Boko Haram possibly winding down, many of the thousands of young men who took up arms to defend their communities are appealing for jobs in the army and law enforcement agencies.
The government is trying to integrate the fighters, partially out of self-interest, Zenn said.
"There are some people that are concerned if this conflict comes to an end, now you have this sort of paramilitary group that could in itself become its own monster in the future," he said.
Against this backdrop, Nigerian authorities continue to make slow progress against Boko Haram. Recently, another one of the Chibok girls was found, along with her six-month-old baby. The girl was discovered when soldiers interrogated some of the hundreds of people they detained during the recent raids in the Sambisa Forest.
The rescue came a few days before activists demanding the return of the Chibok girls marked the 1,000th day of their captivity.
For Zenn, the fact that so many remain missing is a sign that Boko Harm is not as close to defeat as the military insists.
"If Boko Haram territory has been reduced to almost nothing, as the government is saying, how is it that all these girls are not being found?" he said. "You would have expected the government to come across some of them."
Recovery of the girls – as with Nigeria itself – may still be years away.
LEARN MORE
View the multimedia report.
Watch the "Boko Haram: Terror Unmasked" series.
Learn how VOA obtained the Boko Haram videos.

WHAT PEOPLE ARE SAYING
Share your thoughts about the 'Boko Haram: Terror Unmasked' series, #terrorunmasked.


Facebook


Twitter


CREDITS:
Written by Dan Joseph Designed and produced by Tatenda Gumbo and Steven Ferri
VOA reporters in Nigeria and Washington, D.C., contributed to this report.