Bangkok the Center of China's Big Train Ambition for ASEAN
China wants to establish high-speed train service from its southern Yunnan province, across the Mekong and ultimately down into Singapore, as part of its Belt and Road Initiative aimed at increasing its access to the Indian Ocean. If it comes into being over the next decade, the network will pull neighboring Southeast Asian countries closer to Beijing. Thailand is pivotal to that plan, but some have raised questions about the wisdom of the project.
Transcript:
After making a 17-hour train trip from Southern Thailand to Bangkok for nearly 40 years, Bang Fa says a high-speed train would be a game changer.
"If the high-speed train is built, I could travel from Bangkok to my home in the South and back in a day trip," says Bang Fa.
Thailand is pressing ahead with plans for a high-speed rail line running from its border with Laos in the Northeast to Malaysia, to the south.
Thailand is a key piece in China's Belt and Road trade initiative, which includes a high-speed rail line running from Kunming to the port city of Singapore. After years of wrangling over the cost, who pays and type of track, Thailand is moving ahead with its line in two phases.
With a total cost of $12 billion, the entire project, paid for by Thai taxpayers with Chinese systems and technology, is planned to connect Thailand to China through Laos with a completion target of 2029. Thailand is a part of China's larger Belt and Road vision of a Pan-Asian Railway Network that would include Myanmar, Vietnam and Cambodia. The network will first carry passengers, then freight.
Some members of Thailand's National Assembly, though, worry about corruption and say it is a waste of money to build a high-speed rail network, since the Thai government is already building transportation infrastructure, including a separate highway network.
"Overall, the project is redundant, it does not correspond to people's needs," says Surachet Pravinvongvuth, a budget and transport committee member. "We've heard it all before who benefits from these mega projects if it wasn't those who approve that will win big money while contractors have big smiles across their faces. But ultimately, it's the Thai people who pay the price … for something they may not need."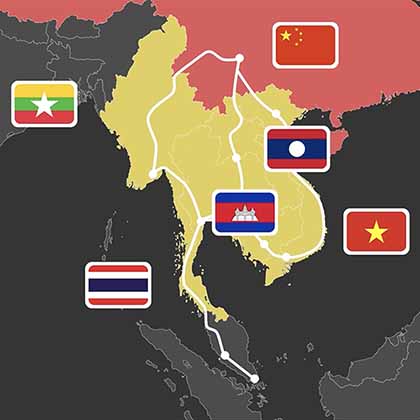 Bangkok, Thailand, is a hub in China's larger Belt and Road vision of a Pan-Asian Railway network that includes neighboring Southeast Asian countries. (VOA)
Laos launched its Chinese-built stretch of high-speed rail just over a year ago, connecting Kunming to the Laotian capital, Vientiane.
Engineering professor Pramual Suteecharuwat of Chulalongkorn University in Bangkok questions whether the China-Laos-Thailand rail project will be completed on time, since the project had previously been delayed due to disagreements over financing and design.
"The plan of this project is rather sloppy," says Pramual Suteecharuwat, Chulalongkorn University Engineering Faculty. "The weakness of this megaproject is that everyone is doing their own thing … with their own agenda."
When then-Chinese Foreign Minister Wang Yi met with his Thai counterpart in July 2022, a Chinese statement said they both agreed to fast-track the pan-Asian rail line.
"We have all agreed to connect the corridors between China, Laos and Thailand, operate the China-Laos railway well, and at the same time build the China-Thailand railway successfully, so we can form the interconnection between the three countries," says Wang Yi, Chinese Foreign Minister.
While the benefits of this rail project may be attractive to travelers, it is unclear when or whether it will be completed.
"The weakness of this megaproject is that everyone is doing their own thing … with their own agenda."
Pramual Suteecharuwat, Chulalongkorn University Engineering Faculty