Education Part of China's Belt and Road Push in Africa
Under President Xi Jinping's Belt and Road Initiative, China has been spreading its global influence through the building of major infrastructure like railways, ports and bridges. But another key part of the BRI involves something much less tangible – spreading Chinese language and values as well as the Communist Party's ideology.
Transcript:
Tai chi, tea and pandas: it's Chinese soft power on display at a new Confucius Institute in South Africa. It's one of some 60 on the continent.
Wilma Hugo, Confucius Institute Chinese Language Facilitator: "We have a growing relationship with China, with business and all kinds of things. They need translators and we are actually starting to teach Mandarin in South Africa. It's actually become part of the curriculum as of 2016. There are just so many opportunities when you do Mandarin."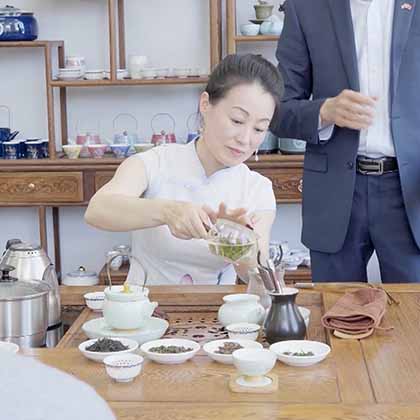 A teacher demonstrates a tea ceremony at the Confucius Institute in Cape Town, South Africa, in this image made from a video. (Gianluigi Guercia/VOA)
In Africa these institutes are welcome and growing.
The first Confucius Institute opened its doors in South Korea in 2004. With the support of China's ministry of education, China says the Institutes aim to promote Chinese language and culture.
But the U.S. and Britain say the centers spread propaganda. In 2020, the U.S. designated the Washington-based Confucius Institute U.S. Center as a foreign mission. More than 100 of the centers have closed on U.S. campuses.'
European countries, including Sweden, Finland, Norway, Belgium and Denmark have been closing Confucius Institutes at universities in recent years.
In the decade leading up to 2022, China says it has built Confucius Institutes in 159 countries and territories with some 500 Confucius Institutes around the globe. The Institutes mainly operate within local universities and with sister universities in China.
Liren Zeng, Confucius Institute at University of the Western Cape: "All the universities, almost all the universities are sponsored by the Chinese government. So, if you don't want to do anything with the Chinese government then you can't collaborate with the universities in China."
Liren Zeng, co-director of the Confucius Institute at the University of the Western Cape is referring to critiques, mainly from the West, about these institutions. University of the Western Cape's director of International Relations, Umesh Bawa says he's been warned.
Umesh Bawa, University of the Western Cape: "With our Nordic partners in Europe, because we have some of them also who have closed down their Confucius Institute and have cautioned us, be careful about this as being a Trojan horse."
Some academics warn — the institutes interfere with free speech where some faculty may even self-censor on topics critical of China.
Cobus Van Staden, The China Global South Project: "The Chinese government tends to be very unified and quite proactive in its messaging, particularly around issues like Taiwan and Tibet, so I can see how on the one hand it kind of amplifies that messaging, so if a university for example invites a Tibetan representative, then they might get push back from the Chinese embassy, but and now they might also get pushback from the Confucius Institute."
Zeng says the concerns are unfounded.
Liren Zeng: "When we have a Confucius Institute, we would have a local co-director, and the local co-director would have control of all the curriculum and the activities, the events, so we abide by all the laws and the rules and regulations of the local university, and our curriculum is heavily scrutinized by the local faculty."
Liren Zeng: "On behalf of the Consulate General of the People's Republic of China in Cape Town, I would like to extend my heartfelt congratulations on the official opening of the Confucius Institute…"
In November 2022, this Confucius Institute opened in Cape Town, South Africa. This is the sixth institute in the country. Western concerns about the Chinese institutes don't necessarily apply to the University of the Western Cape says Bawa.
Umesh Bawa: "We're very clear about what partnerships we make, and like everything else we're cautious. We don't do partnerships with people who do not share our values."
Many people in the democratic nation have been receptive to China's educational Institutes due to its history with Beijing. China supported many Black liberation movements against colonialism and white-minority rule which led to discrimination and racial segregation during much of the 20th century.
Umesh Bawa: "The Confucius Institute partnership is one with the Chinese universities and it's a government program to be able to have a space where they'd be able to do conversations on policy, conversations on friendship and on culture and appreciation of that. In South Africa we know that it's really, really important. All over the world the Chinese in their history have always been very oppressed."
Beijing's educational programs abroad operate in tandem with China's Belt and Road Initiative. First conceptualized in 2013, the Belt and Road plan promotes economic and trade routes by land and sea between China and other countries through investments and the construction of infrastructure. China's ministry of education describes education as a service for the Belt and Road Initiative.
Education programs such as Confucius Institutes, scholarships, exchange programs and vocational training help develop talent and promote cultural exchange which are key components of the Belt and Road Initiative.
In Africa, educational programs are not only limited to everyday students. Last year, politicians from six African countries attended a new $40million "leadership academy" in Tanzania opened by Beijing. The aim is to train African politicians. While some analysts fear these types of educational programs will promote Chinese communist ideology, others say not every nation shares this concern.
Cobus Van Staden: "Among African students, isn't such a politically fraught issue in the global South as in the global North."
While some countries warn China's educational initiatives are a threat to democratic values, other nations see educational partnerships with Beijing as an opportunity to benefit from China's Belt and Road projects.