Questions Arise as China Constructs Thousands of Schools in Iraq
It's been more than five years since Iraq declared victory over the Islamic State terror group, yet much of Iraq is still reeling from its aftermath. The government says the country needs 12,000 new schools, and it's looking to outside countries, including China, for help.
Transcript:
In Mosul, the Ghasaanya School is an example of what happens when war comes to town. Here, a few reminders hint at a once-bustling school that had served generations of students in this northern Iraqi city.
Fahd Abdul-Salam, Former Ghasaanya School Student: "I used to have fond memories of my school, but unfortunately, it was destroyed during the conflict in Mosul."
Iraq's war to oust the Islamic State devastated the country's infrastructure, including schools. The government estimates 12,000 new schools are needed nationwide. It recently signed contracts with two Chinese firms to build 8,000 of them. The project is expected to take up to eight years, with the initial phase – constructing 1,000 schools – now underway. This is welcome news for students like Abdullah Abdullah, who complains of overcrowded classrooms.
Abdullah Abdullah, High school student: "When there are too many of us in the classroom, there's too much noise, and it's impossible for us students sitting in the back to understand [what's being taught]."
But some Iraqis worry that an unconventional financing arrangement will lead to many substandard schools. Former Minister of Higher Education in Kurdistan-Iraq Dlawer Ala'Aldeen explains how China is handling the projects.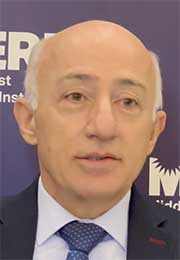 Dlawer Ala'Aldeen
Dlawer Ala'Aldeen, Middle East Research Institute: "They subcontracted in a much-reduced price to Iraqis, so Iraq ended up losing out and the financing was not actually a debt or borrowing, it was paid for through oil."
Subcontracting risks money being siphoned off by middlemen.
Sardar Aziz, Iraq-China Relations Analyst: "So if that is the case, then it means there is less money for the real builder [building] of the schools. And when there is less money, then worse quality [schools]. … The more hands in the project as we know in the current climate of Iraq, the more possibility of corruption."
VOA e-mailed the Chinese Embassy in Baghdad as well as Power China and Sinotec, the two companies working on the project, for comment but did not receive any responses.
In addition to China, the EU and the U.S. are helping Iraq rebuild its education system.
But the U.S. has reduced its footprint in Iraq in recent years while Beijing's presence has become increasingly noticeable, with its firms constructing dams, power plants, even a science city as a part of an oil-for-projects deal.
In Erbil, Salahaddin University's Chinese language department opened in 2019. Teachers from China come to teach Mandarin.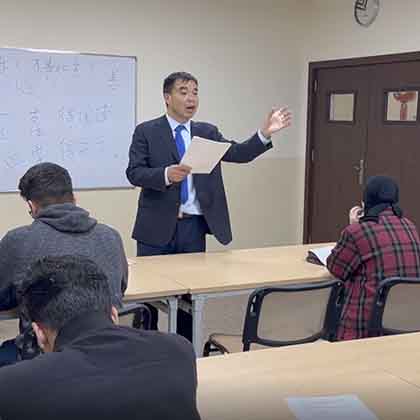 Rayyan Mustafa Qadir attends a Chinese-language class at Salahaddin University in Erbil in hopes of hoping for a better future, in this image made from a video. (Namo Abdulla/VOA)
Rayyan Mustafa Qadir, a student here, says she anticipates business opportunities stemming from Beijing's growing presence in Iraq.
Rayyan Mustafa Qadir, Student: "I saw that Chinese language is one of the important languages in the world. I choose it – I think I can get better jobs."
From teaching Chinese to building schools, many Iraqis welcome China's help to rebuild their country. For Fahd Abdul-Salam, the former student, it doesn't matter which country is helping Iraq; he just wants to see schools become places of learning again.