Accurately or not, the U.S. president is sometimes referred to as the "leader of the free world," and indeed is one of the most powerful world leaders on the planet. Over the past 232 years, most U.S. presidents have been white, male, and Protestant. Here is a look at how President Joe Biden stacks up to his predecessors.

31 presidents had a military background
The trend has not held true with recent presidents
The vast majority of U.S. presidents came to office as veterans, which included service in state militias and the National Guard. Several presidents were prominent military generals, including George Washington, the commander of the Continental Army during the Revolutionary War; Ulysses S. Grant, who commanded the Union troops during the Civil War; and Dwight D. Eisenhower, who led the U.S. Army during World War II. Following the Civil War, a series of veterans, all who fought for the Union, served as president, while the First and Second World Wars brought in another wave of veteran presidents. However, the trend of veteran presidents ended in recent decades with most of the later presidents having never served in the armed forces, including Bill Clinton, Barack Obama, Donald Trump and Joe Biden.

26 presidents served as members of Congress
Biden served in the Senate for 36 years
Being a member of Congress has been a popular profession for aspiring presidents since the time of James Madison and through the modern era. Just over half of all U.S. presidents have served in Congress, either in the House, Senate or both. Seventeen senators have become president including Joe Biden, but only three senators moved directly from the U.S. Senate to the White House: Warren G. Harding, John F. Kennedy and Barack Obama. Only one sitting U.S. representative, James Garfield, went directly from the House to the Oval Office.

Biden is the oldest president inaugurated
Number of presidents by age at inauguration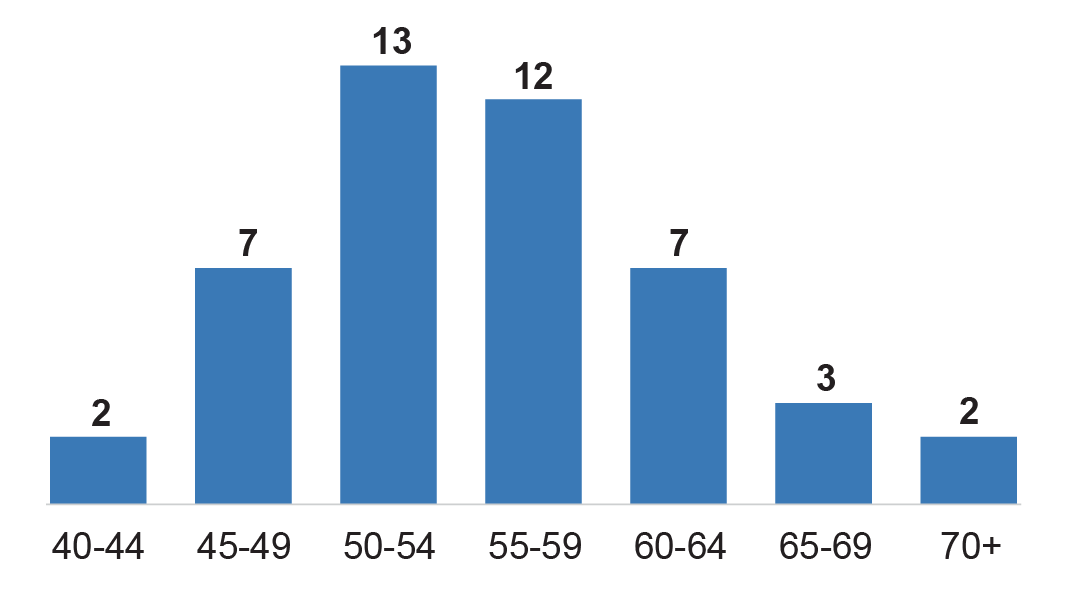 A person can legally run for president at age 35, but the youngest presidents — who have often been celebrated for their youth and charisma, in addition to their political achievements — have taken office in their early 40s. The youngest, "Teddy" Roosevelt became president at 42 and was known as a brash outdoorsman. John F. Kennedy, who came to the White House at 43, was seen as the crown prince of a glamorous political family. Older presidents, like Dwight Eisenhower and Ronald Reagan, took on, for some, a more grandfatherly role. Donald Trump became the oldest president to assume office in 2017 when he was 70, a title now assumed by Joe Biden who enters the White House at age 78. Leading the free world can age a person; several presidents who had dark hair when they started have ended their terms with a full head of gray hair.

Biden is the second Catholic president
All U.S. presidents have identified as Christian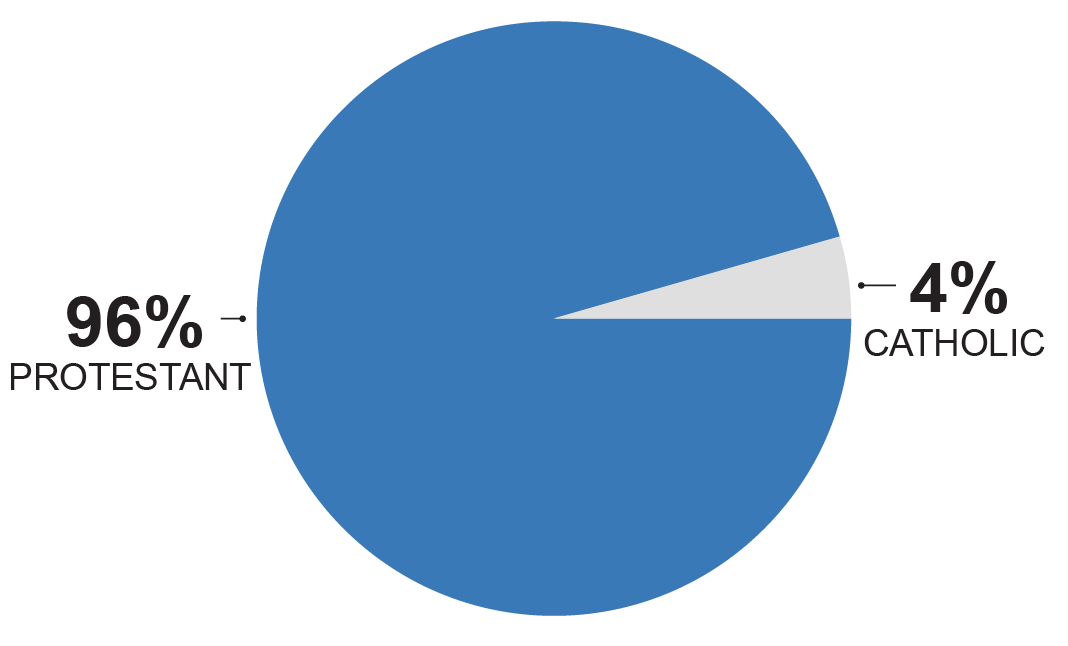 The U.S. Constitution prohibits any religious requirement for public office, but all U.S. presidents so far have professed Christianity, and all but two of them have been Protestant. Joe Biden becomes the second Catholic president after John F. Kennedy. No president has been Jewish or Muslim, and none have publicly professed atheism, although Thomas Jefferson, Abraham Lincoln, and William Howard Taft were thought by some to be agnostic or atheist. Former presidential candidate Bernie Sanders, who lost the Democratic nomination in 2020 to Biden, could have been the nation's first Jewish president if he had won.

15 presidents initially served as vice president
President Barack Obama, accompanied by Vice President Joe Biden, speaks after the election, Wednesday, Nov. 9, 2016, in the Rose Garden of the White House in Washington. (AP Photo)
Of the 15 vice presidents who assumed the presidency, eight of them did so because of the death of a president, while one of them – Gerald Ford – took office after the resignation of a president – Richard Nixon. While having served as vice president is generally seen as an asset to winning a presidential election, several recent vice presidents were unable to capture the White House, including Bill Clinton's vice president, Al Gore, and Jimmy Carter's vice president, Walter Mondale. Joe Biden, who served under Barack Obama, is only the second vice president to capture the presidency after waiting out a term. The only other person to do this was Richard Nixon, who served as Dwight D. Eisenhower's vice president from 1953-1961 but did not win the presidency until 1968.

Tall people get noticed, but short people can lead, too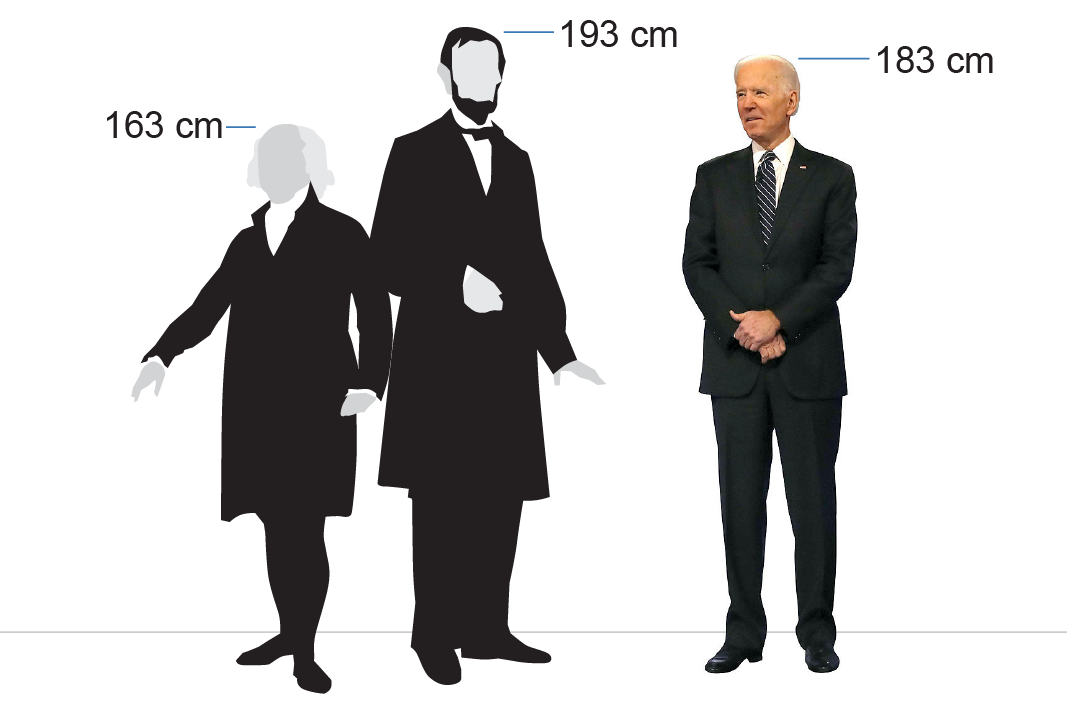 Conventional wisdom holds that tall people are more likely than short people to become leaders and accumulate wealth. Indeed, three men considered to be among the United States' most important presidents — George Washington, Thomas Jefferson, and Abraham Lincoln — are among the nation's tallest presidents, with Lincoln topping the list at 193 centimeters. However, several of the shortest presidents are also revered as founding fathers of the country, including James Madison, the fourth U.S. president, who was the shortest U.S. leader at 163 centimeters, as well as the second U.S. president, John Adams, who was 170 centimeters. Many of the most recent presidents are some of the tallest, including Donald Trump, Bill Clinton, and George H.W. Bush.

33 presidents have college bachelor's degrees
Only about a quarter do not
Most U.S. presidents, even the earliest, have been more educated than the general population. All presidents, except for 12, have a bachelor's degree, including every president since 1953. While those who do not have a degree are among the minority, they include two of the most revered U.S. presidents – George Washington and Abraham Lincoln. Washington earned a surveyor's license from the College of William & Mary in Virginia, but not a bachelor's degree, and Lincoln never attended college.
Only one president has a PhD – Woodrow Wilson – and he was also president of Princeton University before going to the White House. Several presidents have law degrees, including some of the most recent – Joe Biden, Barack Obama and Bill Clinton. Many of the early presidents also studied or practiced law, however at that time, only an apprenticeship, and not a law degree was needed to train as a lawyer.

27 presidents have been lawyers
60 percent of all presidents have studied or practiced law
According to the American Bar Association, 27 presidents have been lawyers, with the most recent being Joe Biden. The association says eight presidents have even made arguments before the U.S. Supreme Court, either before or after their presidency – John Quincy Adams, James Polk, Abraham Lincoln, James Garfield, Grover Cleveland, William Howard Taft, Benjamin Harrison, and Richard Nixon. Taft was the only president to serve on the Supreme Court, doing so after he left the White House. Adams was also nominated and confirmed to a Supreme Court seat, but declined the position, saying "I am … too much of a partisan to be a judge."

9 presidents had facial hair while in office
Mustaches and beards were a late 19th-century trend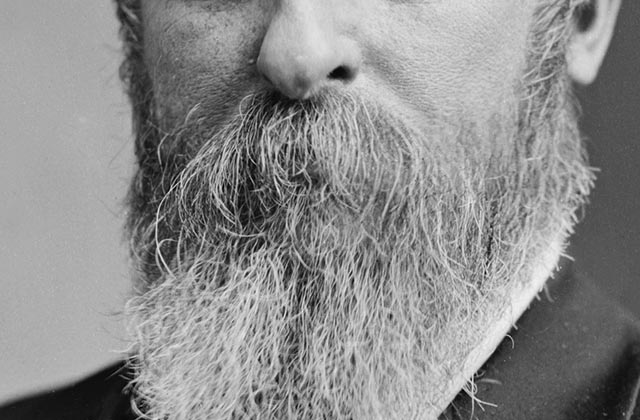 From 1861 to 1909, most presidents had some form of facial hair, which proved popular as the United States underwent big changes: the Industrial Revolution, the Civil War, the end of slavery, and women beginning to take on roles outside the home. In response, men's fashions began to emphasize "manliness." Bushy facial hair became another way to project strength and power. Abraham Lincoln, the first bearded president, is said to have grown out his whiskers during his presidential campaign in 1860 after an 11-year-old girl suggested it, telling him the worry lines in his face might put off potential voters. Facial hair began to fall out of fashion in the early 20th century with the rise of the new professional, or "white collar" class, in which men needed to appear well-groomed. Clean-shaven faces have become the norm in the political world, as well.