The Reasons They Left
Authoritarianism. Strict COVID-19 policies. Media censorship. These are some of the reasons that forced thousands of Chinese people to flee the only country they ever knew to seek better lives in new nations. Many lived in fear. Some felt imprisoned, until they all finally reached the same conclusion — "I have to leave."
In November 2022, 29-year-old Haibin Liang held up a blank sheet of paper outside the Perth Immigration Detention Center in Australia. He was supporting the White Paper Revolution that swept across China(https://www.voanews.com/a/what-to-know-about-protests-in-china-/6865157.html) and also protesting the excessive epidemic prevention measures adopted by Beijing.
The blank paper was the protesters' way of defying the Chinese government's strict censorship laws by having nothing on the paper for authorities to censor.
Liang fled to Australia in July 2020 and has been waiting for asylum for more than two years. After five years of being a crewman on international cargo ships, he saw a world outside of China's Great Firewall — technology and legislation put in place by the government to monitor and censor online content.
"It's a world that's completely different from what the Chinese government painted for us," he told VOA Mandarin.
"I just didn't think this was the life I wanted."
In 2020, Liang saw media reports that local health authorities had welded the doors of apartment buildings to stop the spread of COVID-19. At least 10 people died, according to news reports, because they couldn't get out to seek medical attention.
He was furious, and publicly accused Chinese President Xi Jinping of killing people.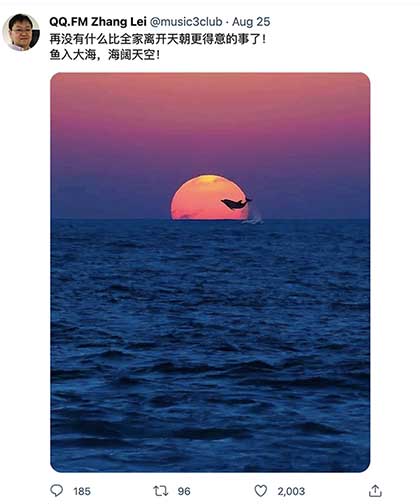 One of the 15 tweets Lei Zhang posted on August 25, 2022, after escaping China. (Twitter Screenshot)
In June, the police knocked on his door to reprimand him. In July, he decided to flee.
He joined hundreds of dissidents who left China's authoritarian government in what is called online as runology.
'Being in prison'
On August 25, 2022, IT entrepreneur Lei Zhang, his wife and three children left China and landed in Thailand. Two weeks later, they were in the United States under the Immigrant Investor Program, which allows foreign investors, their spouses and unmarried children under 21 to apply for green cards and permanent residency.
Liang, 52, experienced the glory days of China's internet boom from the late 1990s to 2015, when there were few constraints from the government.
"Innovation was everywhere, mainly because the government wasn't playing a role," he told VOA. "Now, the government controls everything, and we, as entrepreneurs, don't know what we can do anymore."
Since Xi came to power in 2012, the government has tightened its control on all walks of life in China. To Zhang, the broader and murkier constraints have killed innovation in the tech industry, and the zero COVID-19 policy enabled officials to limit people's freedom.
After being locked down for three months in Shanghai with daily COVID-19 tests, Liling Mo couldn't bear it anymore. (AFP)
In 2022, as other countries moved toward coexistence with COVID-19, and China firmly adhered to the zero-COVID policy, Zhang thought it was time to leave.
"Life in China [during COVID] was like being in a prison. You were monitored and tested on a daily basis. … I just didn't think this was the life I wanted," he told VOA.
'Not the owners of our wealth'
Jun Wang (pseudonym), 48, left during the COVID-19 lockdown in Shanghai in 2022 and emigrated to Thailand. He said when his plane took off from Shanghai, he felt like he had escaped a war zone.
Wang meets all the criteria of a city elite. He went to a top university, worked for multinational companies and had the chance to stay in America through his work. Yet China was a more attractive place to him around 2000, as Beijing had just joined the World Trade Organization, and opportunities were readily available. He thought he would have a brighter future at home and founded his own private equity fund in 2011.
"We focused on investing in privately held firms in China and were managing up to 5 billion RMB (about $725 million) of funds," he told VOA Mandarin.
But in 2017 as the economy faltered, many privately owned firms in China could no longer make ends meet.
"China exaggerated the dangers of the COVID-19 virus for too long, causing countless companies to suffer unbearable losses for the past two to three years," Wang said.
"I always think, 'Today is hard, yet tomorrow is another day.' But no. Turns out that tomorrow might be even worse than today," he said.
Wang said he realized that as the Chinese government always claimed it serves the people, rich and politically connected people still controlled the lifeblood of all walks of life in the country.
"We all know that we are not the owners of our wealth. This money is never ours. In Chinese business circles, there's a famous saying, 'Your business is controlled by the criminal law … any of your businesses,'" he said.
According to Victor Shih, a professor in China and Pacific relations at the University of California San Diego, China's wealthy citizens have been trying to transfer their assets out of the country for the past decade.
"The rich understand that their assets inside China have no protection. The Party is above the law, and the Party committees control the courts," he told VOA.
According to immigration consulting firm Henley & Partners, in 2022, around 10,000 wealthy Chinese withdrew $48 billion in assets from China. That's the second-largest wealth exodus after Russia.
'Hopes for China were shattered'
For citizen journalist Lanjian Zhao, China's constraints on freedom of speech shattered his hopes for the country.
At the beginning of 2022, a blogger found a mother of eight chained by the neck to the wall of a hut and exposed to freezing weather. Nicknamed Xiao Huamei, she was a victim of human trafficking and was raped by the alleged father, giving birth to eight children.
As the video went viral, shocked netizens demanded answers. Zhao traveled to the city of Nujiang in China's southern province of Yunnan to meet a man the local government claimed was Xiao Huamei's uncle. But he denied he was a relative.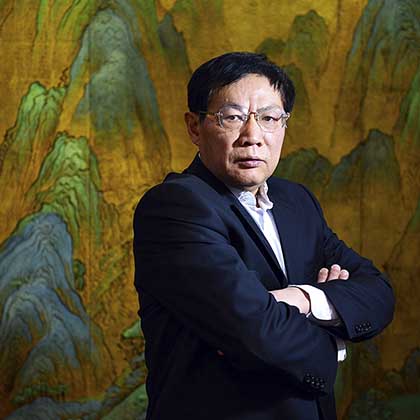 Chinese real estate tycoon Ren Zhiqiang, who called Chinese President Xi Jinping a clown and criticized his policies, was sentenced to18 years in prison. (AP)
Zhao put his interview with the man online to demand answers from the government. But that only brought him multiple interrogations and harassment from the police. They also copied everything from his cellphone.
In June 2022, Zhao fled China.
"This has hit the rock bottom of human rights violations," he told VOA. "If our society can't demand truth on an incident like this — our government had to have five conflicting reports trying to cover up the facts. It's terrifying to me."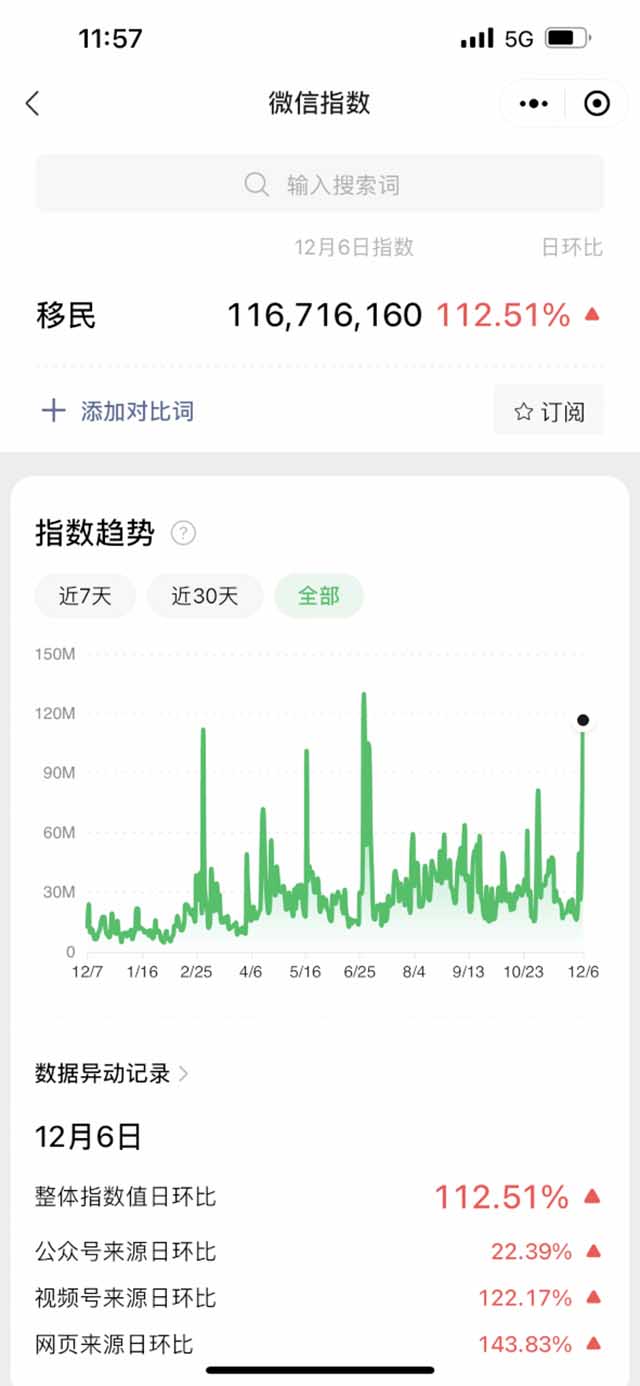 WeChat index shows searches for "emigration" spiked several times in 2022, roughly corresponding with the Shanghai lockdown and China lifted its COVID restrictions.
'History is repeating itself'
In October 2022, at the once-every-five-years Party Congress, Xi was confirmed for a historic third term, breaking the tradition of Chinese presidents leading the country for no more than 10 years, and cementing his status as the country's most powerful figure in decades.
Since then, Ning Li, who now resides in Canada, received WeChat messages from his friends in China about how to emigrate.
Li arrived in Toronto in June 2022. He first considered emigration three years ago during the Wuhan lockdown. It was during the lockdown that death became a real concept to him.
"I don't think I've ever been so close to death. I was lying on the bed, and the fear of death was just creeping up on me. … The doctrine lockdown was a traumatic memory for me," he said.
Against his parents' advice, the 36-year-old sold his apartment and applied to schools abroad.
Li loves to read. He told VOA that anyone who follows Chinese history knows that Xi is following People's Republic of China founder President Mao Zedong's strategy, and that history is repeating itself.
"Cooperatives are making a comeback. … He's taking this strategy that the Chinese government had used before, just changing the people who are enforcing it. So, you know what's going to happen. History always repeats itself," he said.
"If you can get out earlier, you won't lose too much. The longer you wait, the more loss you have to endure," he said.