'We Are Forced to Leave Our Hometown'
Yuzhen Chen is known as Mr. Chen to fans of his popular YouTube channel, "Here Comes Mr. Chen." In 2020, he was arrested in China for teaching others how to view banned websites through VPN. He later immigrated to South Korea. But that's not the end of his story.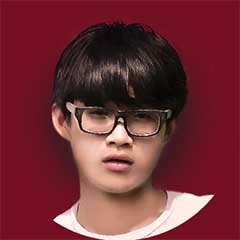 Yuzhen Chen
YouTube Personality Shanghai-Seoul-San Francisco
"In the last episode, we talked about the little pinks. Today, we will talk about China under the strict COVID-19 policy."
Yuzhen Chen, YouTuber, "Here Comes Mr. Chen": I was born in 1996 in Anhui province. My hometown is circled by mountains. When I was little, I had to walk several kilometers every day to go to school. Life was pretty poor.
My parents left for the big city to work. We have a term in China: left-behind children. That was me as a little boy. I grew up with my grandparents.
I was a little pink throughout high school, often went online to attack those who didn't support the Chinese government. I thought arguing with others was fun — defending my own country was patriotic. Well, I was young and had never seen the outside world then.
Chen went to Taiwan as an exchange student in 2016. After living there for four months, the then-20-year-old formed a different world view.
Yuzhen Chen: Many [Chinese] people mocked me, saying that I just love Taiwan. I think it's better to say that I like justice. The Chinese government often say that democracy is not suitable for the Chinese people, yet Taiwan is an example right in their face. They can't perfect their lies if Taiwan continues to exist, so they want Taiwan to be unified.
In June 2020, Chen was taken away from his home for teaching others how to use VPN to access banned websites. He was then released on bail, still waiting for a verdict on his case.
Yuzhen Chen: My case was delayed till the end of that year. Those six months were really difficult, because I had no idea what would happen to me. They also told me that everyone in my family would be impacted because of my inappropriate actions … including my future sons and daughters.
Out of desperation, he decided to apply for school in South Korea.
Yuzhen Chen: I was checking online. Apparently while you are on bail, according to the Chinese constitution, you couldn't go abroad. But I still wanted to give it a try, even if I got caught. I might only have one chance here.
When I was at the airport, the officials at border inspection did not have any information regarding my arrest or my case … so, I spent roughly an hour there. They mainly checked my passport. Then they stamped it.
When I was at Customs, they opened my luggage and checked for any banned items. … I was so happy and thought it's all good to go — up until I heard an officer calling my name.
I was so nervous. I thought that it was over. I dropped my two carry-ons on the floor, and I saw the officer walking towards me. My mind went blank. He approached me and said, 'Mr. Chen, you forgot your boarding pass.' It was my boarding pass.
While in South Korea, Chen publicly talked about his arrest in China and was interviewed by multiple media outlets. His family in China were harassed by the police, and all his bank accounts were frozen. Without money to pay his tuition, he couldn't get an extension to his student visa in South Korea. He had to find another place to go.
Yuzhen Chen: I took out the world map, unfolded it, and I just felt like the whole world was dark. Almost all the countries had suspended entry [because of COVID-19]. Only one was still open — that's America. So, I decided to give it a try.
Chen arrived in the United States in September 2021 and is now applying for asylum.
Yuzhen Chen: No one wants to leave their hometown. It's all because we are forced to do it.
Has your family watched your YouTube channel?
Yuzhen Chen: No one can watch my videos in China. They are all censored.
Do you feel a little guilty toward your family?
Yuzhen Chen: Yes, of course. The main thing is I might not be able to see them again. It's really sad.
Do you think you've done anything wrong?
Yuzhen Chen: I don't think I have done anything wrong. Now, I'm focusing on my channel. Once I have enough followers, I might go back to China. Then, everyone will know if [the police] put me in prison. I'm OK with that. What I don't want is being in prison and not making a difference.