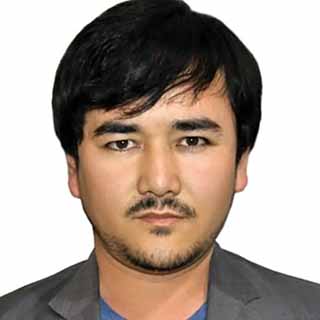 'I want truth to be told'
Afghanistan's Hazara community relied on Rah-e-Farda, so Nazeri knew he must stay.
Before the fall of Kabul, Afghanistan had a few major Hazara television networks. After the Taliban takeover, two shut down.
Only Rah-e-Farda stayed on air to provide coverage of the Hazara community.
I've worked at Rah-e-Farda on and off since 2010. I present political and social programs and conduct newsmaker interviews.
Rah-e Farda broadcasts to a predominantly Hazara community. Under their last rule, the Taliban, who are Sunni, persecuted the primarily Shia Hazaras.
Eight colleagues left Afghanistan. But I didn't have a passport and didn't know how to open an asylum case, even though I'd presented a lot of critical programs against the Taliban, where I called them criminals. These are dangerous programs.
I also stayed behind because I want truth to be told. That's why I'm still active in the media.
My decision undoubtedly had an impact on our programming. We aired programs with Taliban officials and others, where we asked them questions from our viewers.
Had I left, it's possible that these programs would not have aired.
More recently, we've had to drop all foreign programs and drama series. Everything, including an (Iranian) series about the Prophet Joseph.
We're allowed to broadcast only domestic programs, but (the Taliban) haven't clarified what is allowed.
All this amounts to new restrictions on media activities and could potentially force our network and others to shut down.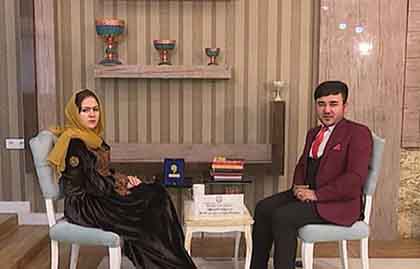 Dawood Nazeri interviews former member of Parliament Fauzia Kofi before the fall of Kabul on August 15, 2022. (Screenshot: Rah-e Farda)
As with (Afghan network) TOLO, the quality of our programming dropped because experienced journalists left. To pick up the slack, we work longer hours and ask colleagues to take on more assignments.
If Rah-e-Farda were to shut down, 180 people would lose their jobs. And about 500 people would lose their main breadwinner and could go hungry.
We cover the Shia regions more than any other outlet. As a result, these issues get discussed at a national level, and the government is forced to come up with a solution, whether it's aid, poverty or other problems.
(If we close), the public's questions will go unanswered, specifically questions that the Shia people have. For example: minority rights, Shia rights, Ushr (Islamic tithe). The Shias have Zakat (almsgiving) and Khums (religious tax) but not Ushr.
Rah-e-Farda fills this information void.
As far as I can tell, about 60% of journalists stayed behind and, despite the dangers, still work. It's important that this continues, that the media receive protection, and that the Taliban are convinced that without media, progress will be impossible.
As for freedom of expression, I can't say what will happen. It's good that the journalists detained recently (in Kandahar) were released with only a warning. But restrictions are on the rise and will undoubtedly affect our ability to do our jobs.
Interviews with Nazeri have been translated and edited for length and clarity.
About this project
Hundreds of Afghan journalists fled after the Taliban takeover last year, but many more chose to stay in spite of the regime's hostility. Masood Farivar, former chief of VOA's Afghan Service, interviewed several about what drove them to their decisions, and how their work has changed in a culture of intolerance.

— Jessica Jerreat, VOA Press Freedom Editor