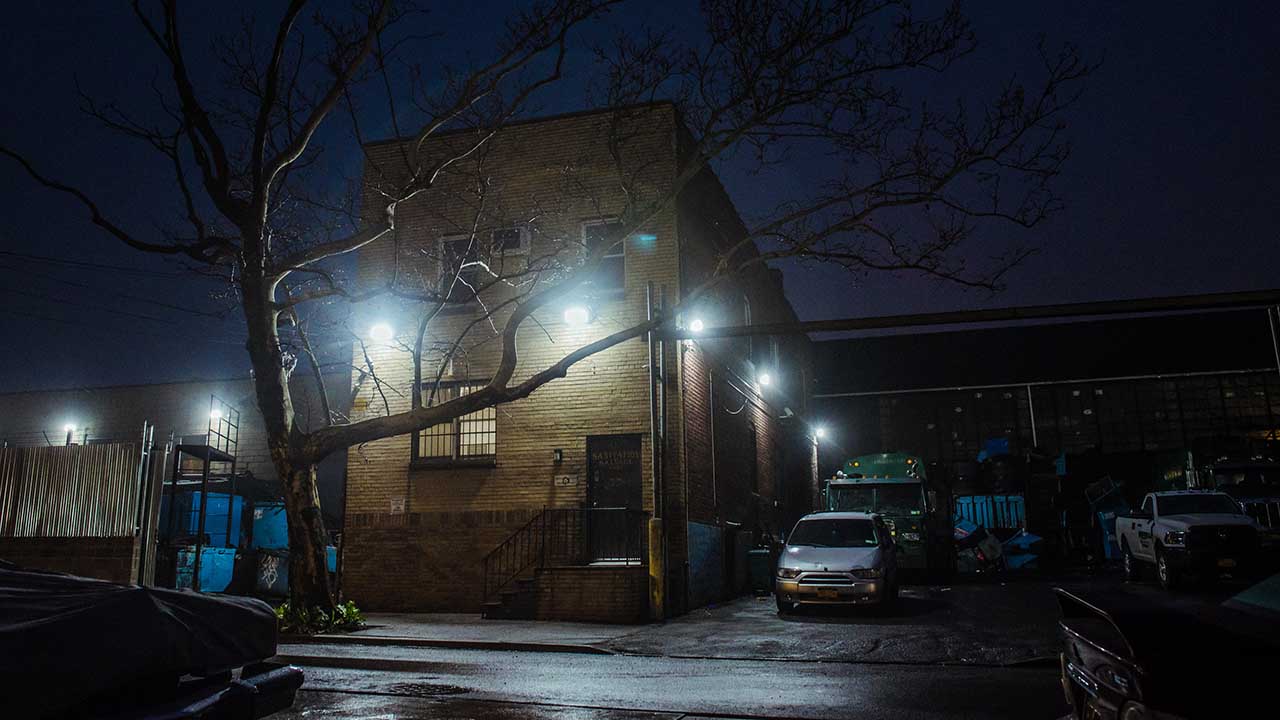 Floodlights illuminate the Sanitation Salvage headquarters on Manida Street. (Photos by Ryan Christopher Jones)
'You've Done Well, My Friend'
Workers say Sanitation Salvage installed a bogus union that for years was run by two men who'd been linked to organized crime.
The story of Sanitation Salvage began in 1978 with the Squitieri family of Morris Park, which was then a largely Italian neighborhood of the Bronx. Matteo Squitieri, the father, worked for a garbage company before buying his own truck. Matteo drove and his sons – Steven, John and Andrew – worked on the back, hauling trash. Matteo's wife and daughter kept the books and answered the phone out of their house.
Today, the company employs dozens of drivers and helpers, and has grown so dominant that in vast swaths of the Bronx, just about every business gets their trash picked up by Sanitation Salvage. The company is not required to publicly report how much money it earns every year, but Bronx Borough President Ruben Diaz Jr., in an October 2016 speech honoring Sanitation Salvage's president, Steven Squitieri, said the company takes in tens of millions of dollars annually.
"You've done well, my friend," Diaz said with a laugh.
Where is the Bronx? Learn about New York's boroughs. In New York's bifurcated world of garbage, the city's Department of Sanitation handles residential trash, and a legion of garbage trucks from scores of private sanitation companies carts away the trash and recycling from businesses. For nearly a half-century, the commercial garbage industry had been seen as almost hopelessly corrupt: The mob's control of the industry was absolute, through both the companies and unions.
In 1995, the Manhattan District Attorney's office brought a sweeping racketeering case against a wide range of mobsters, the trade associations that enforced what amounted to a cartel, and many private carting companies. The prosecutions prompted a massive reform effort. The Trade Waste Commission was created under then-Mayor Rudolph W. Giuliani to regulate the industry and root out bad actors. The waste commission later became the Business Integrity Commission (BIC) when it was granted wider authority to oversee other industries in the city.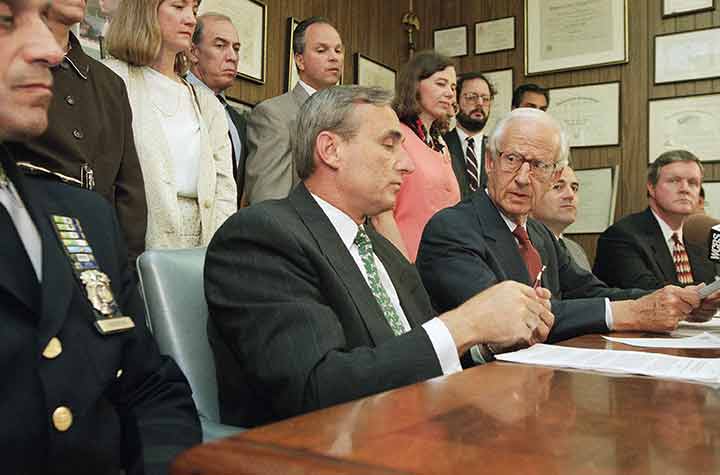 On June 22, 1995, Manhattan District Attorney Robert Morgenthau (second left) announces a landmark racketeering indictment against New York City trash haulers and trade associations that were associated with the Genovese and Gambino crime families. (AP)
The Squitieris were not indicted in any of the criminal cases, although BIC required Sanitation Salvage to retain an outside monitor until 2005. (Sanitation Salvage had been a member of the Queens County Trade Waste Association, which pleaded guilty to a criminal antitrust violation in 1998.)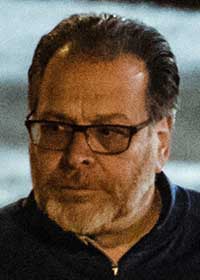 John Squitieri President of the North Bronx Democratic Club
(Ryan Christopher Jones) On the civic stage, the Squitieris have worked hard to cultivate an image of benevolence and public service. Steven Squitieri, known as Stevie, is a board member of the Bronx Chamber of Commerce, and his brother John, known as Johnny, is the president of the North Bronx Democratic Club. In 2015, Steven Squitieri was honored on the floor of the New York State Assembly by the Bronx delegation for being "an extraordinary business person" and "a great philanthropist" who "truly understands the meaning of giving back." 
"No one gave them anything. They worked hard. They earned it," Diaz said of the Squitieris at the function in 2016. "They still work hard each and every single day."
Ousting the Teamsters
Many of those who have worked for Sanitation Salvage offer different testimony and, for them, the events of 2005 provide a telling counterpoint.
Sanitation Salvage at the time was a Teamsters union shop, with strict wage and benefit requirements. The Squitieris, according to the Teamsters, often tried to get away with hiring off-the-books helpers. In response, the Teamsters said they chased down Sanitation Salvage trucks in the night, trying to catch the company in the act.
"It was a constant battle," said Teamsters Local 813 President Sean Campbell.
Management ultimately ended the battle by installing what, in effect, became their own union, according to current and former workers. The new union was called Local 124, and it was run chiefly by James Bernardone and another man, Louis DeAngelis. Workers say the union has since its inception been a sham, little more than a tool for management to exploit employees. (Local 124 did not respond to a detailed list of questions. Sanitation Salvage did not respond to questions about the union, Bernardone and DeAngelis.)
Unions like Local 124 – they are often called "independent" unions – have long been a curious and problematic feature of New York's private sanitation industry. The function of such unions, according to law enforcement and labor experts, is to cut sweetheart deals with employers, often locking employees into jobs with low wages, poor benefits and low safety standards.
Just like a legitimate union, these unions are registered with the U.S. Department of Labor, and dues are taken out of workers' paychecks. But the union serves the interests of the employer, not the employees it ostensibly represents.
"In the old days," explained Ronald Goldstock, the former head of the New York State Organized Crime Task Force, if "you wanted to stop your workers from joining a particular union that you were afraid of or worked on behalf of the employees, you signed a contract with a phony local. So there was a collective bargaining agreement, but you kept it in a desk drawer. Nobody ever saw it. But if anybody ever wanted to unionize, you would hold it up and say, 'We're already unionized!'"
Bernardone and DeAngelis both came out of a mob-tainted Teamsters local in Yonkers. The Teamsters had agreed to sweeping government oversight in 1989 in order to settle a federal racketeering suit, and this meant forming a court-appointed Independent Review Board that investigated and expelled members for corruption and ties to organized crime.
In 1991, the Teamsters Independent Review Board accused DeAngelis in writing with having "knowingly associated with members of La Cosa Nostra," and to settle the allegations, DeAngelis agreed to a lifetime ban in an affidavit that was submitted to the U.S. District Court for the Southern District of New York.
The Teamsters Independent Review Board stripped Bernardone of his membership for five years through a similar process in 2000, concluding in a formal written finding that he had entered into "sham collective bargaining agreements with employers."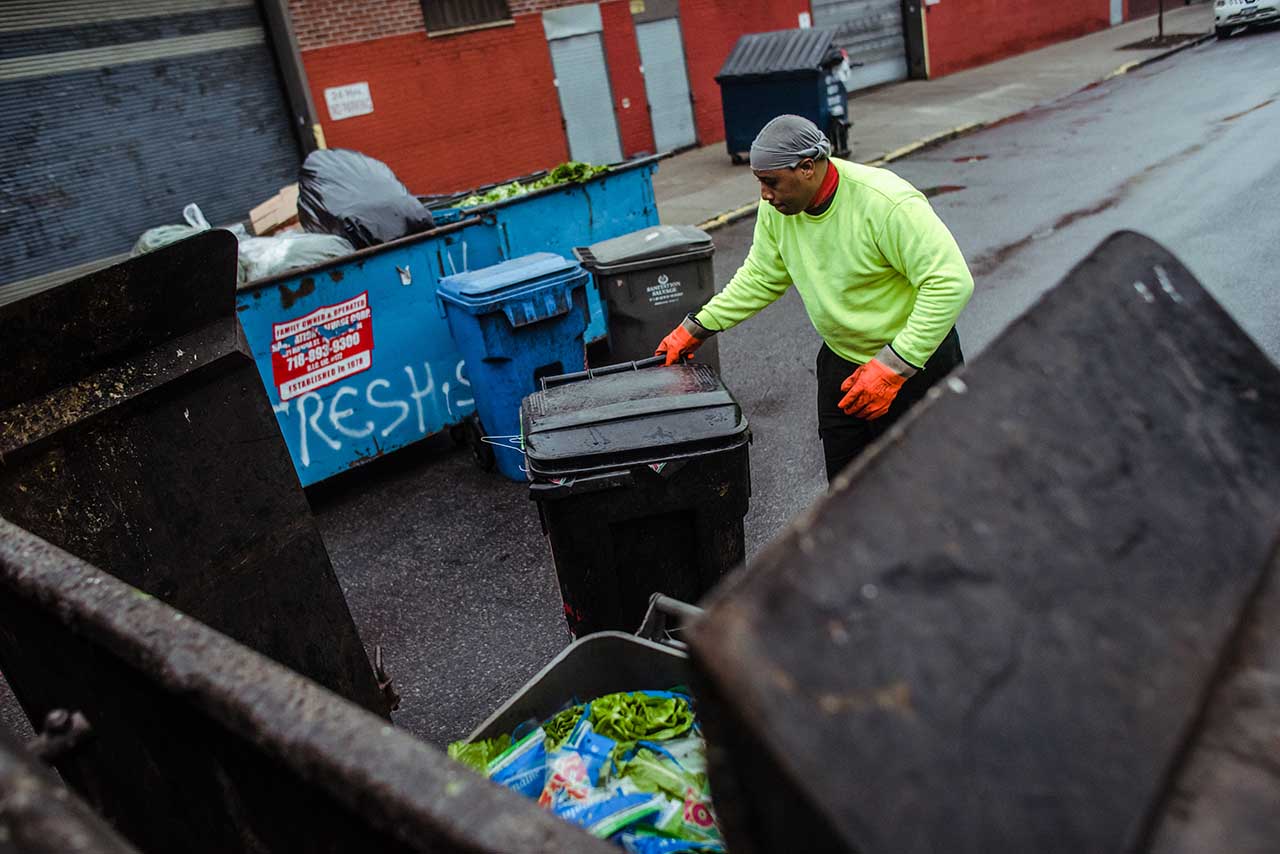 A Sanitation Salvage truck picks up organic waste in the Bronx. (Ryan Christopher Jones)
'Rubber-band money'
The new union at Sanitation Salvage was installed with little pretense of legitimacy, according to workers and other labor advocates.
Former driver Michael Maldonado – nicknamed "Mikey Cardboard" – told the story of the switch like this: A supervisor named Christopher Markgraf showed up at his house. Markgraf, dubbed "Whiteboy Chris," had a clipboard with a list of signatures. "Here, sign this," said Markgraf, according to Maldonado. Maldonado signed.
"We were blindsided," Maldonado said.
Another worker, who requested anonymity because he still works for the company, said he, too, did as he was told.
"Whiteboy Chris was running you down," the worker said. " 'If you don't sign this list, you gonna have problems.' Everybody just signed that [expletive]."
Markgraf did not respond to requests for comment.
Sanitation Salvage workers today say they never understood exactly what happened, and had no idea that federal labor law protects the rights of workers to choose their own union and prohibits an employer from interfering with that choice by sponsoring or assisting any kind of union petition. All the workers knew was that the new union held no meetings or elections, they said. No union officials came around, no contract negotiations were discussed.
Before "the list," they said, workers were Teamsters. After the list, many of the helpers were hired and paid off the books.
The off-the-books helpers made $80 a night at most, whether a shift took 12 hours or 20, according to interviews with 15 current and former workers. On payday, the $80 guys went down into the basement of Sanitation Salvage's headquarters on Manida Street, workers said, and a supervisor gave them money out of a bag or envelope. Their pay was rolled up with a rubber band and a piece of paper with their name on it. Workers called this "rubber-band money." This was how all helpers started at Sanitation Salvage, workers said.
As for drivers, they began to get envelopes of cash along with their weekly paychecks with the new union in place, Maldonado said. Their supervisors told them to take it and keep quiet. "Once a week, we got side money. That was for me and everybody else who signed that paper," he said.
Three additional current and former workers confirmed this account of payments of questionable legality. "I saw the envelopes," said Orrett Ewen, a helper at Sanitation Salvage from 2006 to 2016. "The whole time I was there, the side money was there."
In 2011, a traditional union, the Laborers, tried to take on what they regarded as the exploitation at Sanitation Salvage. They began organizing for a vote to replace Bernardone's union. That union won an initial vote, but the results were tossed out because of what the National Labor Relations Board (NLRB) found to be coercion on the part of the company.
Sanitation Salvage had threatened to fire workers who supported the Laborers, the NLRB found, and supervisors had warned workers to "do the right thing." Bernardone showed up at Sanitation Salvage wearing a Local 124 T-shirt, and a supervisor – who workers learned doubled as their shop steward – also wore a Local 124 T-shirt.
"Hey Cardboard, who are you voting for?" Maldonado remembered Steven Squitieri calling out to him. The right answer, Maldonado said, was clearly Local 124.
A second vote followed with the same results, and even though the NLRB found that Sanitation Salvage had again favored Bernardone's union, the threats didn't reach the legal threshold required for a new election.
Allegations of wage theft
The Laborers were forced to concede, but they did not go away. The following spring, the union approached BIC about Sanitation Salvage and Local 124. Laborers attorney Tamir Rosenblum sent the commission a 108-page memo dated May 7, 2013, that included sections with headings like "wage theft" and "unsafe operations."
Helpers typically started working for the company off the books, according to the memo, and the routes were so long that workers "have little choice but to solicit non-employees to assist as helpers." When employees were injured, the memo continued, supervisors instructed them not to file for workers' compensation.
The memo laid out Bernardone's and DeAngelis' involvement in Local 124 and their respective organized crime histories. The memo noted that Bernardone was still running the union despite having been formally indicted by federal prosecutors on racketeering charges and named as a Genovese soldier. He would remain so until his eventual conviction in 2014.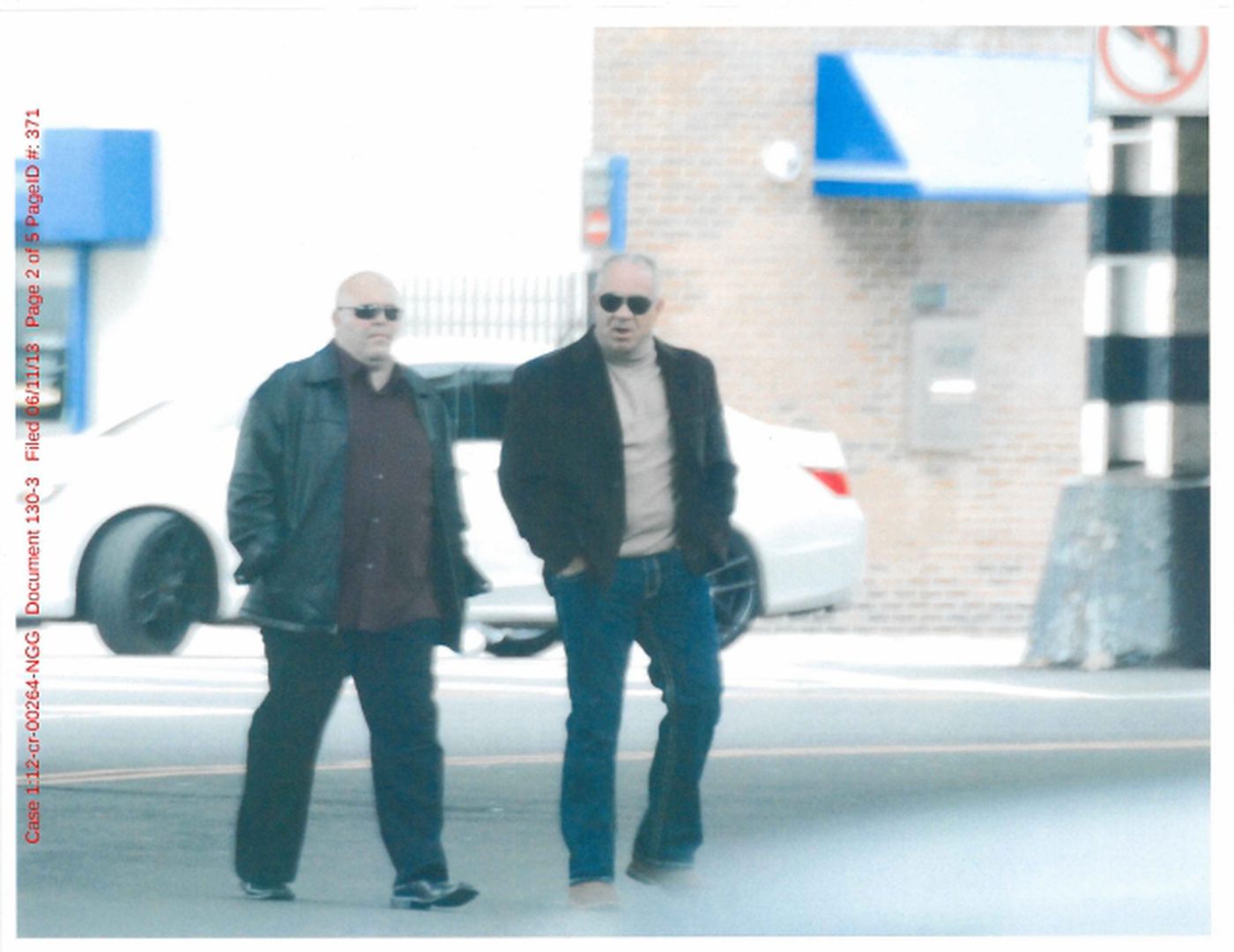 James Bernardone (right), a soldier in the Genovese crime family, was photographed by the FBI as he attended a mob funeral in 2013. At the time, Bernardone was awaiting trial on racketeering charges. He was convicted in 2014. As of 2017, records show he was receiving "deferred compensation" from the union representing Sanitation Salvage workers. (FBI)
BIC officials today acknowledge having received the memo of worker allegations. They say they gave some material to prosecutors, "other governmental agencies" and "labor inspectors" but did not specify who they were or what was turned over. They also said they conducted their own audit of Sanitation Salvage that lasted from 2013 to 2015 and involved a "forensic examination" of the company's records, a process that resulted in an $85,000 fine for the company's failure to maintain books and records.
As for allegations made about Local 124, BIC said, "Though thoroughly investigated, the evidence did not sufficiently establish that there was an improper relationship between the company and James Bernardone."
BIC's statement did not address DeAngelis but noted that at the time of its review Bernardone was in prison.