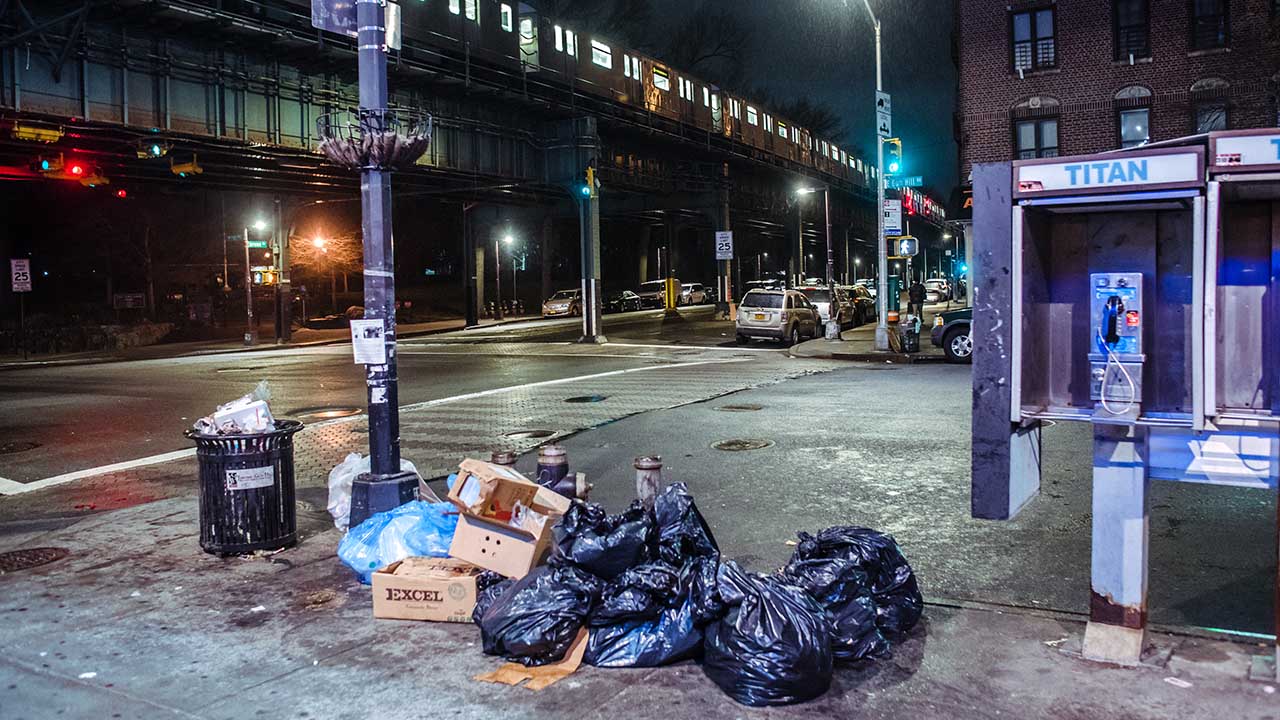 Trash awaits pickup at the intersection of Gun Hill Road and Jerome Avenue in the Bronx, where Mouctar Diallo died. (Photos by Ryan Christopher Jones)
A Watchdog Under Fire
Is the agency that oversees New York's private trash companies going easy on the industry?
On Feb. 10, 2018, about a dozen Sanitation Salvage workers sat in folding chairs in a small community center in Hunts Point, the Bronx. They were joined by several members of the Teamsters, eager to try to mount a challenge to Sanitation Salvage's union.
The Teamsters officials had chosen to invite a reporter, as well as Daniel Brownell, head of the Business Integrity Commission (BIC), which licenses and oversees private trash haulers in New York City. Brownell took a seat in the front of the room.
Where is the Bronx? Learn about New York's boroughs. The stories began pouring out: men who worked for years off the books, paid $80 per night; workers logging upwards of 85 or 90 hours a week; the timesheet that the bosses changed so that they weren't paid for all their hours; a white supervisor using racial slurs against the black and Hispanic workers; supervisors forcing them to keep working through major injuries; supervisors telling them to take taxis to the hospital instead of ambulances – and then to lie and say they weren't hurt on the job; medical insurance cards that were mysteriously rejected. The way the Squitieri brothers, who own the company, loaned workers money, which kept them indebted to the bosses, they said, and thus under management's control.
And, of course, the lie put forward about Mouctar Diallo, the off-the-books worker who was run over and killed by a Sanitation Salvage truck last November. The driver and helper on the truck did not initially tell police who Diallo was – or that he was working with them.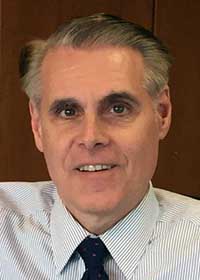 Daniel Brownell BIC commissioner
(BIC file) Brownell seemed surprised at the number and gravity of the complaints. He also seemed to lack a command of Sanitation Salvage's history and operations. At one point, he asked the workers if they had a union.
"Yeah, that's their personal union," a worker called out.
"Their personal union?" asked Brownell, sounding perplexed.
"They run the union," answered a second worker.
"They are the union," said a third.
At another point, a Teamsters organizer asked if any of the off-the-books third men – the workers like Diallo – were in the room. The workers said the $80 guys had wanted to come but were too scared.
In a phone call with VOA and ProPublica after the meeting, Brownell maintained that Sanitation Salvage had "been on our radar for a long time."
Yet when asked about James Bernardone and Louis DeAngelis, the Genovese soldier and alleged mob associate who've been listed on the public financial filings of the company's union for more than a decade, Brownell said, "I'm sorry, remind me who they are?"
Brownell's confusion was all the more striking because BIC, which touts its licensing procedures as rigorous and effective, had just renewed Sanitation Salvage's license in December.
For the past two decades, BIC has been charged with enforcing Local Law 42, which requires that New York City's trash haulers be of "good character, honesty and integrity" in order to be licensed. And no one disputes that for many of those 20 years, BIC aggressively and regularly booted companies from the industry for failing that test.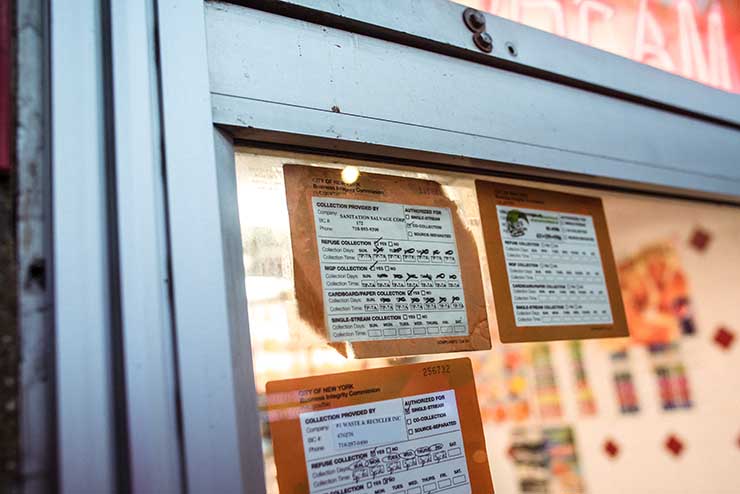 A Business Integrity Comission (BIC) sticker on a business in Fordam Heights shows pickup times for Sanitation Salvage trucks. (Ryan Christopher Jones)
Fewer violations issued
Brownell took over the enforcement of BIC's operations when he was appointed by New York Mayor Bill de Blasio in 2014. He'd been a prosecutor with a sterling reputation: chief of the Rackets Bureau at the Manhattan District Attorney's office, and before that an assistant U.S. attorney for the Eastern District of New York. In the world of law enforcement, people typically describe Brownell with terms like "a serious guy."
The commission he commands has a staff of 83, and 13 of them work in a dedicated background investigation unit. The sole professional responsibilities of the unit are to dig deep into BIC licensees. The agency also has subpoena power and can require company principals, managers and employees to come and testify under oath. Additionally, BIC has a squad of detectives from the NYPD's Criminal Enterprise Investigations Unit.
Yet a number of local elected officials, as well as labor and workplace safety advocates, have recently begun to question whether Brownell and BIC have become less aggressive at policing the trash industry.
Sanitation Salvage isn't the only company with a union that appears to serve the employer's interests instead of the employees it ostensibly represents. In January, ProPublica reported on LIFE 890, a union run by a man who has put his wife, three children and son-in-law on the payroll over the years and is based in a residential townhouse the family owns through an LLC. LIFE 890 is at two of the other largest trash hauling companies in New York City. (BIC declined to comment specifically on Local 124 and LIFE 890, citing open investigations.)
BIC is also writing fewer violations against haulers. According to the 2018 (New York) Mayor's Management Report, the number of violations fell by roughly half from 2015 to 2017, from 1,166 to 640. Haulers can be cited for everything from improperly commingling waste to driving an unregistered vehicle.
"The reduction in violations overall is likely due to higher levels of compliance in the industry generally," BIC responded. The agency maintained it had increased its enforcement actions against unlicensed haulers that sometimes work the city's streets.
A 'collaborative' approach
CLARIFICATION
A prior version of this article identified Ray Shain as a convicted racketeer. He is a convicted felon. His conviction and agreement to make restitution resolved a federal civil racketeering lawsuit.
Brownell has also instituted an "advisory board" composed of company owners and industry lobbyists. The monthly board meetings are not open to the public, although minutes are posted online. One BIC advisory board member lobbies for New Yorkers for Responsible Waste Management (NYRWM), a trade association whose secretary-treasurer is a convicted felon: a lawyer named Ray Shain who was disbarred from practicing law in New York in 2003 after pleading guilty to a bid-rigging, bribery and kickback scheme that defrauded Queens public schools out of an estimated $6.3 million. 
In fact, a number of the city's largest garbage companies are members of NYRWM, which is curious: Because of the industry's history of corruption, New York City law bans BIC licensees from being members of trade associations where anyone holding a position "has been convicted of a racketeering activity or similar crime."
"Shain's crimes did not relate to the trade waste industry," BIC responded in a May 24 statement. "BIC reviews each case on its merits; there is no automatic bar based on someone's criminal past."
"NYRWM operates in accordance with all city and state rules and regulations," said spokesperson Sam Spokony in a statement. "Mr. Shain was readmitted to the bar in 2011 and his role with NYRWM is limited to providing administrative services and counsel."
BIC also sponsors "safety symposiums" in conjunction with NYRWM. These are industry-led events and have included panel discussions and displays of safety technology.
Antonio Reynoso, a Democrat representing Brooklyn and Queens and the chairman of the City Council's Sanitation Committee, has called the safety symposium effort a "dog and pony show."
Waste haulers and the BIC held an industry safety meeting April 11. (@ActionCarting | Twitter)
The agency responded in a statement: "BIC takes great pride in the work the agency has done to help improve safety in the industry, including the safety symposia."
Brownell discussed BIC's relationship with the industry it oversees before the City Council last year.
"We continue to work collaboratively with leaders from the trade waste industry taking to heart the belief that since running their companies in the city is difficult enough, they should not have to labor under unnecessarily burdensome regulations from BIC," Brownell said.
As for safety matters, it is Brownell's position that BIC lacks the authority to revoke licenses over safety issues, whether involving workers on the job or people walking or biking the city's streets. Under the city's administrative code, Brownell said in a statement to VOA and ProPublica, in order for BIC to take any action or even issue a violation, "another agency must first establish that a law, rule or regulation [in] its jurisdiction has been violated."
The claim has infuriated some lawmakers and safety advocates, for the administrative code governing BIC's authority and responsibilities includes "compliance with safety and health measures" as one of the commission's "powers and duties." Yet, BIC maintains that is a "misunderstanding of the code," and that the agency's hands are tied. BIC said it is working on proposed legislation to expand its authority to enforce rules "without coordination with another regulatory entity."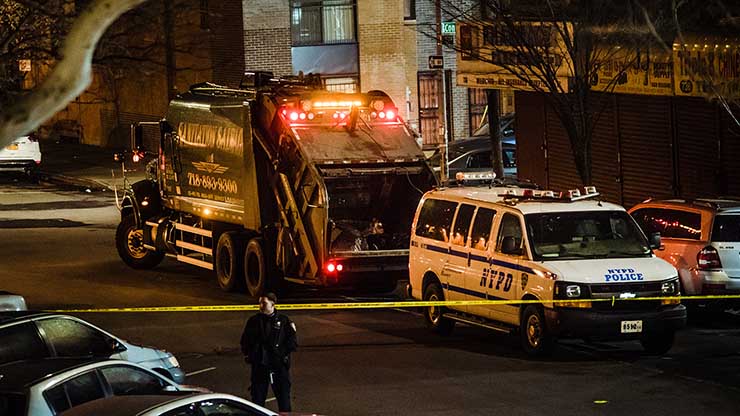 A Sanitation Salvage truck behind police tape at 152nd Street and Jackson Ave. in Woodstock, Bronx. The truck hit and killed Leo Clarke. (Ryan Christopher Jones)
Dual hazard
Waste and recycling work is the fifth most fatal job in America. Amputations and other serious injuries are commonplace but often go unreported to the federal Occupational Safety and Health Administration, according to labor advocates and workplace safety watchdogs.
Hauling trash at night can also be dangerous to the public.
Since 2010, 33 people have been killed in private garbage truck accidents in New York City. Some of the fatalities, according to the New York Police Department, were the result of errors made by pedestrians or bicyclists. But for the most part, BIC's responses to the deadly accidents have been limited: sending companies "safety letter directives." BIC did not respond to questions about the contents of any of the 12 letters it says it has issued since 2015.
In seven instances since 2010, the agency issued no violations against companies for fatalities that involved drivers who had not been properly registered with BIC. In the case of bicyclist Neftaly Ramirez, who was killed by an Action Carting truck with a driver who left the scene and lacked a commercial driver's license, BIC's punishment amounted to a $5,000 fine.
Action Carting said in a statement that NYPD cleared the driver, whose license had lapsed. The company called it an "administrative issue, unrelated to the accident and immediately addressed."
"Safety continues to be an issue," Brownell said in an interview with VOA and ProPublica. "Carters need to drive more safely, cyclists need to operate more safely, have the proper equipment and the same with pedestrians and motorists. It's everybody working together to be more aware of what's happening out on the roads."
In its May 24 statement, BIC said the trash industry "continues to require regulation, but it would be a mistake to apply the same approach today that BIC took 20 years ago … when the entire industry was corruptly influenced by organized crime; and when organized crime's corrupting influence resulted in physical violence, threats of violence and property damage."
"BIC's record speaks for itself."