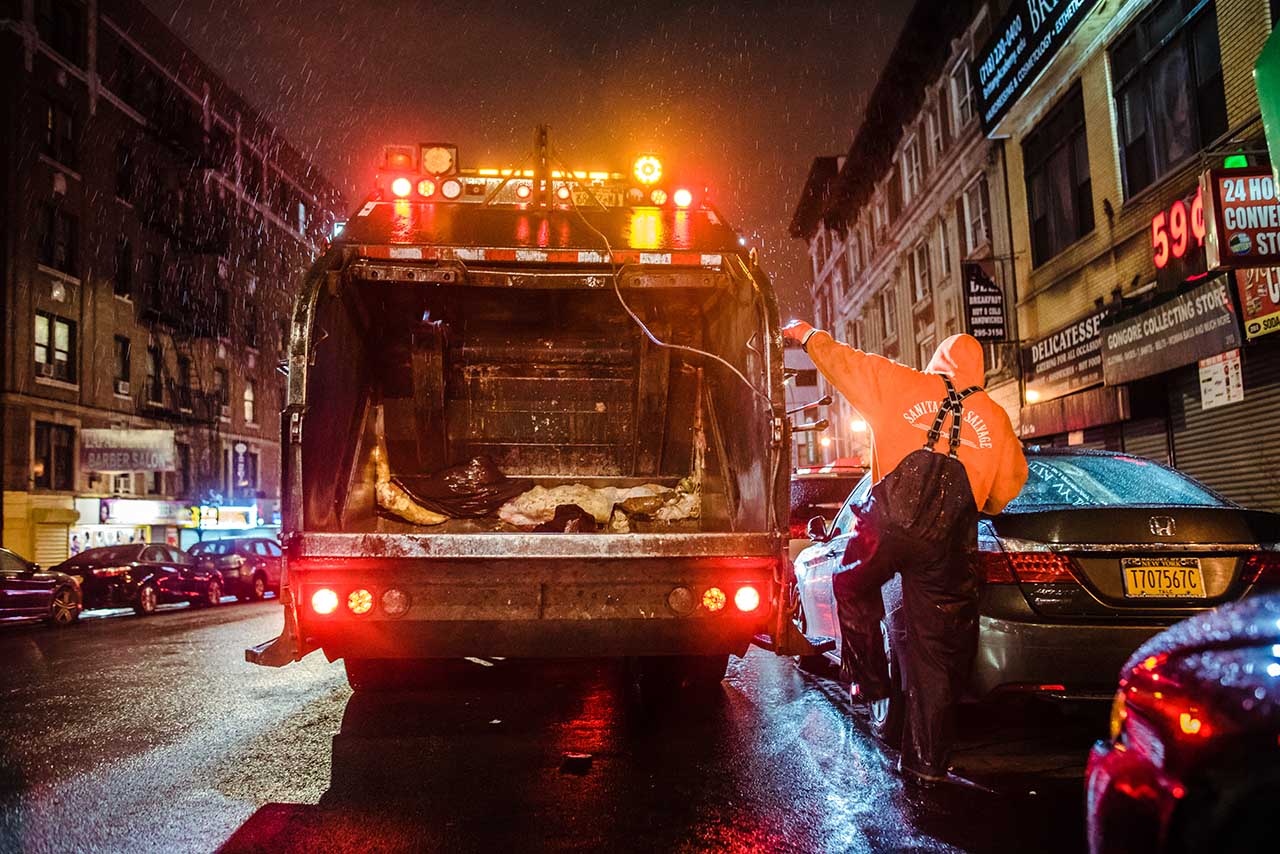 The Death of Mouctar Diallo
A Sanitation Salvage truck on its nightly run through the Bronx. (Photos by Ryan Christopher Jones)
The Death of Mouctar Diallo
Mouctar Diallo came to New York City from Guinea seeking a life "for the better." Then he entered the bruising world of Sanitation Salvage.
The headquarters of Sanitation Salvage, one of the largest private trash haulers in New York City, is a squat brick building that sits unremarkably amid the garbage dumps and razor wire of the Hunts Point section of the south Bronx.
The Squitieri brothers, owners for decades, can be found on the top floor of the house-like structure on Manida Street. The three brothers are men of considerable wealth and fixtures in Bronx politics, and one of them, Steven, has been seen riding to special events in a white chauffeured Rolls Royce. They are also, according to employees, unforgiving bosses, profane taskmasters who push a small army of drivers and off-the-books workers through grueling shifts of 18 hours or longer.
Editor's note
In May, VOA and ProPublica exposed a cover-up in the workplace fatality of Mouctar Diallo, who immigrated to New York City from Conakry, Guinea. This investigation, also produced in partnership with ProPublica, explores the deeper circumstances surrounding Diallo's death.
The building's basement is the domain of the men who work in neon reflective gear. Each night the workers, most of them black or Hispanic, descend the steps to sign in and get their assignments. The supervisors make sure everyone has the printout from the Squitieris: "Do your job or get written up."
From the basement, the workers head to the trucks out in the yard. Once on their routes, the drivers and their helpers often pick up young men on the street as additional hands, everyone sprinting through fatigue and red lights to finish nightly routes of 1,000 stops or more.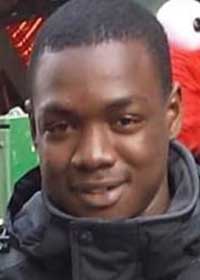 Mouctar Diallo (Midjao Diallo) In 2016, Mouctar Diallo, a teenage African immigrant, stepped into the rough-and-tumble world of Sanitation Salvage. He was hired off the streets of the Bronx for a few bucks in cash, then spent 18 months as one of the company's "third men," hustling ahead of the trash trucks to grab garbage from the curb and keep the gritty show rolling.
Then, nearing the end of a shift on Nov. 7, 2017, Diallo wound up crushed to death under the wheels of a Sanitation Salvage truck. The men he'd been helping lied to the police, saying their dead colleague was a homeless person who had come out of nowhere.
The police took them at their word, and Diallo was buried quietly by his family, the circumstances of his death a cynical fiction.
Even in the bruising, often chaotic world of New York's nighttime trash collection, Sanitation Salvage cuts a distinctively brutish profile. Its role in Diallo's death – and, in April, the death of an elderly Bronx man run down while crossing the street with a cane – has set off a firestorm for the company as well as the city agency that oversees the commercial trash industry.
An investigation by Voice of America and ProPublica, drawing on thousands of pages of public documents and interviews with more than a dozen current and former workers, depicts a workplace environment in which concerns about safety, as well as workers' rights and compensation, are flouted despite years of complaints from workers to regulators.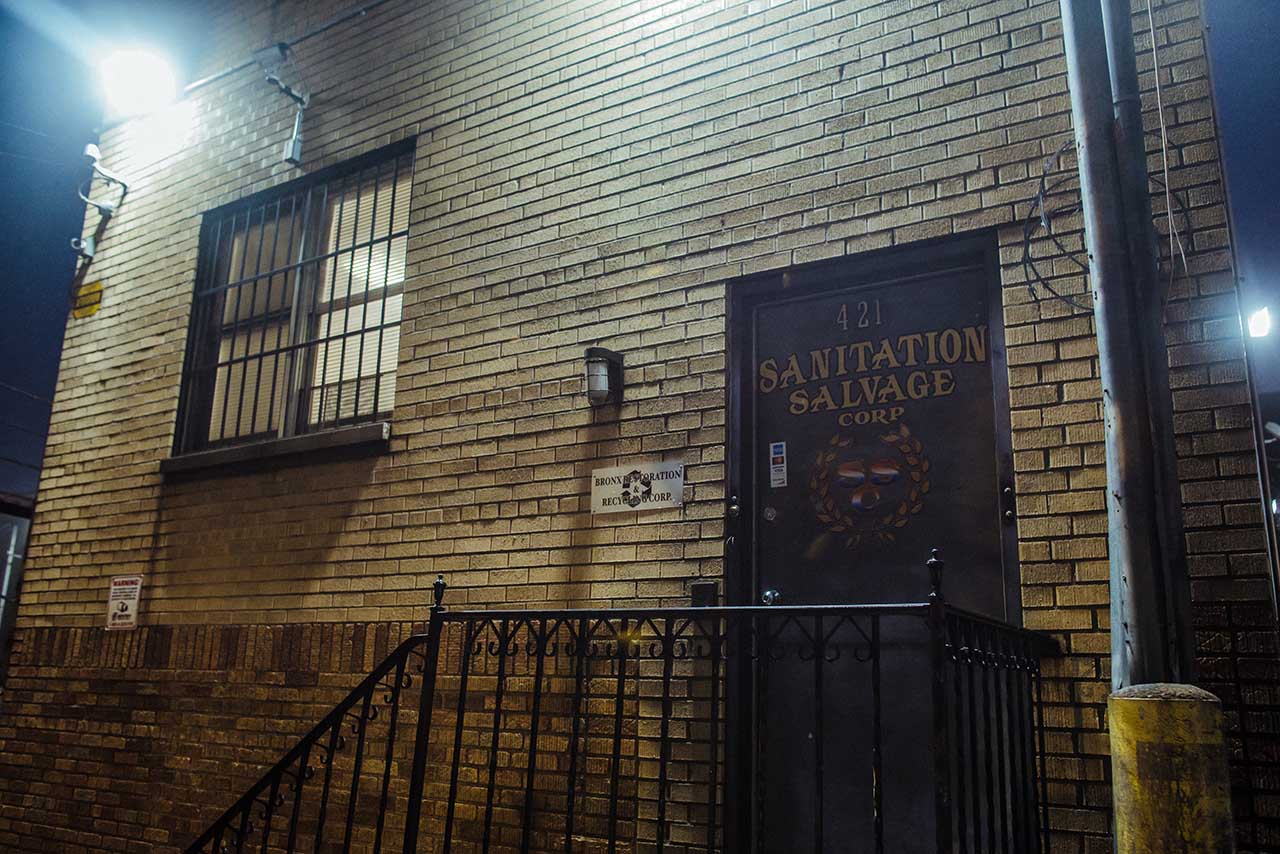 The Sanitation Salvage office in Hunts Point, Bronx. (Ryan Christopher Jones)
Records show that more than three-quarters of Sanitation Salvage trucks have been ordered off the road after federal safety checks. Yet the company has paid lobbyists to fight local legislation that backers say would compel haulers to improve on working conditions and safety.
The U.S. Department of Labor several years ago found that Sanitation Salvage had cheated workers out of hundreds of thousands of dollars in wages. Today, the New York State Insurance Fund is suing the company for $780,000 in unpaid workers' compensation insurance obligations for on-the-job injuries.
'You've Done Well, My Friend' Read how Sanitation Salvage ousted the Teamsters and paid workers off the books. Worker say their union is a sham and was installed by the company's owners more than a decade ago. Records show it was long run by a man later convicted by federal prosecutors of running an extortion racket at construction sites for the Genovese crime family. Many workers say they have never had reliable health care and other benefits, yet 2017 union records show that the convicted mobster, James Bernardone, continues to receive "deferred compensation" from the union.
On May 9, two weeks after a Sanitation Salvage truck killed 72-year-old Leo Clarke, more than 50 elected officials, labor leaders and community organizers rallied outside the Manhattan offices of the Business Integrity Commission (BIC). The agency was created two decades ago to root out organized crime by licensing and investigating the roughly 250 private commercial trash haulers operating in New York City.

Emergency crews wash blood from the street where Leo Clarke was run over by a Sanitation Salvage truck on April 27, 2018. (Ryan Christopher Jones)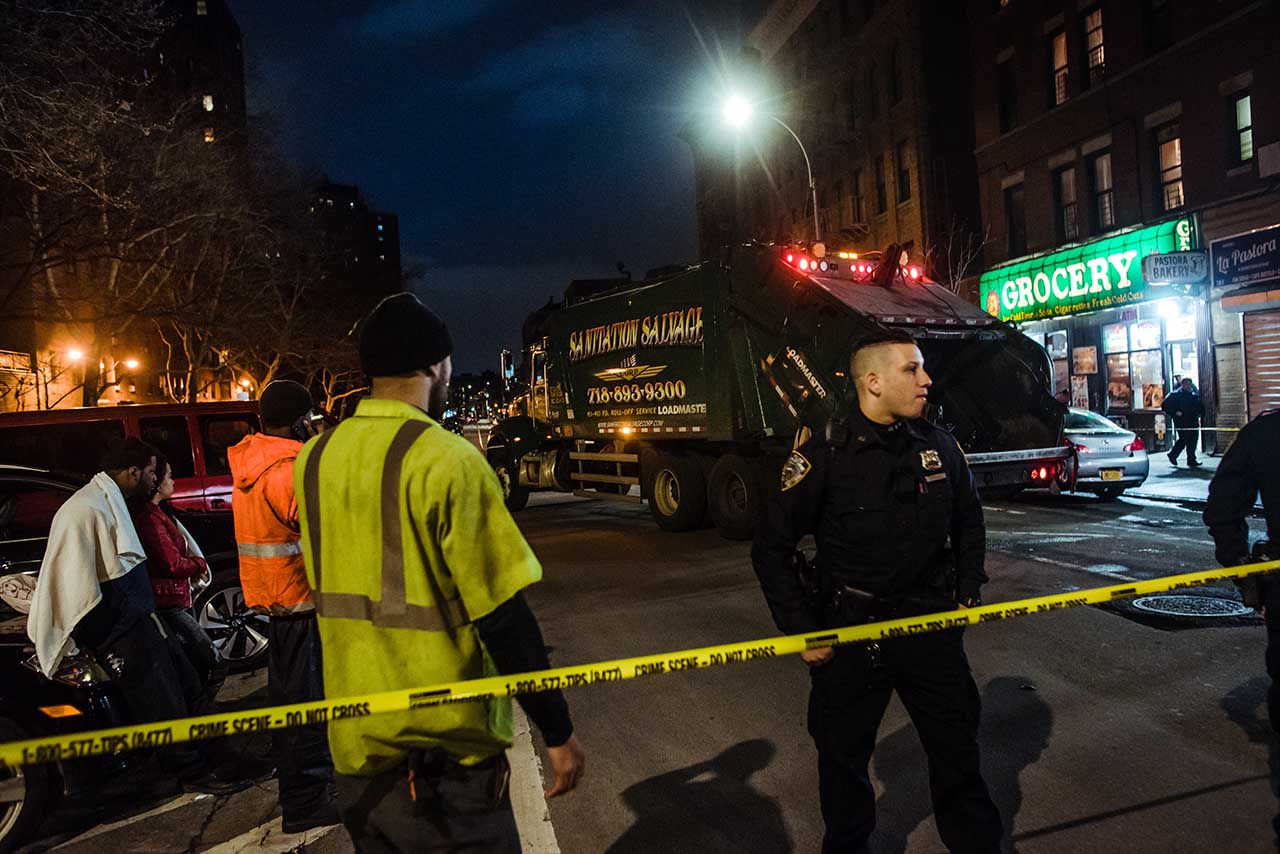 Police investigate the scene of Leo Clarke's death and the Sanitation Salvage truck that struck him. (Ryan Christopher Jones)
Antonio Reynoso, a Democrat representing Brooklyn and Queens and the chairman of the City Council's Sanitation Committee, told those gathered that Sanitation Salvage's license should have been suspended after the deaths. He accused BIC of softening oversight of the private trash industry, saying it had never once suspended or revoked the license of a private trash hauler over safety concerns or unpaid wages.
"Sanitation Salvage is not a bad apple," he said. "We're talking about an entire orchard that is rotten."
Sanitation Salvage did not answer a list of detailed questions from Voice of America and ProPublica concerning the fatal accidents, the union and its connection to a convicted mobster, and other issues involving the company's operations.
"The recent accidents are absolutely tragic, and we are saddened by the untimely loss of life," spokesman Lee Silberstein said in a statement. "However, our operation is predicated upon three important principles: 1) safety, first and foremost; 2) fulfilling a crucial need for our customers and the city; and 3) being a good neighbor.
"A complete review of our record and operation will show that we live by these principles and a revocation of our ability to do business is unwarranted."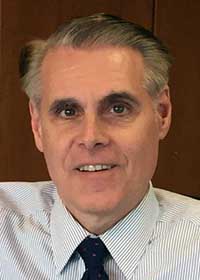 Daniel Brownell BIC commissioner
(BIC file) BIC Commissioner Daniel Brownell said an investigation of Sanitation Salvage is under way and could result in revoking the company's license. The commission said it had looked into earlier worker complaints about Sanitation Salvage, leading to a fine for a record-keeping violation.
Brownell has maintained that his agency lacks the legal authority to hold companies liable for safety shortcomings but is actively seeking such powers.
At a City Council hearing in March 2017, however, Brownell offered a broad defense of the private trash industry and his agency's oversight of it.
"As I have said many times now, the city's trade waste industry has made real strides over the past 20 years," Brownell testified. "With BIC oversight in place, the trade waste industry has become largely a vibrant, competitive and fair one. Much of the credit for this must go to those in the industry itself who have worked hard for these improvements."
A Watchdog Under Fire Read more about the Business Integrity Commission and its oversight record. The New York Police Department is now investigating the Sanitation Salvage driver, Sean Spence, who was behind the wheel when both Diallo and Clarke were struck.
Michael Maldonado worked for 12 years at Sanitation Salvage, where he earned the nickname "Mikey Cardboard" because one of his routes required picking up lots of paper for recycling. Maldonado said the scrutiny of Sanitation Salvage is long overdue. But, like many current and former workers, he believes the Squitieris – who are major donors to the local Bronx Democratic Party machine – are too powerful and connected to face any serious consequences.
"How has this been under the radar for so many years?" he asked. "How is it that somebody has to [expletive] die for people to notice?"
'Yo, you want to work?'
One night in late spring of 2016, two workers on a Sanitation Salvage truck stopped for a break at a deli on East 188th Street in the Bronx. The men were about eight hours into their shift and still had vast areas of the Bronx left to traverse. Their work assignment was known at Sanitation Salvage as Route 3, notoriously long and backbreaking. Almost all of the garbage for their roughly 1,000 stops was "on the floor," as workers called it: heavy bags that had to be lifted by hand off the ground.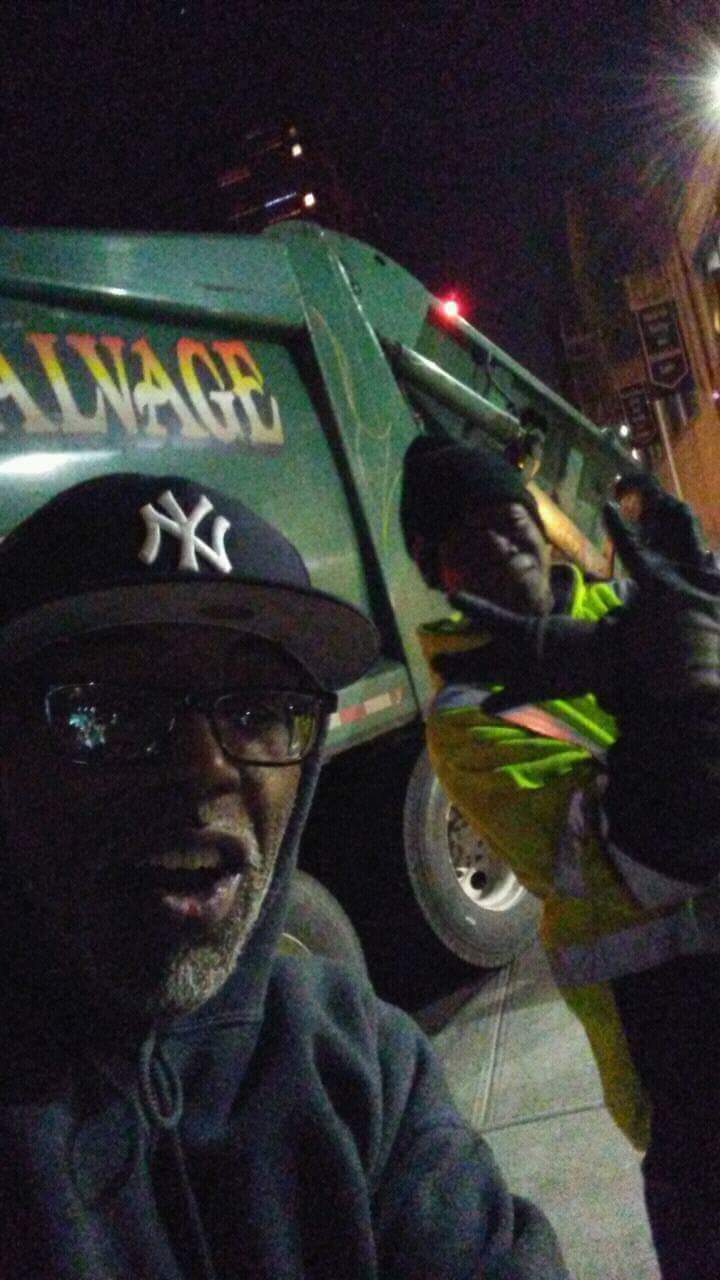 Former Sanitation Salvage driver Vernando Smith (left) regularly worked with Diallo (right) on Route 3.
(Vernando Smith | Facebook)
The driver, Timothy Belgrave, and his helper, Christopher Bourke, sat on the truck's steps. They were exhausted, Belgrave recalled. Bourke, known as Big Chris, eventually struck up a conversation with a young man who lived nearby.
"Yo, you want to work?" Bourke asked the young man, according to Belgrave.
Right then and there, Mouctar Diallo hopped on the back of the truck and finished the rest of the route with them. Bourke gave him about $20 out of his own pocket at the end of the night, Belgrave remembered.
What happened to Diallo over the next year and a half included a number of distinctive indignities, the worst, of course, coming with his terrible and covered-up death. But the work life he enlisted in that night on East 188th Street in many ways was, and is, par for the course at Sanitation Salvage and other companies that collect trash from businesses in New York City.
Diallo was 19 when he started the job. An immigrant to the Bronx, Diallo spent his childhood in Conakry, Guinea's capital. He and his best friend, Midjao Diallo (no relation), were like brothers growing up, side by side in school and on the soccer field afterward.
But Mouctar Diallo was ultimately destined for America, and New York specifically.
"Mouctar's dream was to finish school in New York and get a good paying job," Midjao Diallo said.
In the Bronx, Mouctar Diallo lived with his mother and siblings in an apartment just off Fordham Road, one of the major arteries. (The young man's mother thanked VOA and ProPublica for telling her son's story but declined to speak at length, saying the family was grieving and not ready to participate.)
Guineans, along with Liberians and Ghanaians, are among the largest African immigrant groups in the Bronx, and Diallo quickly found himself a cluster of Guinean friends who all spoke a shared tongue, Fulani. His friends called him by a nickname: Africa. On summer days, they played soccer together in St. James Park or took the bus to Orchard Beach in Pelham Bay. The muggy Bronx heat reminded them of home.
Mamdou Diallo, also no relation and a newfound friend in America, said Mouctar Diallo and other Guineans believed they were in the Bronx "for the better." According to Mamdou, Mouctar and his family were lawful permanent residents.
In the end, Mouctar Diallo did not thrive at school and wound up taking odd jobs where he could to help the family's finances. He talked of perhaps joining the Army, Mamdou Diallo said. He was a gifted athlete, fast and strong.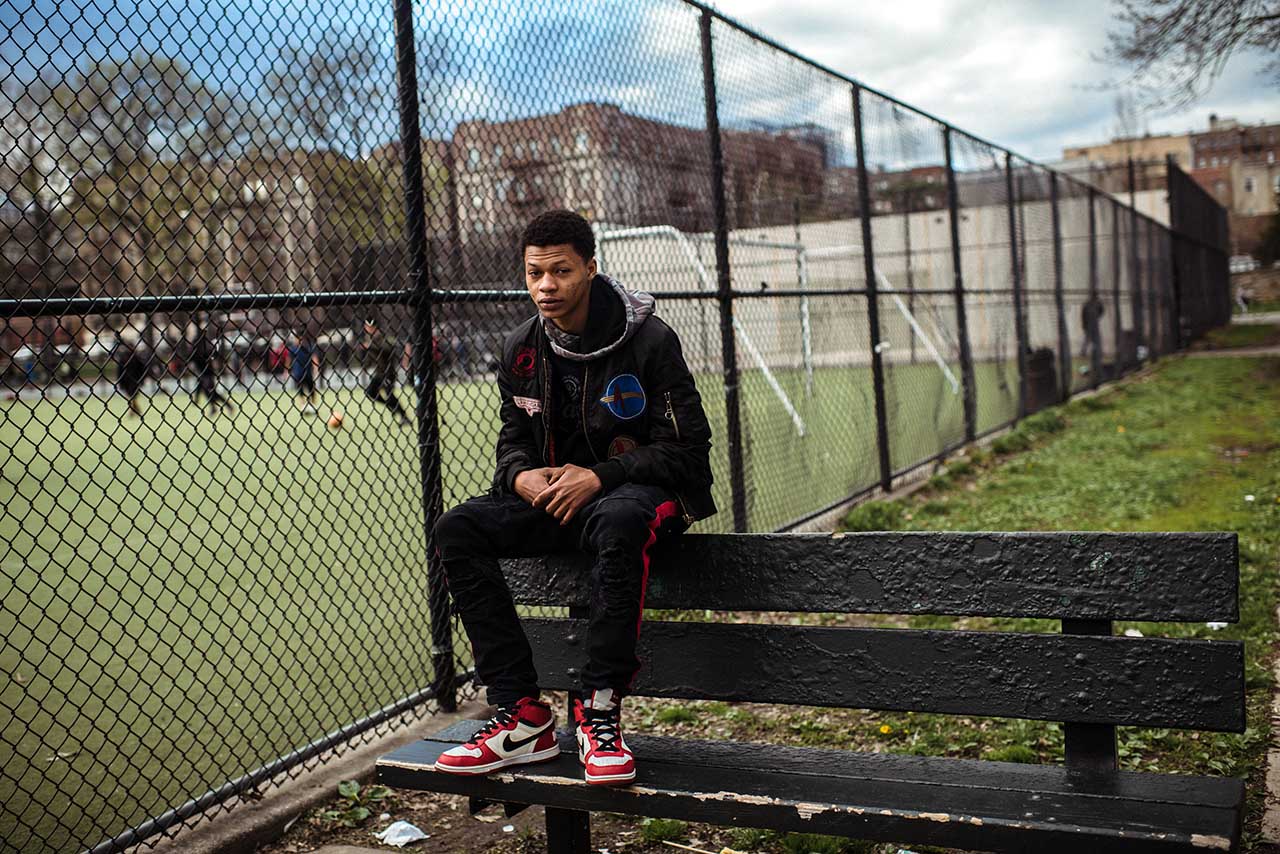 Mouctar was only getting $30 or $40 a night. But he liked the extra cash and even had fun doing the work. "He didn't realize how dangerous it was."
— Mamdou Diallo, Mouctar Diallo's friend
(Ryan Christopher Jones)
Once on the back of a Sanitation Salvage truck, Mouctar Diallo proved a natural for the grinding work, according to those he labored alongside. Best, perhaps, he was unafraid of rats. Just past the 52nd police precinct on Webster Avenue, Route 3 picked up a dumpster behind a BP gas station, in a gated area teeming with rats.
Diallo, who soon picked up the nickname Gotto (it's unclear what the name referred to), didn't mind being the one who wrestled the overflowing dumpster to the truck. The rats stuck out their heads, and he smacked them away with his gloved hand. Sometimes he'd even grab a rat and hold it up playfully, his colleagues said. 
Treated Like Trash: A short video about Mouctar Diallo and Sanitation Salvage. (ProPublica and VOA)
A 'banger' on Route 3
Diallo was a "third man," an extra helper, one of many added off-the-books helpers who are both encouraged and approved by management at Sanitation Salvage, according to current and former workers. A current worker explained, "A driver will ask for a third man, and the supervisor will say, 'No, that's on you if you want to find somebody.' " Sometimes the company gave workers money to give to people like Diallo. With a pliable union in place, there was no one to stick up for workers when needed.
Before long, Belgrave said, Bourke brought Diallo to the Sanitation Salvage office in Hunts Point to meet with a supervisor to try to get him on the books. Bourke complained about the length of the route to the supervisor, telling him he had to hire a permanent guy to help him out, Belgrave said. But for whatever reason, Diallo wasn't put on the books.
After a month or two, a driver named Vernando Smith replaced Belgrave on Route 3, working with Bourke as his chief helper the whole summer and early fall of 2016. Diallo was their third man three or four nights a week, said Smith, who has since left Sanitation Salvage for another company.
There was no doubt that management at Sanitation Salvage recognized Diallo and knew him as a worker, according to Smith and current workers. "Everybody knew who he was," said one current worker. A night supervisor, Charles Mahr, drove around observing routes and knew Diallo by sight, the workers said.
On payday, said Smith, Bourke would get his paycheck and his rubber-band money to pay him back for his third man. The cash would be folded or rolled, with a piece of paper labeled with Bourke's name or "Chris and Vernando's helper." It was $80 per night, according to Smith. (Bourke disputed this, saying the money always came out of his own pocket.)
This was common practice, according to current workers. One explained that supervisors would say, "If you've got a third man off the books, let us know and we'll pay you and you pay him." A second current worker added, "A lot of days, you don't have a third man. And they'll say, 'Find somebody.' And you say, 'Hey, I've got this kid.' And they give you the money."
As a third man, Diallo's pay was likely much less than $80. Bourke maintained that he was only giving Diallo $5 or $10 for what he described as an hour or two of work. Diallo's friend Mamdou Diallo (no relation) thought he was getting paid $30 or $40. If so, said Smith, Bourke would have been pocketing the difference – a not uncommon practice at the company, workers said. "Sometimes you got guys that would get the $80 and then short the guys," explained a current worker.
Mouctar Diallo soon earned the title of "a banger" – a good worker. He banged it out, he was tireless, racing up and down the street from stop to stop. And almost always with a smile.
When you worked with Mouctar, Smith and others said, the young man made you laugh the whole night.
It rained one summer night, Smith remembered. Mouctar took off his shoes, put them inside the truck's cab, and did the whole route barefoot.
What exactly happened in the dawn hours of Nov. 7, 2017, remains unclear.
At roughly 5 a.m., Diallo's truck, driven by Sean Spence with Bourke as the main helper, arrived at Gun Hill Road. The truck had only a few stops left on Route 3. It appears Diallo stepped on the step leading to the passenger side door before suddenly falling off and under the truck as it turned right on Jerome Avenue.
Spence and Bourke, according to the authorities, disavowed knowing Diallo. An NYPD report was written up that left blank the place for the dead man's name. News accounts referred to a "daredevil homeless man" who had inexplicably tried to board the moving truck.
Spence could not be reached for comment. Bourke, in a recent interview with VOA and ProPublica, sought to downplay how often Diallo helped out on the truck and denied that he had ever tried to get him placed on the books. He said he did not know how the phony tale of the homeless man had come to be.
Workers and labor advocates say it's likely Diallo's death and the cover story told was known to management that very night. Workers told BIC, the oversight agency, that Mahr, the supervisor who workers said had seen Diallo on the job for some 18 months, came to the scene of the accident to retrieve the truck. Neither Mahr nor anyone else at Sanitation Salvage made an effort to correct the lie about the homeless man.
VOA and ProPublica contacted Mahr to ask about retrieving the truck and the made-up story of the homeless man. Before hanging up, Mahr only said he never knew Diallo. "I never saw that poor kid in my life," he said.
Workers at Sanitation Salvage soon learned by word of mouth who had died. Vernando Smith, Diallo's onetime driver on Route 3, did, too. He then posted a farewell on Facebook. 
"RIP Gotto," Smith wrote. "Sanitation Salvage banger."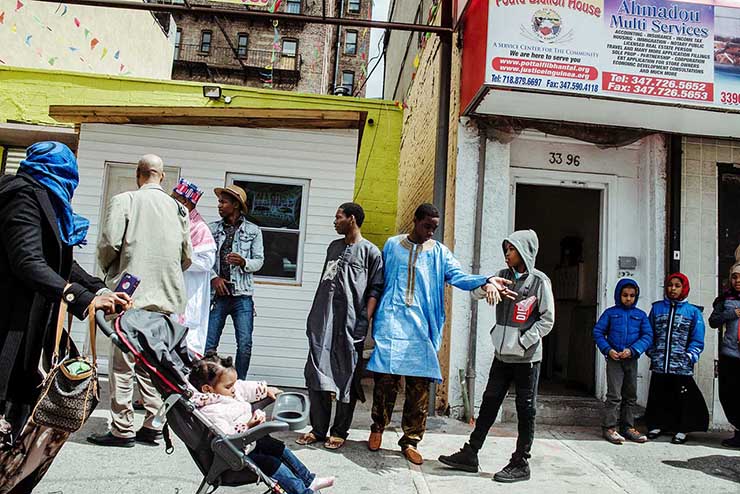 People gather outside a mosque in Morrisania, Bronx, that is a hub for the local Guinean community. Mouctar Diallo's funeral was held there after his death. (Ryan Christopher Jones)
Justice for a friend
When Mouctar Diallo was killed, prayers and sacrifices were organized in Gaoual, the hometown of his father. But Midjao Diallo, the schoolmate from Conakry who now lives in Angola, said he and others wanted more than funeral rites.
"I am asking for justice for my best friend, Mouctar," he said.
In the Bronx, Hadiatou Barry, Mouctar Diallo's mother, can sometimes be found seated on a windowsill in the hallway of her apartment building, looking out over her Bronx neighborhood.
She used to share the sill with her son, and they enjoyed watching over their quiet residential street, just a few blocks from the bustle of Fordham Road and the ladies selling pan dulce and mango slices, the men with tables of watches and CDs for sale, the music from big speakers drifting above the traffic.
"I am in pain," she said in a brief recent interview. "My first son, lovely boy."
That BIC did not intervene more aggressively when it found out Sanitation Salvage employees had lied about Mouctar Diallo's death was incomprehensible to some critics of the agency.
According to BIC, Commissioner Brownell learned of the possibility that Diallo was a worker for the company from labor advocates in January. In subsequent interviews with BIC investigators, the driver and the helper admitted to creating the fiction about a homeless man.
But BIC did not ask Sanitation Salvage to suspend the driver, Spence. Months later, the same driver was behind the wheel when Clarke was killed on April 27. It was then that BIC asked Sanitation Salvage to suspend Spence, which the company did.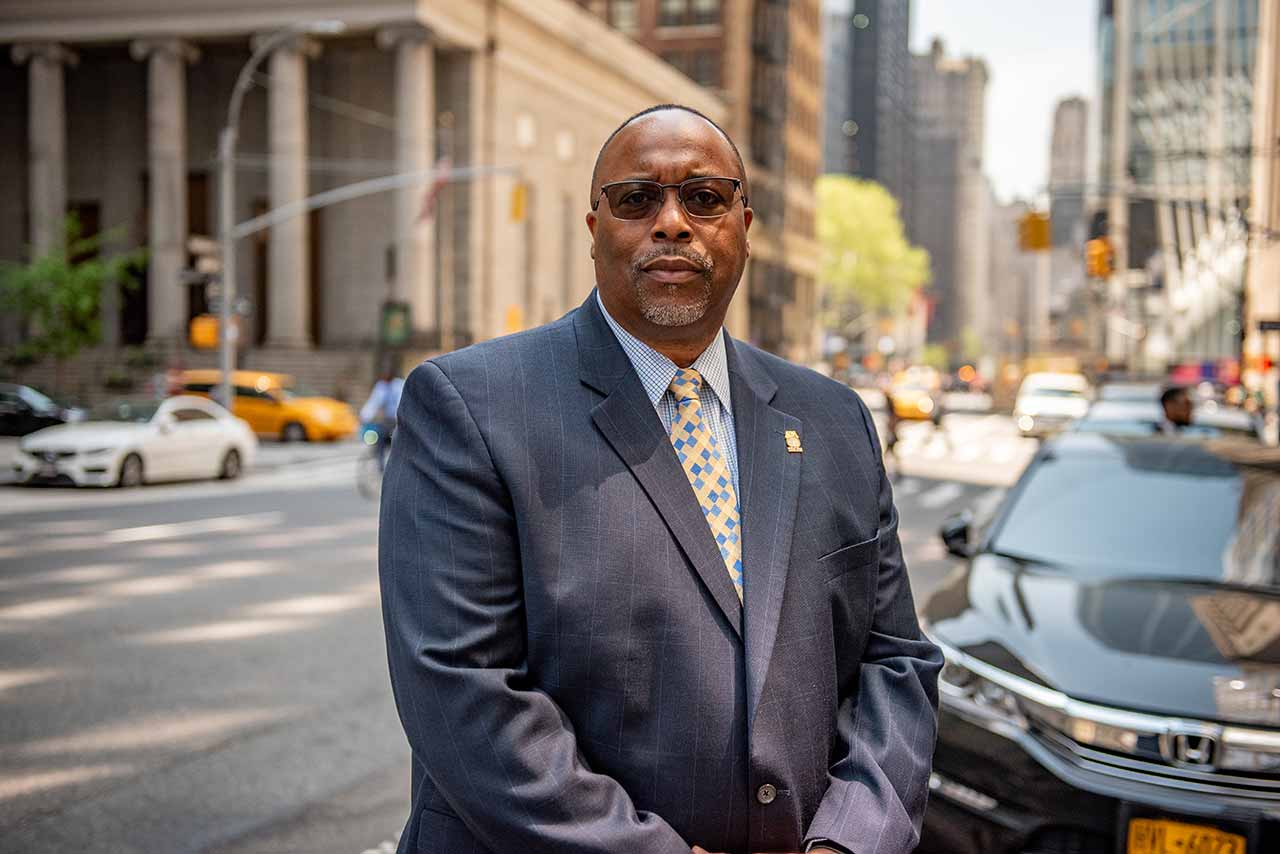 "They treated Diallo like the trash they wanted to throw in the back of the truck."
— Sean T. Campbell, president of Teamsters Local 813
(David Dee Delgado)
"They treated Diallo like the trash they wanted to throw in the back of the truck," Sean Campbell, president of Teamsters Local 813, said of Sanitation Salvage at the May 9 rally outside BIC's offices. "This company is going to continue to play games until somebody drops the hammer on them."
In an interview with VOA and ProPublica on April 23, Brownell said Sanitation Salvage was the subject of an investigation. But when asked about Sanitation Salvage's license, he said he didn't know when – or if – it had been renewed. Brownell's signature is on the license renewal, dated Dec. 20.
In angry terms, Brownell insisted at length that his agency was doing the best it could and wasn't interested in responding to "gotcha" questions from reporters.
He said BIC was "a small agency," and that its investigators "don't always have access to the people that you as a journalist would have because we're law enforcement."
Brownell said it would be wrong to think "that we haven't been doing what we can, especially in the last two and a half years, to add on to what we do with regard to integrity and with regard to corruption in this industry."
Of the Sanitation Salvage investigation, Brownell said: "I have acknowledged for many months that Sanitation Salvage is a very screwed up company." But Brownell said he and his investigators had to take care to "actually make the case."
"And that takes a lot of time and a lot of effort," he said.
Wildcat revolt
The Squitieris, for their part, appear ready to fight on behalf of their business. They hired a public relations firm with deep roots in Bronx politics to handle media inquiries. One of the firm's representatives was at the May 9 rally, handing out copies of the Sanitation Salvage statement expressing condolences and defending the company's record.
Political money and muscle Read more about how Sanitation Salvage's owners wield clout in the Bronx. The Sanitation Salvage union, recently renamed Local 741, signed a new contract with the company on May 8, the day before the rally outside BIC's offices. Current workers said they had no choice in the matter. Current and former workers described Louis DeAngelis, who had been forced to resign from the Teamsters in the 1990s for associating with mob figures, as the primary official who has negotiated union matters with Steven Squitieri over the years. Two current workers said they saw DeAngelis at Sanitation Salvage headquarters within the past few months.
The new contract locks workers into the union through April 2021.
In Hunts Point, the night following the rally, a dozen workers declared a wildcat strike at Sanitation Salvage headquarters. They stood in their reflective gear in front of their trucks and refused to go out on their routes. It was a showdown with one of the Squitieri brothers, a scene recorded in a video and shared with VOA and ProPublica.
"We're tired," said a driver.
The worker was talking about their treatment, their pay, the deaths, everything.
"It hurts," said the worker.
"It hurts me, too," said Andrew Squitieri. "My signature is at the bottom of your checks."
He implored them to get back to work. And ultimately the men would drive out into the night – they had families to feed and rent to pay. But for a few hours, at least, the garbage trucks sat silently.
Georges Leonard Sagno of VOA's French to Africa service contributed reporting to this story.