Taiwan's President Tsai Ing-wen, center, reviews nautical charts aboard a Taiwan Navy ship before it sets out to patrol in the South China Sea from the naval base in the south.
Taiwan (Republic of China)
As with China, Taiwan claims sovereignty over all the island groups in the South China Sea and jurisdiction over adjacent waters: Spratlys (Nansha), Paracel (Xisha), Pratas (Dongsha), Macclesfield Bank (Zhongsha). Taiping Island, also known as Itu Aba and various other names, is the largest formation within the Spratlys. Currently administered by the Taiwan, it is also claimed by China, the Philippines and Vietnam.
Taiwan controls
Itu Aba Island (Taiping): since 1946
Pratas (Tungsha): since 1947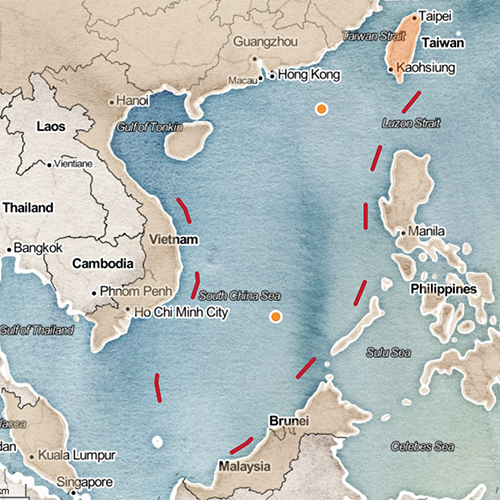 Principal economic interests
Fishing: One of the world's biggest seafood exporters, Taiwan is home to the world's largest fleet of longline tuna vessels, whose estimated 753,000 metric tons of seafood generated $1.6 billion in 2015.
Oil: A 12-mile EEZ surrounding Itu Aba is believed to hold significant reserves of oil and natural gas.
Regional infrastructure
Small runway, visitor center, a command post, radar tower and several smaller buildings on Itu Aba.