Soldiers of China's People's Liberation Army (PLA) Navy patrol near a sign in the Spratly Islands, known in China as the Nansha Islands, February 9, 2016. The sign reads "Nansha is our national land, sacred and inviolable." REUTERS
China (People's Republic of China)
China claims sovereignty over all South China Sea islands and jurisdiction over adjacent waters. China maintains that the following island groups have belonged to China since ancient times: Spratlys (Nansha), Paracel (Xisha), Pratas (Dongsha), Macclesfield Bank (Zhongsha).
China controls
The Paracel Islands: Woody Island, Lincoln Island, Duncan Islands, Money Island, Pattle Island, Triton Island
The Spratlys: Fiery Cross Reef, Subi Reef, Mischief Reef, Johnson South Reef, Gaven Reef, Hughes Reef, Guarteron Reef
The Scarborough Shoal: A circular formation of reefs that lie some 230 kilometers from the Philippines and 1,000 kilometers from China's Hainan island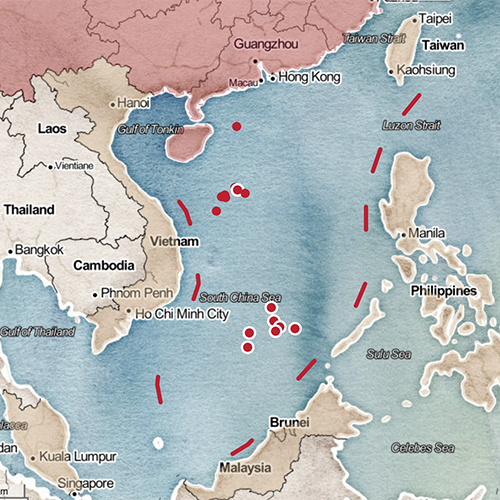 Principal economic interests
Fishing: According to the U.S.-based Center for Naval Analyses, China has the largest fishing industry in the world, catching an estimated 13.9 million tons of fish in 2012, which constituted 17.4 percent of the world total.
Fossil fuels: H-981 Oil Rig in the Paracel Islands; the China National Offshore Oil Corporation (CNOOC), the only Chinese company with deep sea drilling technology, opened up energy reserves near the Paracels in June 2012 to international bids in a move to dissuade Vietnam's foreign lessee's from developing the oil and gas resources in those blocks. CNOOC also deployed the deep water drilling platform HYSY 981 near the Paracel Islands in May 2014, leading to severe protests from Vietnam. The rig was removed in July, a month before scheduled completion of drilling activities. CNOOC later claimed that it had all the data it needed and would study it in Hainan.
Shipping lanes, trade: According to the U.S.-based Center for Naval Analyses, top Chinese official are concerned seaborne trade security, and that a 2015 defense white papers gave prominence to PLA sea lane protection.
Tourism: Hainan district government efforts to nurture tourism on the Paracel and Spratly islands and has sparked protests from fellow claimants.
Regional infrastructure
China accelerated land reclamation and infrastructure construction at Spratly Island outposts in 2014. China completed a 3,000 meter airstrip on the Fiery Cross Reef, along with concrete aprons along Subi and Mischief reefs. CSIS satellite imagery of all three reefs show recently constructed fighter-jet hangars designed for J-11, Su-30, H-6 bomber, Y-20 and Il-76 transport planes, and KJ-2000 surveillance aircraft. Nearby facilities contain radar and communication systems, lighthouses and military facilities.
Fiery Cross Reef
Mischief Reef
Subi Reef
Cuarteron Reef
Johnson Reef
Gaven Reef
Hughes Reef
Woody Island
Scarborough Reef
Second Thomas Shoal