A Philippine flag flutters from BRP Sierra Madre, a dilapidated Philippine Navy ship that has been aground since 1999 and became a Philippine military detachment on the disputed Second Thomas Shoal, part of the Spratly Islands. (Reuters)
The Philippines
Philippines claims sovereignty over northeastern part of the Spratly Islands, which Philippines administers as Kalayaan, in addition to the Scarborough Shoal.
Philippines controls
Thitu Island, West York Island, Northeast Cay, Loaita Cay, Lankiam Cay, Flat Island, Nanshan Island, Second Thomas Shoal, and Commodore Reef.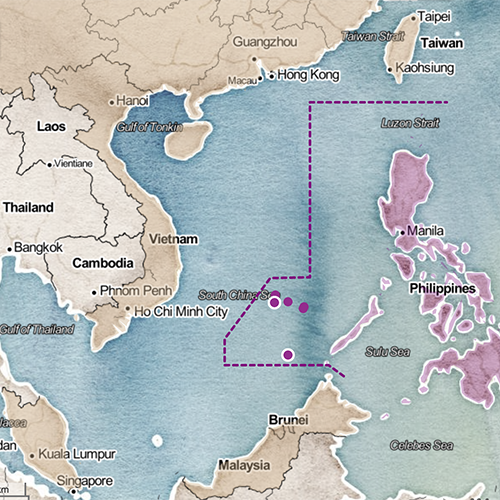 Principal economic interests
Fishing: According to the U.S.-based Center for Naval Analyses, The Philippines has the 12th largest fishing industry in the world, catching an estimated 2.1 million tons of fish in 2012, which constituted 2.67 percent of the world total.
Natural resources: The Philippines has explored oil and gas deposits along the Reed Bank since the 1970s. Although the area has not been fully surveyed, Manila has extracted gas from waters between Palawan Island and Reed Bank.
Regional infrastructure
Thitu Island (Spratly chain):
Administrative center of the municipality of Kalayaan.
Military base and a 1.3 kilometer unpaved strip for both military, civilian aircraft
Estimated 300 civilian Filipino residents; civilian structures include multi-purpose hall, health center, school, water-filtration plant and allotted agricultural tracts
Commodore Reef/Rizal Reef (Spratlys): Military personnel stationed aboard tanker landing ship that has been grounded on Second Thomas Shoal since 1999