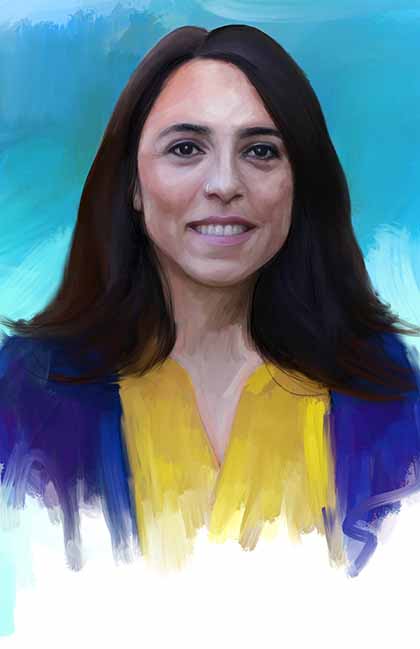 "They were treating me like a terrorist because I had been on the field, and I had been reporting the news."
—Meltem Oktay
Journalist exiled from Turkey
(Portrait by Lukman Ahmad | VOA News)
A fragile peace shattered
Pro-Kurdish media a casualty in fight against terrorism
Turkey has a notoriously poor press freedom history, with record numbers of journalists jailed after a failed coup attempt in 2016.
But among those high figures, a second story reveals the extra scrutiny of reporters in predominantly Kurdish regions.
A common accusation against this sector is that journalists are creating or spreading propaganda for terrorist organizations — a reference to the militant Kurdistan Workers Party (PKK).
Turkish forces are engaged in a deadly fight with the PKK, which Ankara and the U.S. have designated a terrorist organization.
But analysts say that laws to protect national security are often used to target critics.
As Özgur Öğret, the Turkish representative for the Committee to Protect Journalists, says, "Affiliating journalism with terrorism is a bad habit of the government of Turkey that precedes the current administration, especially when journalists working at pro-Kurdish outlets are involved."
Predominantly
Kurdish
regions
Three articles in Turkey's anti-terror legislation are used regularly in lawsuits against media: membership in a terrorist organization, supporting a terrorist organization or creating terrorist propaganda.
The latter was cited in the arrest of 20 journalists in the Turkish city of Diyarbakir in mid-June, as part of what police said was an operation against the PKK's "press committee structure." As of November, 16 of those journalists were still in custody.
These laws don't allow for pro-Kurdish media, says Veysel Ok, co-director of the Turkish legal nonprofit, the Media and Law Studies Association (MLSA).
"Almost all news, other than the official policy of the state, is included in these three definitions, and investigations are opened and penalties given accordingly," he said.
When cases come to trial, a journalist's presence at a protest or clash is often cited as evidence.
In January, a Diyarbakir court sentenced a video journalist, Rojhat Dogru, to life in prison over claims he was involved in violence at a protest he covered.
Dogru had won plaudits for that same coverage, filing footage of deadly protests even after being shot and hospitalized. Now, he is appealing a heavy sentence.
VOA emailed Turkey's embassy in Washington for comment on the situation for pro-Kurdish media and separately about the arrests but did not receive a response.
The Turkish government has repeatedly denied claims by media rights organizations that it is jailing opposition voices and media.
Turning point
Journalists working for pro-Kurdish media in Turkey often face a difficult choice: arrest or exile.
But for a few years before the coup attempt, a more positive future seemed possible.
In March 2013, Ankara and the PKK were finally at the negotiating table. It was a landmark moment.
In return for terms including the PKK laying down weapons, Ankara discussed reforms to provide Kurds with greater rights.
That same year, journalist Meltem Oktay was reporting for the pro-Kurdish Dicle News Agency (DIHA) in Turkey's southeastern region, where most Kurds live.
In her early 20s, Oktay covered cultural and environmental news from Nusaybin. But like other Kurds, she was closely following the talks, which promised greater rights.
The optimism was short-lived. The conflict in neighboring Syria intensified, empowering a PKK-allied armed group in the war-torn country on Turkey's border.
Violence flared between PKK and Turkish security forces, and Ankara resumed airstrikes against the group's bases in northern Iraq.
By the summer of 2015, the talks officially fell apart.
The end of the negotiations was life-altering for Oktay, as a journalist and an individual.
"After that period, suddenly, this cultural news, ecology news, and city news all started to turn into war news. They started to turn into the news of death and massacres," she said.
The conflict had already claimed about 40,000 lives between 1984 and 2016, according to the International Crisis Group. Since July 2015, clashes and terror attacks have killed at least 6,264 people — 609 of whom are civilians, data from the independent group shows.
"There were curfews. People could not leave their homes. Children could not play on the street. Education stopped," Oktay said.
Her beat went from culture to coverage of clashes.
Friends in media were arrested. One of them called Oktay with a warning.
"[The interrogators] showed her my photos at the police station, and asked where I was, what I was doing, where I was staying," Oktay said.
"At that point, I realized that I was wanted, that something would happen to me, that I would be arrested or even killed."
Oktay had few options. "I had to report, and I frankly had nowhere to go."
On April 12, 2016, the journalist watched from her home in the southeastern city of Mardin as security forces in armored vehicles approached.
With no escape route, Oktay just opened her door.
"They were treating me like a terrorist because I had been on the field, and I had been reporting the news," she said.
In November that year, a court sentenced Oktay to four years in prison for creating "propaganda" for the PKK.
Around that time, Turkey was also detaining suspected sympathizers or supporters of the Gulenist group, which Ankara believes was behind the failed coup. The crackdown stretched to many journalists, including those at pro-Kurdish outlets.
In some cases, media groups were forcibly taken over or forced to close.
The Turkish embassy in Washington did not respond to VOA's request for comment.
But an embassy spokesperson previously told VOA that criticism of Ankara's response to the failed 2016 coup, including high numbers of journalists arrested, are "based on biased information that do not merit any serious consideration."
The period of harassment was intense, but not unheard-of for Kurdish media in Turkey.
"Kurdish journalism was a danger not only for the current regime, but also for previous governments," said media lawyer Ok.
Many experienced decades of harassment or violence for their coverage.
During the 1990s — a period marked by intense fighting and brief cease-fires — several journalists were killed, and in 1994 Özgür Ülke, the largest Kurdish paper, was bombed.
CPJ data shows 16 journalists killed between 1992 and 2021, with complete impunity in nearly all cases. Those killed include several from Kurdish outlets.
Today, lawsuits are more common than violence.
Police often fail to recognize Kurdish media, Ok says. "The problem here is the identification of Kurdish and Kurdish journalism with terrorism."
Take the case of video journalist Rojhat Dogru, who went from media hero to convict.
His assignment for Iraq-based broadcaster Gali Kurdistan TV in October 2014 earned him a Southeastern Journalists Association courage award — and a conviction for "disrupting the unity and integrity of the state," "propagandizing for a terrorist organization" and "attempted deliberate killing."
The initial legal case was filed three years after the protests, when a person injured in the clashes claimed he was shot by a gun fired from Dogru's direction.
The journalist's lawyer, Resul Temur, dismissed the allegations. An expert witness in court concluded Dogru could not have been carrying a gun that day.
But a court still convicted the journalist.
Mass arrests
Media lawyer Ok says that by associating media with terrorism, authorities can more easily justify closing independent Kurdish news outlets.
That in turn affects audiences, who are denied access to independent reporting on issues relevant to their communities.
Turkey does offer state-run media in Kurdish via the broadcaster TRT Kurdi, but independent journalists largely dismiss its work, saying the station rarely if ever covers Kurdish cultural and political issues, or news the pro-Kurdish opposition Peoples' Democratic Party (HDP) and Selahattin Demirtaş, the former HDP party leader detained since 2016 for alleged ties to the PKK.
In October, the news website did not appear to be available with the domain redirected to a website offering general information on the news programs TRT airs.
VOA sent an email to TRT Kurdi for comment, but the channel did not respond.
As well as restricting sources for independent news, the pressure on Kurdish media makes it hard for reporters to find steady work.
In Oktay's case, by the time she was released in 2019, the DIHA agency she worked for had shuttered, along with more than a dozen other Kurdish media outlets.
Like many before her in Turkey's media, she decided to go into exile, traveling first to Greece and then on to Switzerland.
Oktay sought political asylum in Switzerland and plans to resume her work, saying, "I am trying not to quit journalism and I am trying to write. Wherever I am, I am a journalist."
Mahmut Bozarslan contributed to this story.