"I will prosecute officers
who break the law"
Delrish Moss, Ferguson Police Chief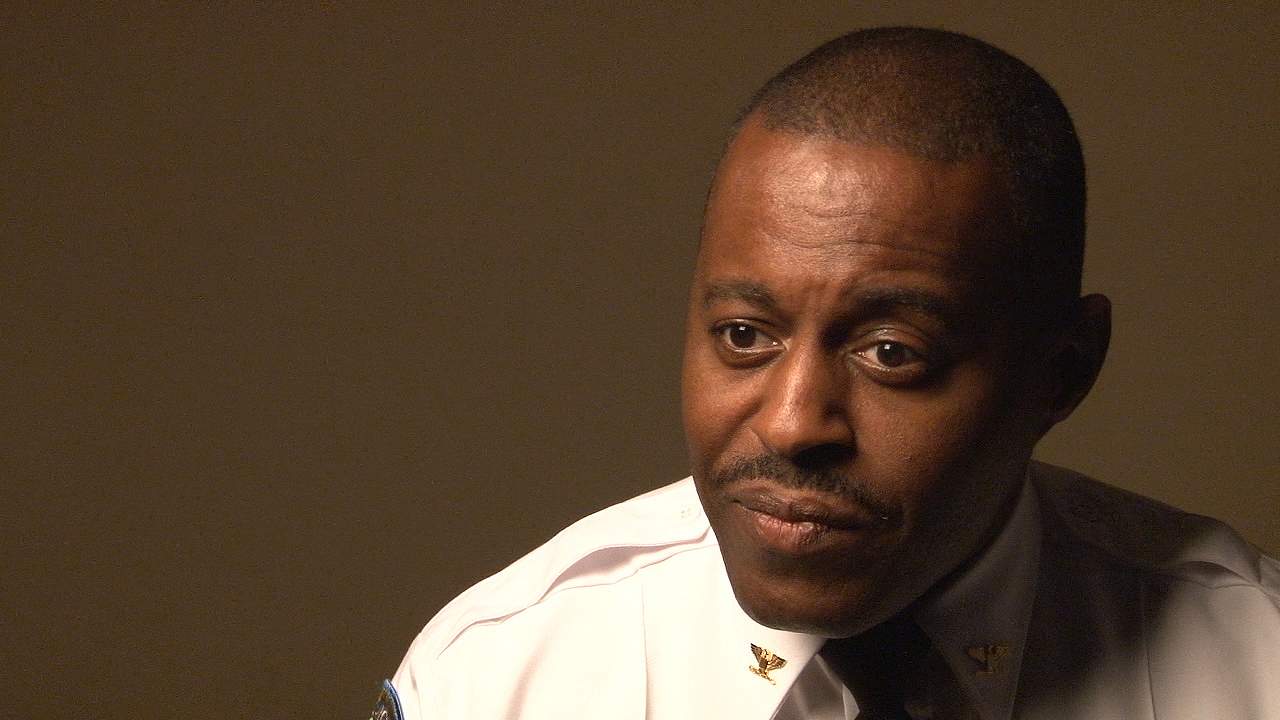 Delrish Moss' first encounter with a police officer was not good. It was in Miami more than 30 years ago and he was waiting for a bus to his after-school job. An officer walked up and started searching his bag.
"He said some things to belittle me, calls me the N-word, says that 'you N-word shouldn't be walking downtown after dark.' That encounter left me hurt, bruised, and afraid," Moss said. "Afraid of the person that was actually supposed to protect me."
A second interaction was no better. He was heading home after work when an officer "came up out of nowhere."
"He pushed me up against a wall and frisked me and everything else. And he jumps in a car and leaves and does nothing to restore my dignity. Nothing to explain why we had the encounter," he told us.
Moss says those early experiences were transformative; he decided if he wanted change in his community, he should put on a badge.
"My ulterior motive was to become a high ranking officer some day and fire all those police officers that I encountered," he said. "But my main motivation was to provide better service to my community."
In 1984 Moss began working for the Miami Police Department as a public service aid. He worked his way up to patrolman, and was walking a beat in the neighborhood he grew up in when riots broke out.
"I'm a young policeman now working in the very neighborhood that I grew up in, dealing with that," said Moss. "One of the things that I understood was that when the media goes away, when the smoke clears, when all those things happen, you have a community that is hurting."
Eventually Moss became the spokesman for Miami's police, and had another crisis on his hands – federal agents' forced return of 7-year-old Elian Gonzales to Cuba. The move was part of a custody dispute, but Miami's Cuban American community rioted, and Moss was there to face the community.
It was the perfect resume for Ferguson's police chief in the wake of Michael Brown's killing, civil unrest and the Justice Department's allegations of systematic violations of the civil rights of Ferguson's African American citizens.
After being sworn in, Moss addressed his officers: "If you work hard, if you stay honest and committed, if you maintain respect for the community and do your job well, we will get along just fine."
And then he addressed the community, going door to door in Ferguson. Some residents have been very welcoming, others are still wary of the police because of what Moss calls a history. Not only the history of Ferguson, but the national narrative playing out right now concerning police-involved shootings.
"When I hear of a police officer mistreating someone or a police officer not acting in a way that that's professional, then that informs a narrative that is already an undercurrent," said Moss. "And we are working very hard at that perception. But as Ferguson goes, so goes the nation in terms of what that narrative is," he said.
Moss says he is confident the days of writing tickets for the purpose of revenue are over, addressing a key finding in a Justice Department report on Ferguson. He says that when he talks with the public at community meetings the biggest concern isn't crime, but speeding and the fact police officers aren't writing enough tickets.
"Some of that is perception and some of that is reality," said Moss. "Police officers are definitely not targeting people just to write tickets. Actual police officers are dealing with actual issues of safety, and so you know how you view that argument from the start kind of colors your outcome. But definitely my message to my police officers is that you are not doing this to generate revenue," he told us.
Moss says people find it hard to believe that he has not had to fire any police officers. He says some have left through natural attrition - others because they don't like the expectations he has set for his officers.
"Maybe they don't want to work for the new police chief. And we don't like his initial message where he talked about the fact that you know I will prosecute officers who do things illegal," he told us. "I will fire officers who insult or defame the badge. And so I think that message got to some," said Moss.
His biggest problem has been fully staffing the police force. Ferguson currently has 38 officers, 14 less than the 52 the budget allows.
Moss says there is a shortage of police officers nationwide and compounding that, Ferguson often finds itself unable to compete for good recruits with other forces that offer better pay. There's also the stigma that comes with being a Ferguson police officer.
So the city is getting creative, trying to attract officers in unconventional places, including houses of worship.
"When I was a kid, people wanted to be a fireman, wanted to be a policeman, wanted to be president or an astronaut. Now you talk about those jobs and people kind of laugh at you and so we are trying to change that," said Moss.
Not having enough officers has also made it difficult to comply with parts of the Justice Department consent decree.
"There's some things that we are probably not on schedule with. One of the things is training. And part of that is the difficulty of scheduling officers for the training and not having enough to patrol the streets," said Moss.
Moss said there's another problem with understaffing. "What I can say about the police officers that work for me right now, most of them are here because their heart is in this. And when your heart is in this, you can go the extra step," Moss told us. "But I think recruitment is a top priority for me because I want to make sure that police officers aren't working too many hours - that overtime doesn't make for mistakes that become part of the national narrative."
After the Michael Brown shooting, after the riots, and the Justice Department report, Moss recognizes the role Ferguson plays in that national narrative, and is determined to press forward for change. He is willing to lead the way, but says others in the police community must also carry their weight.
"You know it's not just the Ferguson police chief's role to change the national narrative," Moss said. "It's Charlotte. It's Miami. It's Chicago. So many police departments - Dallas - that are having to re-imagine how we deliver services and how we tell our story."