Climate Change Demands Louisiana Rethink its Oil and Gas Industry
Battered by storms but powered by fossil fuels, Louisiana faces the energy transition
Lake Charles, La. Louisiana is at a crossroads. Climate change's destructive toll on the state is increasing. But Louisiana will have to buck its powerful oil and gas industry in order to deal with it.
Clair Marceaux is a case in point.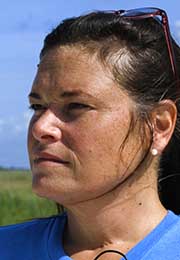 Clair Marceaux
On the one hand, the Cameron resident VOA met in a previous chapter lost her home to Hurricane Laura. She says climate change is making storms more intense and more frequent.
"It's hard to ignore that something is happening," she said. "That's not a very popular position to take in what is a very conservative part of the country."
Barely half the state — 51% — agrees that human activities are warming the planet, according to the Yale Program on Climate Change Communication. That figure dips into the 40s outside New Orleans and Baton Rouge.
Louisiana harbors one-fifth of the nation's oil refining capacity. It is among the top five natural gas producers in the United States and is the largest exporter. The oil and gas industries make up about 13% of wages and salaries statewide.
Marceaux herself oversees some of the largest fossil fuel export facilities in the world.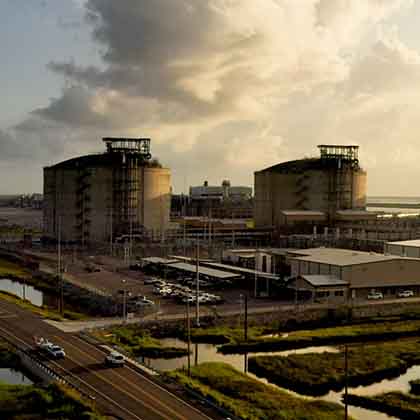 Cameron LNG, one of several liquefied natural gas export terminals in southern Louisiana. July 16, 2021. (VOA News)
She is port director for the parish or county of Cameron, where two plants are responsible for more than half the liquefied natural gas exports in the United States. If Cameron Parish were its own country, Marceaux noted, it would be the world's third-largest LNG exporter, after Qatar and Australia. More plants are under construction.
Like it or not, she said, the world will run on fossil fuels for years to come.
"Other countries depend on the United States for that natural gas," she told VOA. "So, if they stop asking for it, then maybe we will stop producing it."
At the same time, she added, "I don't want what happened to us repeatedly to happen to anyone else. And so, if an energy transition is what can bring that about, I'm all for it."
Tradition and transition
Louisiana's Democratic Governor John Bel Edwards aims to cut the state's greenhouse gas emissions to net zero by 2050. But politically and economically, shifting away from fossil fuels is a tough sell.
Edwards acknowledged he has to strike a delicate balance.
"We are a traditional oil and gas state, and that remains a very important part of our economy," Edwards said during a speaking engagement at the U.N. climate talks in Glasgow in November. "But this energy transition is well underway. … We have to get involved on the front end."
Oil giant Royal Dutch Shell has pledged to eliminate or offset its greenhouse gas emissions by 2050. Carmaker General Motors said it will phase out gas and diesel vehicles by 2035. Financial institutions worldwide are facing pressure to cut investments in fossil fuels.
Even if the energy transition were not already underway, analysts note, Louisiana can't be the petroleum state it used to be.
"We don't have the reserves. It's been played out," said Pierre Conner, executive director of the Tulane University Energy Institute. "We were blessed to have had them for 70 years, but Mother Nature isn't going to make a brand new deposit of oil and gas."
"Now, we need to get positioned for the transition," he added.
The good news, experts say, is that some of the same skills and assets from the oil and gas industry translate well to renewable energy.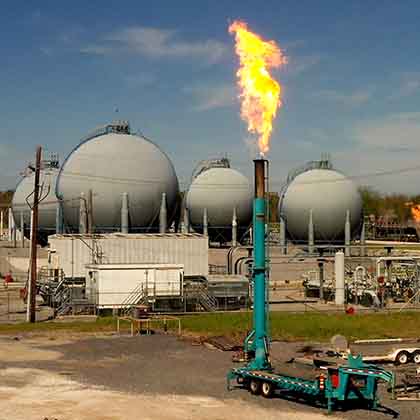 A petrochemical plant outside New Orleans, Sept. 24, 2021. (VOA News)
Oil in the family
Eric Danos is part of the third generation to run his family's eponymous oil services company. The governor's climate plan worried them at first, he told VOA.
"This looks like it's cutting into our core business that we've done for 70 plus years. So, it can generate a little bit of fear initially," he noted.
"But then those emotions settle out."
For one thing, the transition is not going to happen overnight.
"We don't see a whole lot of risk in the short term," Danos said.
In the meantime, the company is shifting out of oil and gas and into other industries. They have landed maintenance contracts for solar farms, for example.
Today, the company's mindset is, "We're not an oil and gas company. We're an energy company," Danos said. "And our industry is really doing the same thing."
Another emerging renewable energy source — offshore wind power — could be good business for Louisiana.
Offshore wind is well established in Europe. But just one facility is operating in the United States so far — the five-turbine, 30-megawatt Block Island Wind Farm off Rhode Island.
The Biden administration wants to expand capacity a thousand-fold by 2030, building 30 gigawatts of offshore wind generation.
Louisiana companies know a thing or two about building offshore. The first successful offshore oil well in the United States started pumping off the Louisiana coast in 1947. A vast industry of metal fabricators, service ships and maintenance crews has grown up to support operations in the Gulf of Mexico.
The Humble Oil Company Well #36, seen in 1948 seven miles off the coast of Louisiana, was among the world's first offshore oil rigs. Experience building offshore may help Louisiana's energy industry build offshore wind farms. (Courtesy of Standard Oil Collection, University of Louisville)
Lifting a new industry
Joe Orgeron's family ran a company that provided specialized ships to the oil and gas industry.
Known as lift boats, these ships have legs that can lower to the seafloor and hold the vessel steady. They provide stable platforms for drilling, construction and maintenance offshore.
Orgeron and one of his boats were in New Jersey in 2009 assisting a scientific mission when he got three separate, unsolicited calls from competing East Coast wind power developers. They all wanted to use his boat to test seabed locations for offshore wind farms.
"I'm like, 'Well, this has been really cool that there's this much interest in my boat,'" he said. "So, I knew something was up there."
Orgeron helped one of those developers build Block Island Wind Farm, which went online in 2016.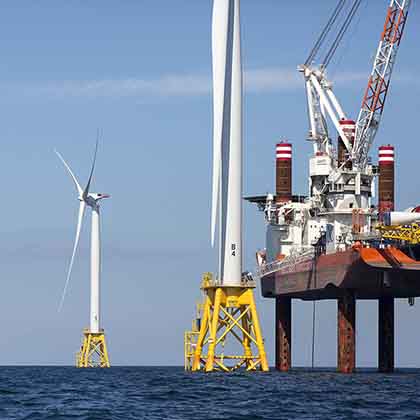 A lift boat, usually used in the offshore oil industry, helps construct the first wind farm in the United States, off the coast of Rhode Island. Aug. 15, 2016. (AP)
Meanwhile, Louisiana's offshore oil wells were running dry. Lift boats were doing more decommissioning than building rigs.
"We became nothing more than glorified dump trucks," he said.
His company went bankrupt in 2017. He started a new company focused on building and maintaining offshore wind turbines. He called it 2nd Wind Marine.
"We had our first wind in oil and gas," he said.
Workers wary
Another Louisiana company with experience building oil and gas platforms built the bases for the Block Island turbines. Others with refinery expertise are looking into making renewable fuels. Some say the state has great potential to capture carbon dioxide emissions from smokestacks and lock them away underground, known as carbon capture and sequestration.
Those may be the industries of the future. But the workers of the present are wary.
Kyle Lecompte is an operations supervisor with petrochemical firm Sasol, which runs one of the plants just outside Lake Charles.
"It's tough to tell someone, 'Just learn a new skill and you can pivot'… when you can't easily see what you can pivot to," he said. "You're not going to just take that leap of faith."
He knows the transition has to happen.
"I feel like you'd have to be pretty willfully ignorant to say that nothing is changing about our climate," Lecompte said.
And he said he's willing to make a change.
"If my company came and started saying, 'Hey, we're going to make batteries or whatever,' I'm all on board.
"My thing is, I need a job," he said.