At the start of the war, Ukraine defied many Western intelligence assessments that predicted a quick Russian victory. Ukrainian forces held off an assault on its capital, Kyiv, and forced Russia to change its focus to the eastern part of the country.
Now the two sides are mired in battle in parts of the east and south, with Ukraine's Western allies investing billions of dollars into military aid — including sophisticated weaponry — to support Kyiv, while Russia has been amassing resources and troops to the front lines.
A year into the war, there are signs that the fighting could drag on for much longer. Russia has not wavered from its goal to capture eastern Ukraine, while Kyiv has rejected any settlement that would allow its territories captured during the war to remain under Russian occupation.
The war has taken a huge toll in terms of lives lost, homes destroyed, and residents uprooted. Millions of Ukrainians have fled their country, leading to the greatest refugee exodus in Europe since World War II.
While Ukraine and Russia have closely guarded casualty figures, estimates put the number of dead and wounded soldiers from both countries in the tens of thousands, with tens of thousands more civilians killed in Ukraine.
The war has devastated Ukraine's economy, caused an economic downturn in Russia, and had ripple effects on the world economy, including contributing to a global rise in food and energy costs. European energy markets have been fundamentally changed by the war, with much of Europe moving away from Russian coal, oil and gas imports.
Part I: Casualties

The exact numbers are not known
The exact number of military casualties is not known, with both Ukraine and Russia guarding the figures for their troops. Civilian casualties are also hard to obtain because Ukraine is an active war zone. The U.N. High Commissioner for Refugees has confirmed 7,000 civilian deaths in the country; however, the organization says the death toll is likely much higher. U.S. General Mark Milley, chairman of the Joints Chiefs of Staff, estimated the following figures in November: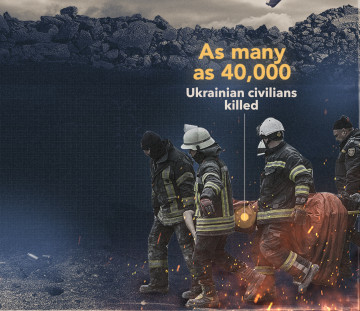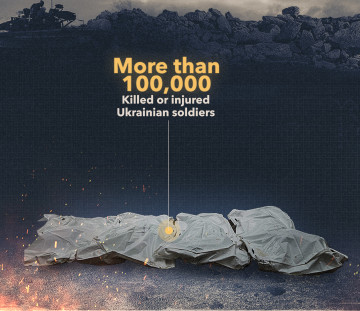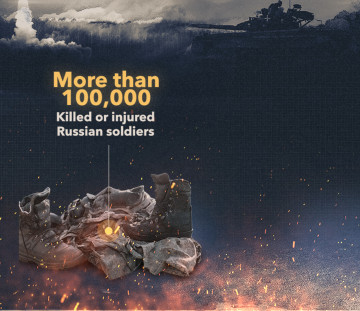 Part II: Ukrainians flee violence

Millions have fled the country
Before the war began, Ukraine had a population of more than 40 million. Since the February 2022 invasion, millions of Ukrainians have fled the country, with millions more displaced within its borders.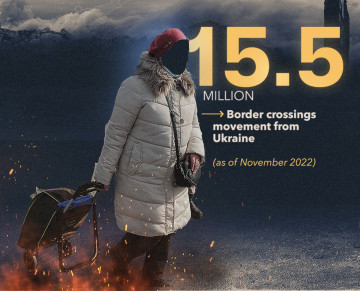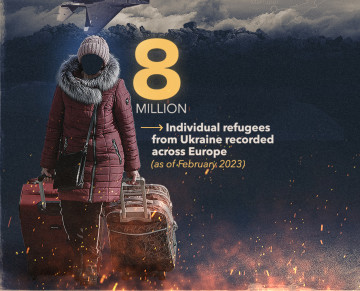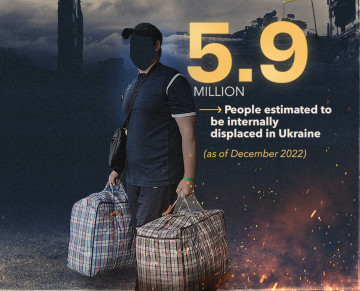 Refugee numbers for most countries are based on registrations for Temporary Protection or similar national schemes. In countries in which that data is not available, figures are based on refugees registered as living in that country.
DISCLAIMER: UNHCR figures show that 2.8 million Ukrainians went to Russia since the war started, though some went involuntarily or had no alternative.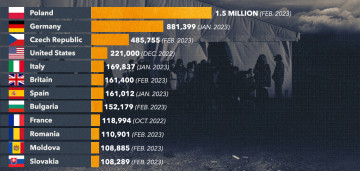 Part III: Western Aid to Ukraine

108.8 billion euros to Ukraine in aid
The Kiel Institute for the World Economy estimates that 46 countries have provided 108.8 billion euros to Ukraine in the form of military, financial and humanitarian aid. The majority of the aid has come from EU countries and the United States.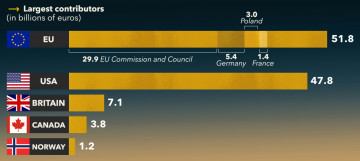 Part IV: Economy

Devastation and Decline

Russia's invasion of Ukraine in February 2022 and the resulting sanctions imposed on Moscow by Western countries have led Russia's economy into decline. The war has devastated Ukraine's economy, with World Bank Vice President Anna Bjerde saying in December that postwar construction of Ukraine will cost $525-$630 billion.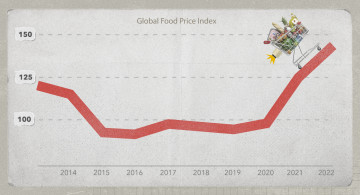 The Food Price Index is a measure of the change in international prices of five commodity groups (meat, dairy, cereals, vegetable oils and sugar).
Global food prices have increased in the past two years due to a range of factors, including pandemic disruptions, drought and the war in Ukraine, one of the world's largest wheat producers.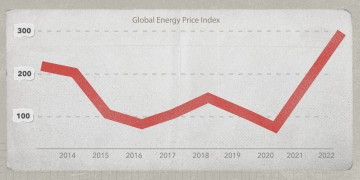 The index measures the global price movement of energy, including petroleum, natural gas, coal and propane, relative to the base year of 2016.
A recent surge in the global price of gas, coal and electricity is the result of a number of causes, including increased demand for energy as the coronavirus pandemic eased across the world. Exacerbating the energy supply issues is the war in Ukraine, which has led European countries to reduce their dependence on Russian coal, oil and gas.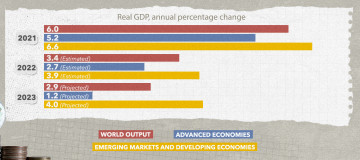 Economic output around the world dropped significantly in 2022 and is projected to fall further in 2023. The downturn has been caused by a range of factors, including pandemic disruptions and higher-than-expected inflation. Economists say the war in Ukraine has dragged down the world economy, as well as contributed to rising food and energy prices.
Ukraine, 1 Year Later

Part V: VOA News Coverage
On the Ground
Refugee Stories
Press Freedom
Washington Correspondents
NATO
Most Impactful Articles February 2022 - February 2023