History
History of Special Counsel Investigations
Special Counsel Robert S. Mueller III's probe of Russian interference in the 2016 presidential election has dominated the political debate for the past two years, but it is only the latest in a long series of high-profile investigations of government scandals that have haunted past administrations and led to numerous convictions.
Although these independent prosecutors have had different titles over the decades and were appointed in different ways — from special prosecutor and independent counsel to special counsel — they all served a similar function: investigating suspected crimes by government officials and private citizens when allowing the Justice Department and other federal agencies to handle the investigation could result in a conflict of interest.
The first investigation by a special prosecutor dates back to 1875, when President Ulysses S. Grant appointed John B. Henderson to investigate the "Whiskey Ring" tax revenue scandal, in which a group of whiskey distillers bribed Internal Revenue officials and their accomplices in order to siphon off tax revenues. The investigation resulted in 238 indictments and 110 convictions, but not before Grant fired Henderson when the evidence began to point to Grant's inner circle and the president's personal secretary and friend, General Orville Babcock. Babcock ultimately was acquitted, after Grant gave a deposition in his defense.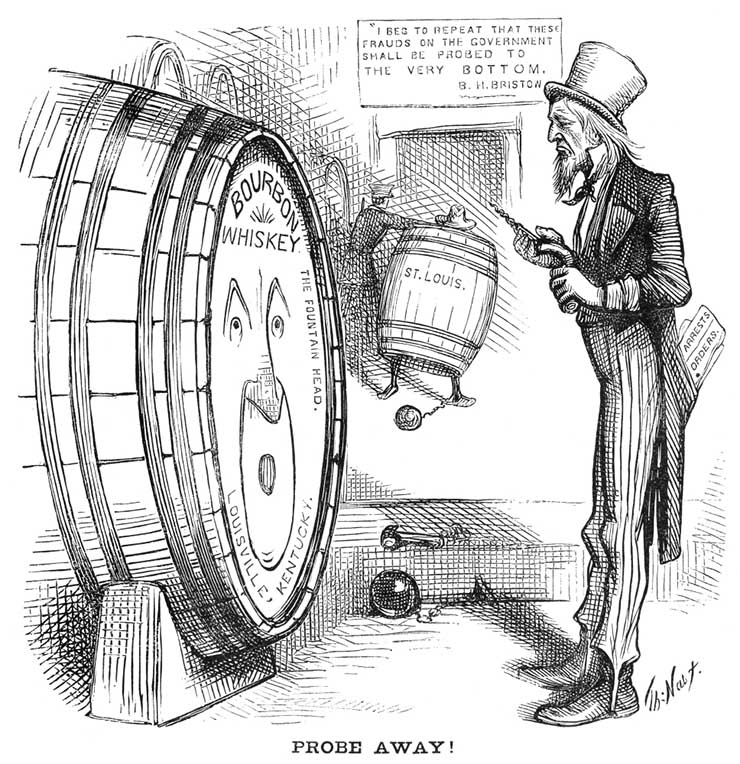 1876 Political cartoon by Thomas Nast.
But the most prominent of these probes began with the Watergate scandal of Richard Nixon's administration, followed by investigations during the Ronald Reagan, George H.W. Bush and Bill Clinton administrations.
Over nearly a year and a half, the Mueller special counsel probe has cost a total of $25.1 million, according to the latest expenditure report issued by Mueller's office on Dec. 14. The new report covers the period between April and September and is the third incremental expenditure report filed by Mueller since taking charge of the investigation May 17, 2017. The total figure covers both what the special counsel's office spent on personnel, travel, rent, office supplies and related costs and what the Justice Department spent on activities and costs related to the investigation of Russian meddling in the 2016 election.
Trump has repeatedly denounced the investigation as a wasteful "witch hunt" and has claimed without documentation that it has cost more than $40 million so far.
For perspective on the Mueller investigation, here are some of the most notable and important special counsel investigations, beginning with Watergate.
1973-1977
In this March 15, 1973, file photo, President Richard Nixon tells a White House news conference that he will not allow his legal counsel, John Dean, to testify on Capitol Hill in the Watergate investigation .
Watergate investigation
Summary: In the wake of reports by The Washington Post and other media that his administration orchestrated a break-in at the Democratic National Convention headquarters and then covered it up, Republican President Richard M. Nixon appointed Elliot Richardson U.S. attorney general and empowered him to appoint a special prosecutor. Richardson tapped Harvard law professor Archibald Cox for the job on May 19, 1973.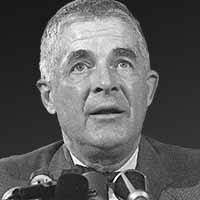 Archibald Cox
Special prosecutor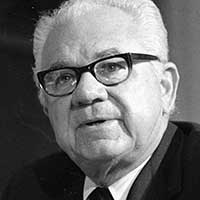 Leon Jaworski
Special prosecutor
Length of Probe: 4 years
Cost: About $47 million, adjusted for inflation in 2018 dollars
Cox subpoenaed the White House for tapes of Nixon discussing the cover-up. Nixon ordered Richardson and then-Deputy Attorney General William Ruckelshaus to dismiss Cox. Both resigned in protest. Solicitor General Robert Bork subsequently fired Cox. The incident became known as the "Saturday Night Massacre."
Amid a public outcry, Bork appointed a second special prosecutor — Leon Jaworski, another law professor — to continue the investigation. Jaworski and congressional committees investigating the break-in pressed for release of the White House tapes and other documents. The U.S. Supreme Court ultimately ruled on July 24, 1974, that Nixon had to deliver the tape recordings and documents to a federal district court.
With articles of impeachment looming in the U.S. House of Representatives, the president resigned in August 1974 and then was pardoned by his successor, President Gerald R. Ford.
Result: Dozens of administration officials were indicted, including 22 who were jailed. Nixon became the first president in U.S. history to resign. The events of Watergate led to the passage of the 1978 Ethics in Government Act, which established formal rules and protections for special prosecutors. Those rules were later modified.
1986-1993
Lt. Col. Oliver North, center, is escorted by Senate sergeant-at-arms Henry Guigni, left, and an unidentified security agent as he arrives on Capitol Hill, Washington on July 8, 1987. North was to testify before a congressional committee holding hearings on the Iran-Contra affair.
Iran-Contra Affair
Summary: In 1986, a panel of judges appointed former Deputy Attorney General Lawrence Walsh as a special prosecutor to investigate the Iran Contra Affair, a scheme that involved the illegal sale of arms to Iran and the diversion of millions of dollars in proceeds to the anti-Communist Contra rebel group in Nicaragua.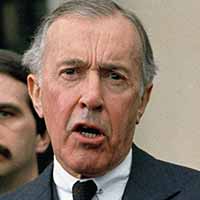 Lawrence E. Walsh
Special prosecutor
Length of Probe: 7 years
Cost: About $81 million, adjusted for inflation in 2018 dollars
Walsh's seven-year-old investigation led to the convictions of Lt. Col. Oliver North, who arranged the monetary transfer to the Contras; Rear Adm. John M. Poindexter, the National Security Council head who approved the transaction; and previous NSC head Robert C. McFarlane, who set up the arms deal with Iran.
Nearing the end of his presidency in December 1992, President George H.W. Bush pardoned several of the officials involved, including McFarlane and Secretary of Defense Caspar Weinberger.
Result: Fourteen people were charged, six of whom were pardoned. Poindexter resigned, and his conviction was overturned on appeal. North was fired but also succeeded in getting his conviction overturned. Five of the defendants ultimately were punished. One person, businessman Thomas Clines, served 16 months in prison.
1994-2004
President Bill Clinton poses with White House intern Monica Lewinsky in a Nov. 17, 1995, photo.
Whitewater to Monica Lewinsky
Summary: An Arkansas real estate investment gone bad in the 1970s sparked a federal investigation in 1994 that snowballed to encompass several scandals — including the Monica Lewinsky affair — during Democrat Bill Clinton's presidency. The multiheaded investigation lasted well beyond the end of Clinton's tenure and cost more than any other special investigation in U.S. history.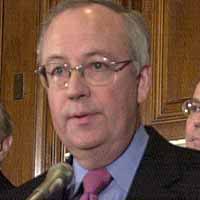 Kenneth Starr
Independent counsel
Length of Probe: 10 years
Cost: About $83 million, adjusted for inflation in 2018 dollars
The investigation initially focused on transactions of the Whitewater Development Corporation, a vacation real estate enterprise that Clinton and his wife, Hillary, invested in while Clinton was attorney general of Arkansas in 1978. Their partner in the deal, banker James McDougal, years later was convicted of financial crimes he had committed while trying to recoup his losses from the failed deal.
Clinton's attorney general, Janet Reno, appointed Special Prosecutor Robert B. Fiske in January 1994 at the president's request. In August of that year, a U.S. Court of Appeals removed Fiske from the investigation, concluding that his appointment by Reno was marred by a conflict of interest. Fiske was succeeded by Kenneth Starr, a former federal judge and U.S. solicitor general in the Reagan and Bush administrations.
Over the next three years, Starr's investigation uncovered a tangle of financial misconduct among Clinton's associates that led to convictions for McDougal, his wife, Susan, and Arkansas Gov. Jim Guy Tucker.
In January 1998, Starr obtained tapes of Pentagon worker Monica Lewinsky discussing sexual encounters she claimed she had with Clinton between 1995 and 1997 while she worked as a White House intern. The tapes were secretly recorded by a coworker, Linda Tripp. Days later, the president privately swore under oath in a separate sexual harassment suit that he "did not have sex" with Lewinsky.
In August 1998, after months of rampant media speculation and legal skirmishes between the Starr investigation and the Oval Office, Clinton admitted to the grand jury that he'd had an "inappropriate relationship" with Lewinsky. On television later that day, he called the affair "a critical lapse in judgment and a personal failure."
In September, Starr submitted to Congress a 445-page report and 30 boxes of evidence from his four-year investigation. The report alleged 11 impeachable offenses. Although the president's approval rating rose to an all-time high, the U.S. House voted to impeach him on the charges of perjury and obstruction of justice. The Senate voted to acquit Clinton of the charges, allowing him to remain in office.
Result: More than 15 people were convicted of dozens of crimes related to the Whitewater scandal. Bill Clinton became the second president in U.S. history — after Andrew Johnson — to be impeached.
2003-2008
Former CIA officer Valerie Plame's leaked covert identity sparked a federal probe, and resulted in the conviction of Vice President Dick Cheney chief of staff, Scooter Libby, of perjury, obstruction and lying to the FBI.
Valerie Plame Leak investigation
Summary: In 2003, then-Deputy Attorney General James Comey appointed Patrick Fitzgerald to investigate the leak of covert CIA operative Valerie Plame's identity. Many commentators suspected that the Bush administration had leaked Plame's identity as retribution against her husband, former U.S. Ambassador Joseph C. Wilson, who had published an op-ed in The New York Times critical of the administration's justification for the impending invasion of Iraq.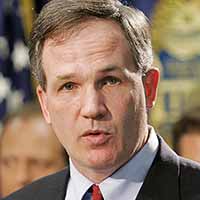 Patrick Fitzgerald
Special counsel
Length of Probe: About 5 years
Cost: $2.58 million, adjusted for inflation in 2018 dollars
The special prosecutor interviewed a swath of figures in the government and media, including President Bush and Vice President Dick Cheney, as well as journalists and editors from Time, The Washington Post, and The New York Times.
Judith Miller, a Times reporter who learned of Plame's identity but did not report it, spent 85 days in prison in 2005 for refusing to reveal her source — Cheney's chief of staff I. Lewis "Scooter" Libby.
Libby later resigned after being indicted for obstruction of justice and two counts each of perjury and making false statements. He was found guilty on March 6, 2007, of four of the five counts and sentenced to 30 months in prison, two years of probation, and a $250,000 fine. Bush commuted his prison sentence before he could serve time. He was pardoned by President Donald Trump in April 2018.
Result: Reporter Judith Miller was jailed. Libby was the only person convicted of a crime, but served no time. Media reports and released evidence linked several senior administration figures to the leak, including Cheney, but none was ever charged.
This story was written based on original reporting done by CNN and The Washington Post, research from Brown University, as well as published documents from the Special Counsel's Office, the Congressional Research Service and the U.S. Government Publishing Office. Cost estimates from the A-Mark Foundation.