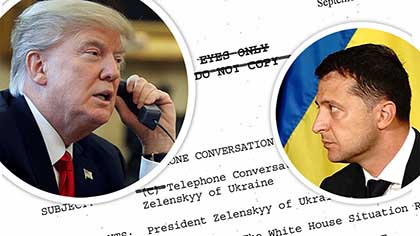 Timeline
Key Events in the Impeachment Inquiry
On December 18, 2019, history was made when Donald Trump became the third U.S. president to be impeached by the House of Representatives.
It all began with a bombshell whistleblower complaint that leaked in September. In it, an unidentified intelligence official alleged that Trump abused his power by pressing the president of Ukraine to investigate Trump's likely 2020 presidential election rival Joe Biden and his son, Hunter Biden, while holding up nearly $400 million in military assistance as leverage.
The disclosure raised a firestorm in Washington. With Democrats demanding answers, House Speaker Nancy Pelosi ordered an impeachment inquiry in late September. Although Trump ordered his administration not to cooperate with the investigation, more than a dozen current and former officials eventually testified during several weeks of hearings, giving Democrats enough to build a case against the president.
Trump dismissed the investigation as a "hoax" and "witch hunt" and insisted there was nothing improper about his phone conversation with Ukrainian President Volodymyr Zelenskiy or his subsequent action.
The two articles of impeachment approved by the House in December accuse Trump of abuse of power and obstruction of Congress. But their transmission to the Senate was delayed until Jan. 15 amid a disagreement between House Speaker Nancy Pelosi, a Democrat, and Senate Majority Leader Mitch McConnell, a Repubilcan, over whether witnesses would be allowed to testify during the trial. McConnell prevailed by insisting that the question of witnesses would be put off until after the House managers presented their case against Trump and the president's lawyers offered their defense.
With Supreme Court Chief Justice John Roberts presiding, the Senate trial gets underway in earnest on Jan. 21 and could last up to five weeks, or roughly as long as the 1999 impeachment trial of former President Bill Clinton.