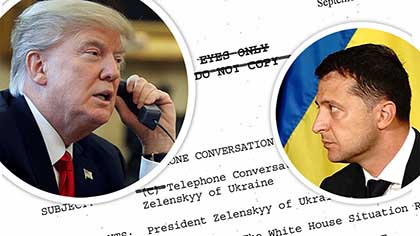 Timeline
Key Events in the Impeachment Inquiry
A whistleblower complaint about a July 25 call between President Donald Trump and Ukrainian leader Volodymyr Zelenskiy helped trigger a House of Representatives impeachment investigation of Trump last month.
The explosive August 12 complaint, filed by an unidentified intelligence official detailed to the White House, claimed that during the call Trump "pressured" Zelenskiy to investigate Joe Biden, the leading Democratic presidential candidate, and his son, Hunter Biden, as well as allegations that Ukraine tried to sabotage his 2016 presidential campaign.
Trump and his personal attorney, Rudy Giuliani, were trying to prove that Biden, as vice president under former President Barack Obama, sought to derail an investigation into a Ukrainian natural gas company that had hired Hunter Biden as a highly-paid board member. The complaint portrays Giuliani as a "central figure" in Trump's efforts and says attorney general William Barr was also involved.
While Trump has defended the 20-minute call as "perfect" and denied he did anything wrong, Democrats claim the president's entreaties amounted to an abuse of presidential powers against a political opponent, which could serve as a basis for impeaching the president. Trump is the fourth American president in history to face impeachment.
For months, six Democratic-controlled House committees had been investigating Trump for potential misconduct. But after the whistleblower complaint leaked, House Speaker Nancy Pelosi ordered an "official impeachment inquiry" on Sept. 24, dramatically raising the stakes in the political standoff between the Democrats and Trump just as the 2020 presidential campaign kicks into high gear.