One year after the Taliban reclaimed control of Kabul
A timeline of events in Afghanistan from August 15, 2021 to August 15, 2022
August 15, 2021
President Ashraf Ghani flees the country flees as Taliban take control of Kabul
On August 15, 2021, President Ashraf Ghani fled Afghanistan.

The government collapsed, and the Taliban took control of Kabul — the same group the U.S.-led coalition ousted in 2001. The speed of the Taliban's victory shocked the world and threw U.S. evacuation plans into disarray. Read more…
August 17
Afghans rush to the airport
Thousands of desperate Afghans raced to the airport, with chaos erupting as they tried to flee the country.
August 17
Taliban try to portray a reformed image
The new leaders tried to present a face different from the last time they were in power from 1996 to 2001. They promised Afghanistan would not be used to attack other countries, as it had been in September 2001, and vowed to protect women's rights to work and study under the framework of Islam.
August 26
Around 170 civilians and 13 U.S. troops killed
An attack by Islamic State of Khorasan Province (ISIS-K) outside the airport killed 170 civilians and 13 U.S. security personnel. Read more…
August 31
Last U.S. forces leave Afghanistan
The last U.S. forces left Afghanistan, bringing an end to a 20-year war.

The United States spent more than $2 trillion and lost more than 6,000 service members and contractors.

Thousands of people who assisted the U.S. over the years remained trapped inside Afghanistan. Secretary of State Antony Blinken promised that Washington would work to evacuate them. Read more…
September 7
Taliban announce caretaker government
The Taliban announced a new caretaker government. Mohammad Hasan Akhund, who is on a U.N. sanctions list, was chosen to head the government. Sirajuddin Haqqani, who is on the FBI's Most Wanted list, was named the interior minister. There was no mention of the Women's Ministry, a department responsible for women's rights and advancement before the new Taliban rule.

With the exit of the international community, humanitarian aid dried up, and Afghanistan's food crisis worsened.

Combined with the U.S. freeze on the Afghan central bank's assets worth $9.5 billion, the Afghan economy plunged into free-fall. Read more…
September 13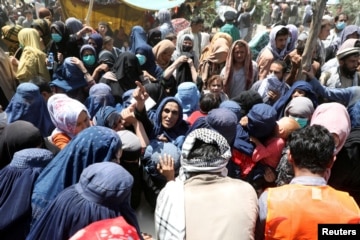 Poverty and hunger widespread in the country
United Nations Secretary-General Antonio Guterres said poverty and hunger were spiraling out of control in Afghanistan and appealed to the world for help. Read more…
September 24
The U.S. paved the way for sending aid to Afghanistan by allowing limited engagement with the Taliban.
December 26
Women cannot travel alone
Despite promises to protect women's rights, on December 26, the Taliban banned women from traveling alone for more than 72 kilometers without a male companion. Read more…
March 23, 2022
Girls' high schools to remain closed
The Taliban said girls' high schools would remain closed until they could be opened in accordance with Islamic law. Read more…
May 7
Taliban order women to cover up head to toe in public
The Taliban ordered women to cover themselves from head to toe. Read more…
May 19
Female TV anchors ordered to wear face covers
The Taliban ordered female TV presenters to cover their faces. Read more…
June 22
An earthquake hits Afghanistan
A major earthquake killed more than 1,000 people in the country's southeast. Read more…
July 20
U.N.: 60% of population need humanitarian assistance
A U.N. report estimated that about 60% of Afghanistan's population needed humanitarian assistance.
July 20
U.N. accuses the Taliban of human rights abuses
The report also accused the new government of human rights violations, including extrajudicial killings, torture and illegal detentions. It found the most notable aspect of Taliban rule was the erosion of women's rights.

By mid-2022, some 79,000 Afghan refugees have been settled in the U.S. since the Taliban returned to power. Thousands more wait outside the U.S. for their paperwork to be processed.
July 31
Ayman al-Zawahiri killed in a US drone strike
On the morning of July 31, Ayman al-Zawahiri, al-Qaida's top leader, was killed in a U.S. drone strike in Kabul.

One year into their rule, no country has formally recognized the Taliban government. Read more…