On a quiet Tuesday at the Boondocks Locker Room restaurant, Thurman Tonner, a retired farmer, and his wife, Janice, finish off their lunch with a shared brownie and two glasses of milk.
Farming was good for them, they say, especially the last 14 years when they switched to organic agriculture, which proved more profitable than traditional farming. Like others we meet here in Trempealeau, a rural county hugging the Mississippi River, they say their lives are comfortable, but that over the years they've witnessed a general decline.
It's a familiar refrain in the area: remembering a time gone by when folks seemed to have more money, and less fear.
Thurman Tonner blames the government in part. The last administration, he says, was too focused on what he calls "give-away programs" that keep the poor afloat, while the rich get richer and the middle class sinks.
"Agriculture can get forgotten," the 83-year-old says.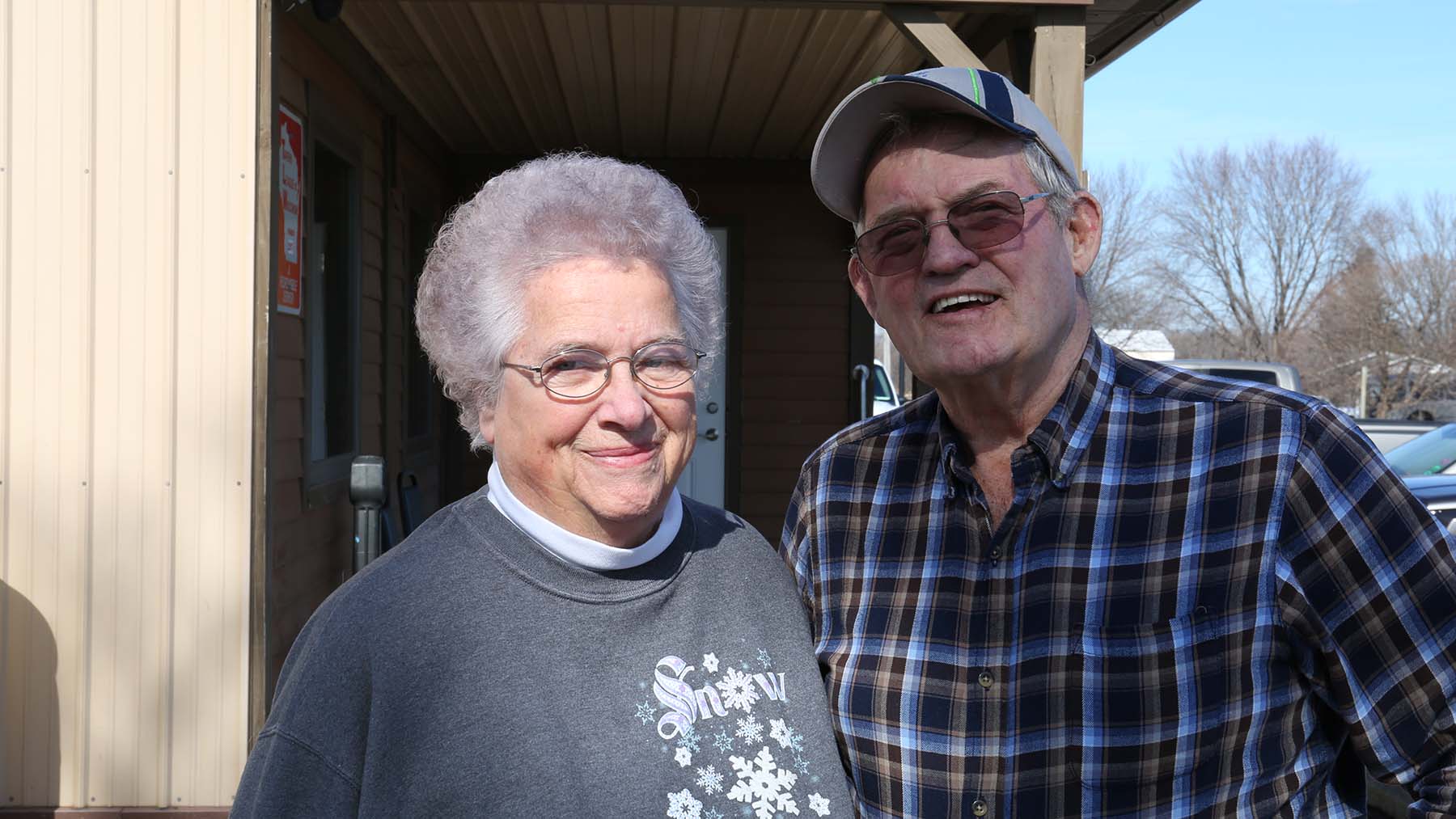 Thurman Tonner, a retired farmer, and his wife, Janice.
The government invests heavily in agriculture, but many of the subsidies go to the larger farms. And the millions of dollars that have flowed into Trempealeau County over past decades have slowed in recent years. Still, the county shows a rise, not always steady, in median household income since the 1980s.
Despite, or maybe because of the sense of hard times, Boondocks radiates a sense of community. Owner Mary Hauser says it's the social gathering place for those nearby.
Remembering better times
It's a restaurant where voters, fresh from casting their ballots next door in a primary election for a circuit court judge, can come in to catch up with friends. Diners over 60 can have a weekday lunch at a discount, $3.75, part of a government program. There's a raffle, with the proceeds going to charity, for his and her pistols: a pink .38 Smith and Wesson and a 9mm black Ruger.
Guns have long been a part of rural life in the United States, but there's a different kind of protection that has found a receptive audience among many in this region – border security.
During the election campaign last year, the Democratic candidate's call to "build bridges, not walls" conjured up an image of an open pathway for anyone to walk into their country and claim resources, says Thurman Tonner. "It scared the hell out of us."
Yet as President Trump's begins to fulfill his promise to tighten up controls on immigration, what that means practically has begun to sink in. Many undocumented workers have filled a labor gap here as younger generations leave the fields for better-paying jobs.
"If they send all of them back,' Thurman Tonner says, "there are so many businesses that can't continue."