Iraqis often present themselves as the pride of literature in the Arab world. The traditional Arabic saying, "Egypt writes, Lebanon publishes, Iraq reads," resonates through the efforts of Tahany Saleh, a young Iraqi woman who let her passion for books lead her to rebuild a library in Mosul, book by book, after Islamic State's rule over the city was ended.
About this story
This story was reported by Kurdish Service's Rebaz Majeed from Sulaimaniyah, Kurdistan Region, Iraq, and written by Rikar Hussein in Washington, D.C.
Saleh, now 28, was in her first year of graduate studies in economics when the Islamic State (IS) attacked Mosul on June 4, 2014. Helping her home heal from IS rule and restoring the city's literary culture has driven her ever since.
"When IS was occupying Mosul, it was like we were entirely paralyzed; we had control over nothing, and it was impossible to do anything. It was a very unusual situation, full of anxiety, fear and remorse. All we could do was to stay strong to preserve our spirits from being tainted by the darkness that IS brought upon us," she recalled about her life under IS.
A rebellious woman since early childhood, Saleh refused to obey IS's strict rules.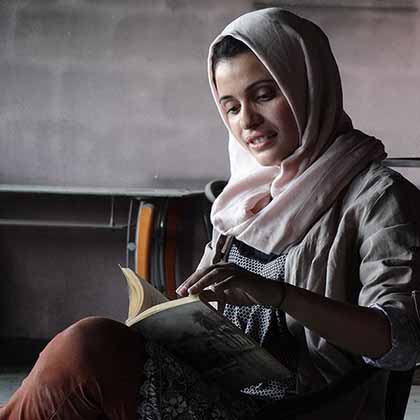 Tahany Saleh reads through a book rescued from the rubble of Mosul University's Central Library in Mosul, Iraq. (Photo courtesy of Ali al-Baroodi, May 2017)
She first quit school, then stopped visiting her favorite place, the university's Central Library. She ultimately avoided going out altogether.
"Not for once did I wear the back clads they forced on people. I did not leave my home for 944 days, not even to go shopping. Most of the time, I was asking myself, 'What's my fault? Why should I leave my school? Why can't I move freely? What did I do to deserve to be displaced from my city?' But I could find no answers," she said.
During that period of isolation, Saleh heard about what was happening at Mosul University's Central Library through friends who had worked at the school. They told her IS militants locked them up on the first floor of the four-story building, forcing them to print IS propaganda pamphlets.
The militants also used the space to gather university professors, forcing them to rewrite textbooks for a new "Islamic curriculum" after forbidding what they considered sinful or irrelevant subjects, such as art and philosophy.
"One staff member told me IS fighters were burning books when they needed to make fire for food or to warm up. They didn't know the value of those books," Saleh said.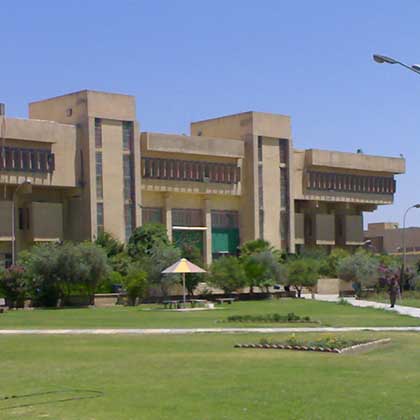 Mosul University's Central Library before Islamic State took control of the city. (Photo courtesy of Ali al-Baroodi)
A vibrant history
The Central Library was established in 1921 and housed an estimated 1 million books on topics such as science, literature, philosophy, law and culture, in addition to historical maps, Ottoman-era manuscripts and Iraqi newspapers.
Mohammed Jasim al-Hamdany, who directed the library during IS control, said the library started flourishing in 1967 when 60 of the city's largest private libraries donated their historic collections. It soon became Mosul's research center with an average of 1,500 daily visits by students.
When IS entered Mosul in June 2014, they confiscated the building a few hours after taking over the city and started ransacking its valuable equipment. Iraqi and U.S. officials said that IS also were using some buildings at the university as manufacturing facilities for weaponry.
In February 2015, Iraqi media reported that IS militants loaded about 8,000 books on religion, philosophy, law, science and poetry from the library into six pickup trucks with Syrian license plates and set them on fire outside the city. On the same day, the library's official website was taken down.
In a statement, Irina Bokova, director general of the United Nations' Educational, Scientific and Cultural Organization (UNESCO), said, "This destruction marks a new phase in the cultural cleansing perpetrated in regions controlled by armed extremists in Iraq. It adds to the systematic destruction of heritage and the persecution of minorities that seeks to wipe out the cultural diversity that is the soul of the Iraqi people."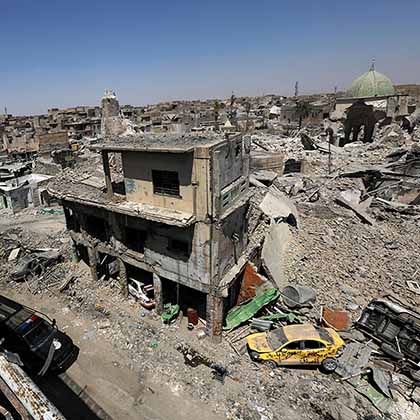 Intense fighting destroyed the Old City of Mosul, where the remains of the Grand al-Nuri Mosque and al-Hadba minaret can be seen, in Mosul, Iraq, Aug. 5, 2017. (Reuters)
Mosul campaign
Despite the destruction of thousands of valuable books and manuscripts, the library remained standing until the Iraqi campaign to remove IS militants began. The fierce battle, which was launched in October 2016 and lasted nearly nine months until IS retreated, killed thousands of people, displaced nearly a million and left thousands of buildings wrecked, including the library.
In mid-January 2017, the U.S.-backed Iraqi army declared its full control over Mosul University, including the library. Local media at the time reported the library was a smoldering heap of rubble, having been partially burned by IS militants and also hit by nine missiles aimed at removing the group.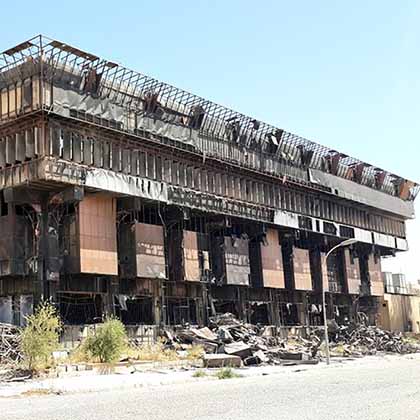 The outside of Mosul University's Central Library shows the damage caused during the campaign to oust the Islamic State from Mosul, Iraq. (Photo courtesy of Ali al-Baroodi, September 2017)

A view from inside Mosul University's Central Library shows the destruction caused during the Iraqi campaign to oust the Islamic State from Mosul, Iraq. (Photo courtesy of Ali al-Baroodi, September 2017)
Saleh still remembers the day when, from her home, she saw thick, black smoke rise into the sky after the library was set ablaze by IS in an effort to evade U.S.-led coalition airstrikes.
"The fire looked so mad. Our house was very far from the library, but I could still see the smoke rising over the clouds. Burning papers and equipment made a thick layer of black smoke that completely suffocated the streets around the building. IS burned the library for a very mindless purpose. They hoped the smoke would prevent planes from hitting them. They burned it for such a silly purpose, but the price for us was too high," she said.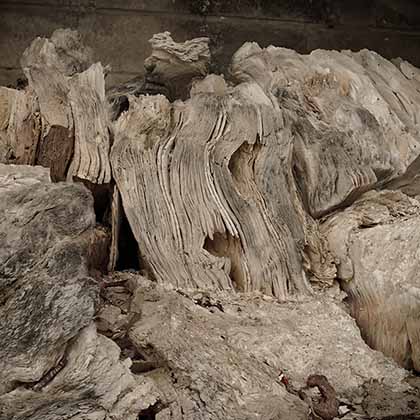 Ashes from books reportedly set ablaze by Islamic State remain at Mosul University's Central Library. (Photo courtesy of Ali al-Baroodi, May 2017)
The library's caretaker, al-Hamdany, saw images on TV of the ruined building while living in Kurdistan, where he was forced to take refuge from IS. He told VOA he had already lost hope that the library would survive. As a result, he helped set up a temporary library for Mosul's displaced students at Kirkuk University.
Of the library's nearly 1 million resources, which included 30,000 periodicals, 7,000 reference books, and a Quran dating back to the ninth century, fewer than 50,000 items have survived, al-Hamdany said.
"Some of these things are irreplaceable," he added. "There was one copy of the Quran dating back to the Ottoman Empire, and 7,000 archived government documents as old as 1941 AD, all lost in hours."
Mosul, lost hope?
On January 24, 2017, Iraqi forces recaptured eastern Mosul, including all of Mosul University's major facilities, and announced that IS had retreated to the western bank of the Tigris River.
Saleh was relieved she could finally walk outside of her home, but she lamented what had been lost.
"When eastern Mosul was liberated, I thought to myself that I will go finish my master's degree. But where? My university was destroyed. The library where I used to conduct my research was flattened."
Saleh was not able to stop the library from burning, but she knew something had to be done to "breathe new life back into Mosul." She started contacting her friends to repair some of what was lost.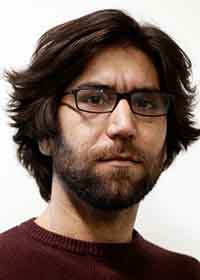 Omar Mohammed Mosul Eye blogger
One courageous friend was Omar Mohammed, a 32-year-old historian and blogger who fled Mosul in 2015 but remained the voice of his fellow residents from exile. During more than three years of IS rule, he used his popular pseudonymous blog, "Mosul Eye," to chronicle the city's daily struggles.
"One day, after a deep thinking, I promised myself not to go back to school until I did something to help," Saleh said. "That same day, one very courageous friend called me and asked, 'Tahany, do you want to do something for Mosul?' 'Of course, this is my city,' I responded. He said, 'Let's do something different, something that will bring out Mosul youth from the helpless situation they're in.'
"I said, 'Sure, what do you have in mind? He said, 'The Central Library. Let's ask the entire world to help us recover it!" Saleh recalled.
"Everything started with a tweet," Mohammed told VOA. "I tweeted, 'Our Central Library is liberated, but burned to ashes. Are you willing to donate books to it?' "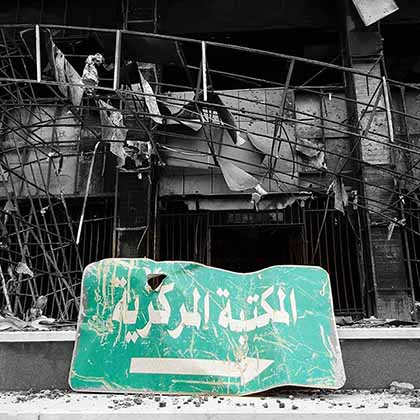 A green sign, with Arabic words reading "Central Library," was recovered from the rubble of Mosul University's Central Library building after Iraqi forces removed the Islamic State. (Photo courtesy of Ali al-Baroodi, July 2017)
Saleh and Mohammed started reaching out to others to help them clear the rubble from the Central Library building and asked people to donate their books, but few people responded.
"Many thought that I was a madman," Mohammed said. "Who thinks of books while the war and civilian casualties are at their climax?"
It was a call from a friend that turned things around.
Saleh's friend Ahmed called to inform her that there were still some books in the library that survived the fire. Her first instinct, she said, was to head over to see for herself. Along with Ahmed and another friend, she made it through the Iraqi-controlled areas toward the ruins of the library, only a few kilometers away from where IS fighters had regrouped.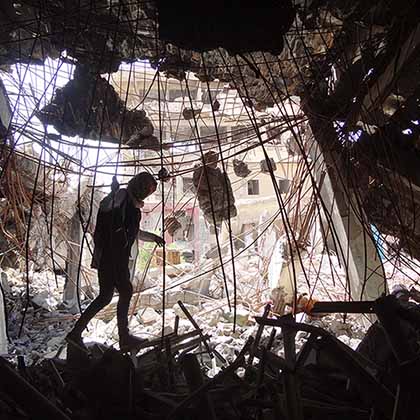 Tahany Saleh walks through a pile of debris at the gate of Mosul University's Central Library as she works with her volunteer team to rescue books in the burned building. (Photo courtesy of Ali al-Baroodi, May 2017)
"This was the first time for me to see the library building since 2014. It was a very tough moment. It used to be an amazing place with beautiful hallways, but I could not recognize it anymore. It did not look like the library I used to visit for six years. I was heartbroken," she said.
The two men led Saleh through the demolished, blocklong building, knowing they could risk their lives at any moment from IS rockets or explosives that had been left behind. The gate to the library was open, but heaps of debris made it difficult to enter.
"It was very dark and cold inside (the building) despite the hot weather. I knew it was very likely that IS hid explosives and mines. I had to use my cellphone's flashlight to see my way in. I will always remember the moment when I stopped at the gate and started encouraging myself not to be frightened. I said, 'I don't want to die inside the library. So please, all dead bodies rigged with explosives, clear the way and let me pass.' "
Once she entered, Saleh recalls the suffocating odor from the fire. The walls were charred black, the shelves toppled, and the floor was covered with burned beams, heat-warped furniture and paper ashes.
"The floor was around a meter covered in soot. It was like swimming in a sea of ashes just to get to a small corner of the building," she said.
But behind the rubble, she could see thousands of books, almost intact, in a small, poorly lit corner.
"It was an indescribable feeling. How was it possible that there were books totally safe and untouched? I was feeling ecstatic," Saleh recalled.
"The first place we reached was a section for old newspapers. Iraq's entire history is recorded there, and the first-ever Iraqi newspaper could be found in the collection. I was so happy to see them. This was the most beautiful scene a person could see after war," Saleh remembered.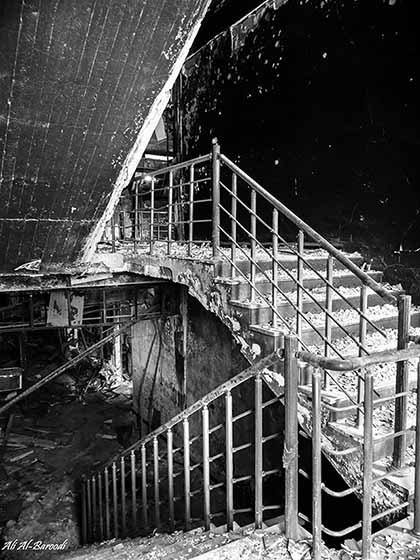 Stairs between the first and second floors of Mosul University's Central Library after it was destroyed during the Iraqi-Islamic State confrontation. (Photo courtesy of Ali al-Baroodi, June 2017)
Saleh instantly called Mosul Eye's Mohammed to tell him of her discovery. Both started calling on others to help transfer the remaining books to a temporary location inside Mosul University. Their efforts first drew 20 young volunteers, and the number kept growing.
One of the volunteers, Ali al-Baroodi, helped inform the outside world of the group's efforts. An English language and translation lecturer at Mosul University and a photographer, he posted on social media photos and videos of the work to save the library's books.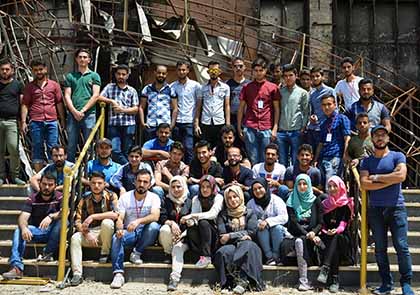 A group of some of the Mosul youth who volunteered to rescue thousands of books among the destruction of Mosul University's Central Library. (Photo courtesy of Tahany Saleh, September 2017)
Over nearly 40 days of sweltering heat, while a fierce battle was still raging in western Mosul, the 20 volunteers moved 32,000 books, one by one, from the building to a safe location.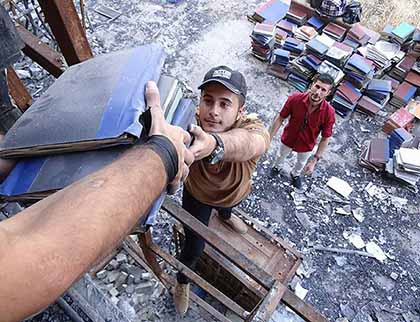 Mosul's young volunteers moved dozens of books from inside Mosul University's destroyed Central Library to an area outside the building.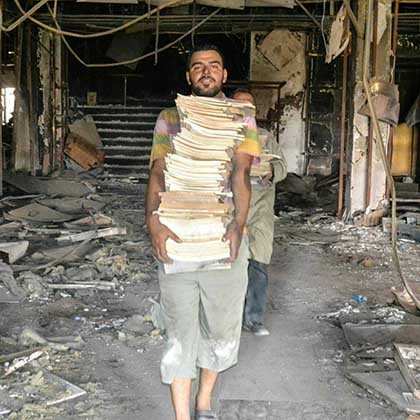 A volunteer carries dozens of books from inside Mosul University's destroyed Central Library.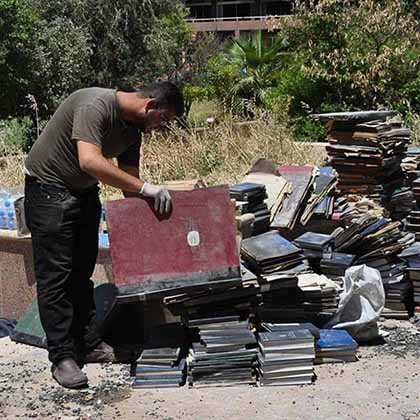 A volunteer stacks historical books rescued from the ashes of Mosul University's destroyed Central Library in an area behind the building before being transported to a safer location.
LEFT: A volunteer carries dozens of books from inside Mosul University's destroyed Central Library. RIGHT: A volunteer stacks historical books rescued from the ashes of Mosul University's destroyed Central Library in an area behind the building before being transported to a safer location.
The group had several close calls as they attempted to save the books.
IS militants from the outside were using drones to monitor any movement in the area. One day, the group found itself exposed to IS targeting and was ordered by the Iraqi military to evacuate immediately.
"We were standing outside of the library when, after about 10 minutes, three rockets landed near us. One of them was so close to us that it almost deafened our ears," Saleh recalled. But the mission resumed the following day. " 'You can't hurt us,' we were laughing and saying, 'we have made it safely through a much more intense war.'"
"This book recovery mission was very important for us, because it was in a time when we were all very helpless and felt our city and its life was destroyed. The revival of these books gave us a lot of strength and hope that we can recover and bring back the city (to) its feet again," Saleh told VOA.
'Something more complex'
Over the weeks of the group's efforts, their common mission evolved into friendship, as each person started to contribute ideas about how to help restore their city. After years spent living under IS control, the volunteers, working to restore a beloved feature in their city, also spent their time singing, playing and discussing their hobbies.
Saleh said what brought them even closer together was the establishment of a soccer tournament between the men and women – a dramatic departure from a conservative society like Mosul, where socializing between men and women was discouraged.
"The idea first came to me when I brought a ball and started playing on my own," Saleh told VOA.
" 'Who will play with me?' " she had asked. "The girls were reluctant at first, because women do not play soccer in Mosul. The boys asked me to give them the ball, saying, 'This is our sport, give us the ball.' I replied, 'Let's all play. The girls can play against the boys.' The girls looked at me and said, 'No, this is impossible. And we're too tired to play anyway.' "
Saleh took the ball and decided to play against the boys all by herself. That move was enough to encourage the other girls to join, she said.
From that day, the group started playing and singing together every day. The videos they posted online received hundreds of shares across social media platforms. The group's members increased by the dozens, and their activities expanded to include recovery and street cleaning around Mosul, as well as organizing several cultural events.
In May 2017, shortly after the finishing rescuing the books, the group held a celebration, called "A Book From Within the Ashes," in front of the library. The event drew an estimated 3,000 to 4,000 people. The price of admission was donating a book to the library.
"This was the first (time) that music was played in Mosul University because it was considered taboo before," Saleh said. "We surpassed a lot of traditions this way. We did many things in those few days that were considered taboo and impossible before. By then some force was grown in us that said 'We want to live. The war has ended, and we have decided to live.' "
A group of Mosul musicians plays the Iraq national anthem at a book donation campaign in front of Mosul University's destroyed Central Library. (Video courtesy of Mosul Eye, December 2017)
"When you survive the darkest time you make sure you spread the light of hope that is inside you," photographer al-Baroodi said. "It made us so resilient to know that these books have survived. It must be taken as an example of survival. It must be an example for boys and girls to come together. It's another example for the city of Mosul to be united against the huge destruction that has ensued."
Over the next several weeks, which included the complete removal of IS from Mosul in July, the group increased its book drive efforts, taking to social media to reach out to domestic and foreign donors.
National efforts also made a difference. In Baghdad, residents started buying books at street markets and donating them to replenish the university library.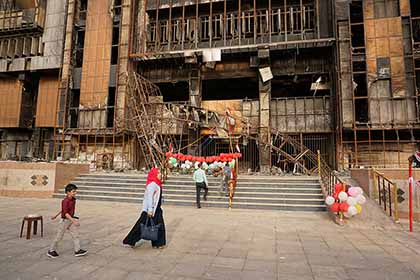 People walk by the entrance of Mosul University's Central Library, decorated with balloons and Iraqi flags, as Mosul's young volunteers celebrate their successful campaign to rescue thousands of books after the Islamic State took control of the building in 2014. (Photo courtesy of Ali al-Baroodi, January 2018)
Nearly 60,000 books and journals have so far been donated to restore the library and more are expected to arrive, library director al-Hamdany said.
Today, the structure of the building is intact, but giant holes caused by missiles, layers of dust and shattered windows remain. Al-Hamdany said the government has set aside funds for the building, but government reconstruction efforts have stalled. Until the library is fully repaired, the rescued and donated books can be found on shelves set up at Mosul University's Education College.
This story was edited by Mary Motta, with video production by Mehdi Jedinia and Nawid Orokzai. It was designed by Brian Williamson.