"I guarantee you will stop writing." These were the words Marian Kocner, a businessman widely seen as one of the most powerful people in Slovakia, said to Jan Kuciak in a phone call five months before the investigative journalist was assassinated.
World Press Freedom Day 2020
As we mark World Press Freedom Day on May 3, commentary has focused on rising disparagement of journalists and censorship under the coronavirus pandemic. But the story of Jan Kuciak is a positive one for press freedom. In recent years, 9 of every 10 cases when a journalist has been murdered have gone unsolved. As VOA's Dino Jahic reports, Kuciak's colleagues didn't let that happen in Slovakia.
— Jessica Jerreat,
Press Freedom Editor
Kocner, himself a former journalist, had changed paths. Now wealthy and well connected, he had come to see reporters like Kuciak, who dug into his business dealings, as a danger. As court testimony would later show, Kocner planned to collect information on at least 28 journalists.
But in Kuciak's case, prosecutors say, he went a step further.
On Feb. 25, 2018, police found the bodies of Kuciak and his fiancée, Martina Kusnirova, in their home in Velka Maca, a village east of the Slovak capital Bratislava. The couple, both 27, had been shot: Kuciak in the chest, Kusnirova in the head.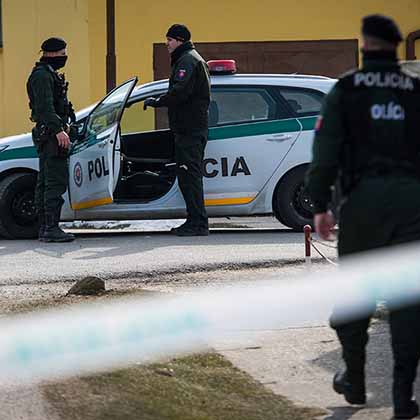 Police gather outside the Velka Maca home where Jan Kuciak and his fiancée, Martina Kusmirova, were shot dead in February 2018. (Vladimir Simicek | AFP)
The killings rocked the couple's friends and fellow journalists. Although reporting can be a deadly profession, journalist murders in Central Europe were rare. Kuciak, a reporter for the Bratislava news website Aktuality and the Sarajevo-based Organized Crime and Corruption Reporting Project (OCCRP), was the first to be killed in Slovakia since it gained independence.
Kuciak hadn't read much into Kocner's call. Friends quoted in news stories after the murder said the journalist had reported it to the police but shrugged it off as just "part of the job."
"It was actually hard to understand what happened," said Pavla Holcova, an investigative reporter from neighboring Czech Republic. "We actually talked only a couple of hours before he was murdered."
Holcova and Kuciak had worked together for years, most recently to investigate connections between Slovak government officials and the Italian mafia. Adding to the mystery was that many of Kuciak's investigative targets had possible motives for revenge or to stop him.
The story could have ended there – a case gone cold, impunity for those responsible. In fact, that is the outcome in nine out of 10 journalist murders, according to the New York-based Committee to Protect Journalists (CPJ). Some 270 such cases remain unresolved over the past decade, the group's 2019 report on impunity found.
But that's not what happened in Kuciak's case. Instead, the deaths ignited a furious collaboration among Kuciak's colleagues. Their stories fired up public outrage, toppled top Slovak politicians and officials and ultimately resulted in the conviction of the killer.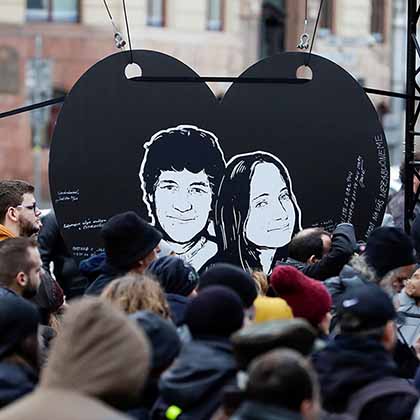 A vigil for Kuciak and Kusnirova is held in Bratislava, on February 21, 2020, on the second anniversary of the couple's murder. (David W. Cerny | Reuters)
Kocner, once seen as untouchable, faces a charge of ordering Kuciak's hit. Amid intense media scrutiny of his business dealings, he has been convicted of financial fraud, and his methods for gathering compromising information to manipulate high-profile figures were exposed.
"After the first shock, we understood the message that was sent to us as journalists, that actually the killing of Jan was done to prevent journalists from doing their work," Holcova said. "So we did quite opposite."
And the journalists are not finished.
During the past two years, they were able to obtain a trove of secret surveillance materials collected during law enforcement investigations into Kocner and his associates.
Comprised of videos, recordings and other materials, it is now the basis for ongoing reporting on corruption in the country – 57 terabytes of data in all – maintained in a secret location for safety.
They gave it a fitting name: the Kocner Library.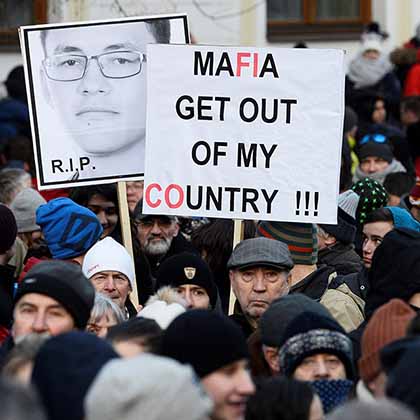 Protesters took to the streets in Bratislava and other Slovakian cities in the weeks after the murder, demanding justice for Kuciak and an end to corruption. (Reuters)
One Murder: 50 Angry Journalists
After its split from the Czech Republic in 1993, Slovakia matured into a stable member of the European Union. But the double killing jarred Europe's journalism community.
Four months earlier, a car bomb had killed Maltese investigative journalist Daphne Caruana Galizia. The EU's reputation as a safe haven for the press was in tatters.
Both reporters had taken on corruption and organized crime. The clear message from the violence was that powerful interests would stop at nothing to protect themselves. (Galizia's case is still being investigated, again with a collaborative effort by investigative reporters.)
This killing of journalists is "not only about them as individual targets," said Bruce Shapiro, director of the Dart Center for Journalism and Trauma of Columbia University. "It's part of an attempt to shut down and silence one of the few avenues of accountability."
Kuciak had his sights set on officials and businesspeople beyond just Kocner. His approach to reporting was analytical and detailed, and he often relied on public records requests to get documentary evidence for his stories.
On Feb. 26, 2018, Holcova was at her home in Prague when Aktuality editor Marek Vagovic called to tell her Kuciak was dead and that she should ask for police protection.
Holcova quickly realized the mafia article she and Kuciak were working on might be significant in the murder investigation.
She immediately went to her office to write up the reporting that she and Kuciak had so far collected with colleagues in Italy also working on the story. "We understood that because of all the security reasons, we need to publish as soon as possible," Holcova said.
The police urged her to go right into protective custody, but Holcova insisted on finishing their story. Unable to sleep, she worked nonstop. The OCCRP published the piece on Feb. 28, just three days after Kuciak's and Kusnirova's bodies were found.
"It was published unfinished. Much more as a statement than as a finished story," she said. The pair hadn't completed their reporting before the murders took place.
Only when the story was out did Holcova let police move her family to safety.
Holcova and Kuciak's collaboration was through the OCCRP, a nonprofit global network of reporters and outlets that investigates offshore tax heavens, money laundering, drug trafficking and crime syndicates. The Sarajevo-based group teams up with investigative journalists who report a story from their country's perspective or work jointly on international projects.
The pair worked together for the first time in 2013 on a story about Slovak workers in Sweden. Including Holcova's, the OCCRP published two posthumous stories right after the murder – under Kuciak's byline – about Slovakian ties with the 'Ndrangheta, one of Italy's most powerful organized crime groups.
Holcova and Kuciak started looking into the 'Ndrangheta while working on a story about Maria Troskova, a former Miss Universe contestant hired as an assistant to then-Prime Minister Robert Fico. The reporters found that Troskova had previously been in business with an Italian living in Slovakia whom the anti-mafia police suspected of being involved with the 'Ndrangheta.
The crime syndicate is accused of murdering businessmen and prosecutors, and a 2013 Europol assessment found it was involved in drugs and weapons trafficking, corruption, intimidation and extortion.
Fico and Troskova have denied any connection to the mafia.
Kuciak's interest in investigative journalism and uncovering corruption started early in his career. Journalist Arpad Soltesz met him at Hospodarske Noviny, Kuciak's first paper.
"He had this incredible capability to remember data in huge, large, datasets," Soltesz said. "He saw something somewhere, and a few weeks later, he saw something quite other in a different data set and he was able to connect that. It's a capability not everyone has."
Soltesz at first didn't believe Kuciak was dead. "It was shock," he said. "It sounded like a bad joke."
Aktuality — one of the most widely read news sites in Slovakia – had appointed Kuciak to its investigations team in 2015. After his death, the outlet formed an unofficial group – "All for Jan"– made up of other Slovakian news organizations.
The group was powered by defiance: To finish incomplete reporting Kuciak left behind and demonstrate that truth would survive.
"Journalists in Slovakia just showed to everybody that if you kill one of us, you get 50 more – and very angry – journalists," Soltesz said. "So we learned to collaborate, cooperate. And journalists made a good job in following up everything that was connected to the murder and bringing it to the public."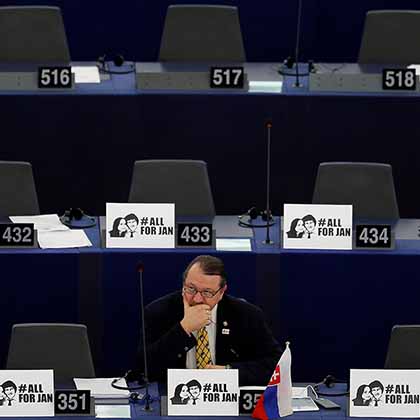 Slovakia MEP Branislav Skripek attends a debate on the protection of investigative journalists in Europe. Kuciak's killing shattered Europe's image as a safe haven for the press. (Vincent Kessler | Reuters)
Demand for Action
At first, Kuciak's colleagues and the public had little faith the killers would face justice.
Increasingly, public outrage grew with how police handled the case, and at corruption allegations being uncovered by the media. Tens of thousands marched in cities across the country in the weeks after the killings, chanting "Enough of Fico."
At the time, Fico was the leader of the left-wing populist SMER party and had spent 10 years as prime minister over two separate terms. During news conferences, he had sometimes attacked or lectured reporters.
The protests and the murders triggered a series of resignations, starting with Minister of Culture Marek Madaric, who stood down on Feb. 28, 2018, saying, "I cannot as culture minister put up with a journalist being murdered during my tenure."
Fico's assistant Troskova, and Secretary of the State Security Council Viliam Jasan, both named in the posthumous Kuciak stories, were next. They stepped down pending the outcome of the investigation, saying in a statement that "combining our names with this [murder] by some politicians or the media is absolutely over the line."
Fico himself stepped down on March 15. His deputy, Robert Kalinak, who also served as Interior Minister, had resigned three days earlier. Kalinak's replacement soon quit, as did the president of police, Tibor Gaspar. Kalinak and Gaspar had been criticized previously for not aggressively taking on corruption.
Within just a couple months after the killings and the media's follow-up reports, sweeping changes had rocked Slovakia's political establishment.
Holcova said the public response to the journalism played an essential role. "The political landscape in Slovakia changed quite a lot. There's a new president. There are new regional governments. There is a new prime minister," she said.
However, little progress was being made in the investigation at this time. Six months after the murder, everything looked so murky that Holcova published a commentary titled: "Why I think Jan's murder will never be investigated." She argued that police had made significant errors, including failing to preserve crucial evidence.
"The Slovak authorities are not doing enough to investigate the murder of my friend and colleague," she wrote. "If journalists have to do the police's job to discover the truth, then we will."
The government resignations brought rapid accountability, but justice for Kuciak's killers was yet to come.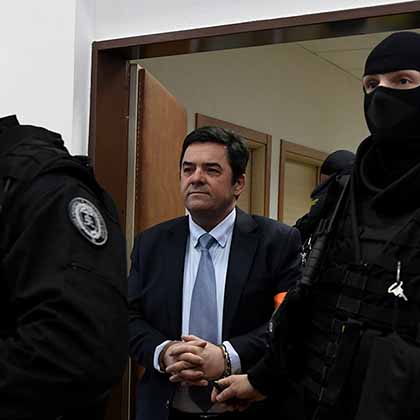 Marian Kocner is led into court on the first day of the Kuciak murder trial. The powerful businessman is accused of ordering the journalist's murder. (Reuters)
70,000 Euros to Hire a Hitman
Early on Jan. 13, 2020, more than 100 journalists entered the Special Criminal Court in Pezinok, north of Bratislava. This was the opening of Kuciak's and Kusnirova's murder trial, nearly two years after they died.
Four defendants entered, surrounded by heavily armed and masked police officers. Among them was Kocner. He wore a suit and appeared tired, serious. He was handcuffed.
Also present were Alena Zsuzsova, a longtime associate of Kocner's, and two cousins – former police officer Tomas Szabo and former soldier Miroslav Marcek – who were accused of carrying out the hit.
The three had been arrested in September 2018. At the time, Kocner was already in custody on charges of forgery, suspicious property transfers and tax fraud, the matters he had threatened Kuciak about when the journalist reported on them in 2017.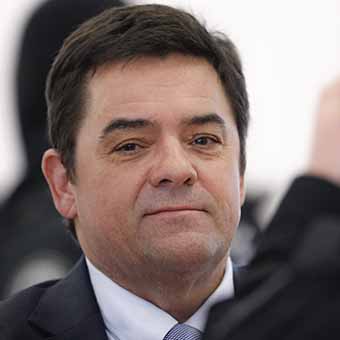 Marian Kocner
Powerful businessman accused of ordering journalist Jan Kuciak's murder.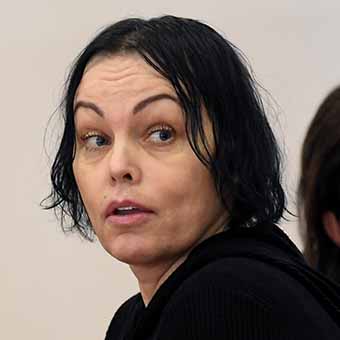 Alena Zsuzsova
Charged with acting as intermediary and ordering the hit.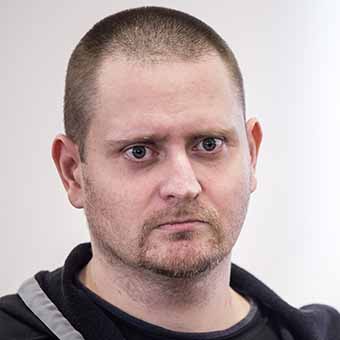 Miroslav Marcek
Former soldier convicted of the murders of Kuciak and Kusnirova.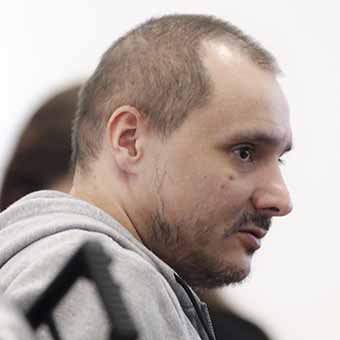 Tomas Szabo
Former police officer acused of preparing and carrying out the murders.
Prosecutors did not charge Kocner with ordering Kuciak's killing until March 2019. The suspects were formally indicted in October that year. While Marcek pleaded guilty, Kocner, Zsuzsova and Szabo denied the charges.
A fifth accomplice, Zoltan Andrusko, had earlier admitted his involvement and was now a crucial cooperating witness.
In court, Andrusko wore a balaclava to obscure his face. He testified that Kocner and Zsuzsova ordered Kuciak's murder and also planned to kill an anti-corruption lawyer and a prosecutor.
Testimony at trial, as well as the OCCRP's coverage of the murder investigation, together revealed a detailed account of events.
On the first day of the trial, Marcek told the court he had been the one to pull the trigger.
"I want to apologize to those affected for the harm that we have caused," Aktuality quoted Marcek as saying. "Seeing them on television – seeing their pain – forced me to talk."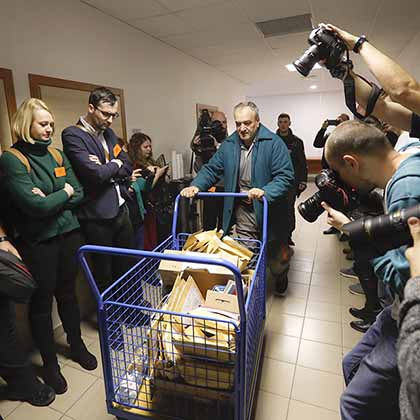 Evidence is wheeled into the courtroom for a pretrial hearing in Pezinok, Slovakia, on December 19, 2019. The investigation into Kuciak's killing brought his murderers to justice and uncovered mass corruption in Slovakia. (Petr David Josek | AP)
Another key witness was Peter Toth, one of Kocner's former associates. Toth, an ex-intelligence agent and former reporter, said he had suspected Kocner was responsible. So in October 2018, he provided police with some of the businessman's belongings, including Kocner's smart phone.
Over almost nine hours of testimony, Toth described how Kocner wanted to create a database of surveillance on journalists. Toth was to oversee the monitoring and compiled a list of 28 names. The list included Kuciak, of whom Kocner spoke "with hatred in his voice," Toth testified.
Prosecutors said Zsuzsova offered Andrusko 50,000 euros and forgiveness of a 20,000 euro debt to kill Kuciak on behalf of Kocner. He accepted and turned to his friend Szabo, who recruited Marcek.
Investigators determined that Szabo and Marcek visited Velka Maca several times in the weeks before the Feb. 21 killings, scouting the area. Kuciak and Kusnirova, who were due to marry that May, had bought a house in the village and were planning to renovate it, the OCCRP reported.
In December 2019, Andrusko was sentenced to 15 years in prison for facilitating the murder. On April 6, 2020, Marcek was sentenced to 23 years.
Kocner has already been convicted in the separate financial fraud case he was arrested for in 2018. A court in February 2020 sentenced him to 19 years in prison.
In addition, the U.S. Treasury in December 2019 sanctioned Kocner under the Global Magnitsky Act, which penalizes human rights abusers by freezing their assets and blocking them from entering or doing business in the U.S.
While Kocner and the others await the verdict in the Kuciak case, journalists are using the Kocner Library to investigate how he remained untouchable for years.
And that effort has uncovered some of the biggest corruption stories in Slovak history.
The Kocner Library
Muffled voices can be heard as a man adjusts a hidden camera. Dobroslav Trnka, a former prosecutor general who had a high position in the Slovak Prosecutor's Office, is seen on camera, alongside Kocner, who set up the shot.
One day after the OCCRP published the video in October 2019, Trnka was suspended. But that was just the start.
Other audio and video recordings emerged, showing Trnka discussing confidential matters outside the judiciary. Ultimately, though, it was an old secret service recording that Kocner allegedly gave to Trnka for safe keeping that led to the former prosecutor being charged with abuse of office.
In an audio recording, Kocner is heard swearing at Trnka for purportedly trying to use the old recording to blackmail one of his friends.
The recordings are part of a police investigation file on Kocner that includes over 6,000 text messages and 38 hours of audio and video materials. Investigators made some of the material, including over 6,000 messages, public. In October 2019, audio materials were leaked to the Slovak media.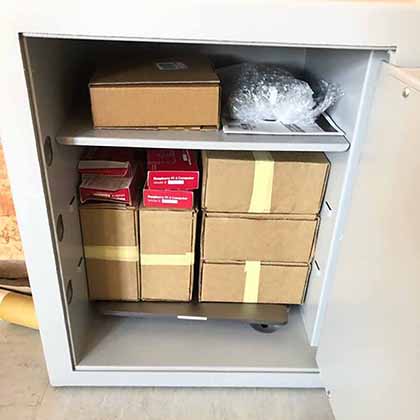 A safe containing just some of the documents that make up the Kocner Library. A select group of journalists are able to access the materials for investigative reporting. (OCCRP)
The records now form what OCCRP has named the "Kocner Library" — an electronic archive with enough digital data to fill more than 900 typical smart phones. The data is stored on a server in a secret location outside Slovakia, accessible to only a select group of reporters.
Drawing on the files, the OCCRP and Holcova's Czech Center for Investigative Journalism have published reports about how Kocner secured influence with threats, bribery and blackmail of public officials, including judges. One way he did this was by recording audio and video of meetings with them.
One of the biggest impacts happened in March: the arrest of 13 judges accused of corruption and obstruction of justice; all are alleged to be part of Kocner's network.
"The police already investigated the judges because they found a lot of conversations on Kocner's phone," Holcova said. "But we've been also publishing what created the public interest and public pressure, so the police and the prosecutors needed to take an action."
Shapiro, of the Dart Center, said the reporting showcased the important role media play.
While it is "outrageous" that journalists had to investigate the murder of a colleague, "It also does show that the impunity of oligarchs and corrupt actors is not total," Shapiro said. "It shows that these abusers of power are easier to take down than they think."
One of the media organizations involved in the ongoing Kocner Library reporting is the Slovakian Investigative Center of Jan Kuciak.
Soltesz helped found the center after seeing the results of the All for Jan collective. "I realized this potential in collaboration," Soltesz said, noting that Kuciak was one of the first journalists he knew who collaborated with colleagues abroad.
The group is small and doesn't publish regularly, but it is focused on international collaborations on organized crime and money laundering.
Before Kuciak's murder, the environment in Slovakia for journalists was hostile, both from politicians and the public, who had lost trust in the media, Soltesz said.
"One of us was murdered, and we got back some part of the lost trust," he said. "So our journalists become again the watchdogs of democracy."