October 18, 2018
DHS Issues Rules Agenda
The Department of Homeland Security issues at midnight its fall list of regulations that are in the process of being enacted. Among these are some 10 immigration related rules including ones that will revise the E5 immigrant investor program (coming in November), govern agricultural and seasonal guestworkers, withdraw work permits from spouses of people with high tech visas and change asylum rules by toughening requirements for credible fear claims. The list can be viewed here.
October 1, 2018
New Quotas for Immigration Judges
Beginning today, immigration judges must complete 700 cases a year and close cases within a certain time period. If they don't, they do not get a satisfactory job review and could lose their jobs or be relocated. According to a Department of Justice memo, dated April, judges currently complete about 678 cases a year. Immigration advocates fear that justice for immigrants will suffer.
September 22, 2018
Proposed New Curb on Immigrants
The U.S. Department of Homeland Security announces a proposal that would seek to ensure that those looking to enter and remain in the United States "will not be reliant on public benefits," such as aid programs for nutrition, prescription drugs or housing. "This proposed rule will implement a law passed by Congress intended to promote immigrant self-sufficiency and protect finite resources by ensuring that they are not likely to become burdens on American taxpayers," DHS secretary Kirstjen Nielsen said in a statement. The proposal will undergo a 60-day comment period.
September 17, 2018
Lowest Ever Refugee Cap Proposed
Secretary of State Mike Pompeo announces a proposed ceiling of "up to 30,000 refugees" in fiscal year 2019. The ceiling, if approved by Congress would be the lowest since the start of the program in the early 1980s.
July 10, 2018
Visa Restrictions on Myanmar, Laos
The U.S. places non immigrant visa restrictions on Myanmar (also known as Burma) and Laos for failing to accept their nationals when the U.S. seeks to deport them. "Burma and Laos have denied or unreasonably delayed accepting their nationals ordered removed from the United States," the Department of Homeland Security said in a news release. The restrictions affect senior officials and family members in Myanmar's Ministry of Labor, Immigration and Population and Ministry of Home Affairs. In Laos, high officials and their families at the Lao Ministry of Public Security as well as individuals employed by Lao government officials are affected. The DHS release adds that "without an appropriate response" the sanctions" may be expanded to a wider population."
May 17, 2018
Deportation Reprieves Ended
U.S. Attorney General Jeff Sessions ends a practice that lets immigration judges shelve low-priority deportation cases. Using administrative closure, immigration judges have been able to clear cases off their dockets by putting them on indefinite hold. The practice has allowed immigrants to remain in the U.S. despite having no legal status. Most of them have been in country for a long time and have American citizen spouses or children. The directive could put hundreds of thousands of cases back on judges' dockets and swell a sizable backlog.
June 11, 2018
No Asylum for Rape, Gang Violence
Attorney General Jeff Sessions moves to deny asylum to victims of domestic abuse and gang violence, narrowing the definition of asylum and potentially barring tens of thousands of people from getting it. His ruling came after he intervened in the case of Salvadoran woman who was granted asylum by the Board of Immigration Appeals after being raped and beaten by her ex-husband over more than a decade. "The mere fact that a country may have problems effectively policing certain crimes or that certain populations are more likely to be victims of crime, cannot itself establish an asylum claim," Sessions wrote.
May 11, 2018
Tougher New Rules for Visa Overstays
New U.S. Citizenship and Immigration Services rules target foreign students and exchange visitors who overstay their visas. Published in a policy memorandum, the rules change how the length of time of an overstay is counted. Under the old rules, the government begins counting the number of days a person is in the U.S. when the violation is discovered. Under the new rules, the clock will be started on the day the visa holder falls out of compliance. The rules, which are currently in a 30-day comment period, are expected to take effect in 90 days. They apply to F (student), J (cultural exchange) and M (non-academic student) visas.
May 4, 2018
TPS Ends for Hondurans
The Trump administration continues whittling the Temporary Protected Status program, announcing that some 57,000 Hondurans living legally in the United States under TPS will lose their residency in 2020. The Department of Homeland Security initially deferred the decision until July 2018, but on May 4 announced it would cancel TPS for the country. "Since 1999, conditions in Honduras that resulted from the hurricane have notably improved… Honduras has made substantial progress in post-hurricane recovery and reconstruction from the 1998 Hurricane Mitch." Honduras remains one of the most violent countries in the world with one of the highest homocide rates.
April 27, 2018
TPS ended for Nepal
The Trump administration has decided to end special protections for an estimated 9,000 Nepalese immigrants in the United States.
Immigrants will have until June 24, 2019, to leave or find another way to stay in the country. They were granted temporary protected status (TPS) after an April 2015 earthquake in Nepal killed more than 8,000 people. The Department of Homeland Security says Secretary Kirstjen Nielsen has concluded the disruptions from the earthquake "have decreased to a degree that they should no longer be regarded as substantial."
April 23, 2018
Family Separation Goes into Effect
Department of Homeland Security Secretary Kirstjen Nielsen signs a memo authorizing the separation of parents and children at the U.S./Mexican border. The family separation policy is an offshoot of the Trump administration's zero tolerance policy that mandated that people who crossed the border illegally to be criminally charged. Authorities could not hold adults indefinitely along with their children, hence the separation policy. Both policies were seen as deterrents to illegal border crossers. Family separation continues until President Trump rescinds it June 20 after a public outcry.
March 27, 2018
Special legal status for certain Liberians ends
Trump issues a memo ending Deferred Enforced Departure for Liberian nationals. According to the U.S. Citizenship and Immigration Services website, President George W. Bush in 2007 directed that DED be provided for 18 months to certain Liberians whose Temporary Protected Status was set to expire. Succeeding presidents extended DED, most recently President Barack Obama. With that extension ending at the end of March, Trump ended DED for Liberians and established "a 12‑month wind‑down period" so that the Liberian government could "reintegrate its returning citizens." The president said he was ending DED because conditions in LIberia have improved and the country is no longer at war.
March 23, 2018
Family Immigration Slowed
A report from the Migration Policy Institute says the Trump administration is achieving its goal of restricting family based immigration by slowing down the processing of green card applications. The report says adjudications of family immigration petitions has fallen sharply: "U.S. Citizenship and Immigration Services (USCIS) processed 54 percent of immediate relative petitions in FY 2017, compared to about 67 percent in FY 2016 (see Table 1). Nonimmediate relative immigration processing was already low in FY 2016, with roughly 22 percent of applications adjudicated, but fell even further to 9 percent in FY 2017. At the end of FY 2017, the backlog of pending petitions in capped family categories (which span adult children and siblings of U.S. citizens, and spouses and children of green-card holders) increased by more than 35 percent, to 827,744 cases."
March 18, 20018
USCIS Toughens Immigration Process
U.S. Citizenship and Immigration Services is no longer accepting power of attorney signatures on forms submitted to the agency "in an effort to protect and safeguard the nation's immigration system." Valid signatures are required. Also, USCIS will no longer give applicants a chance to re-do their submitted forms and fix any deficiencies.
January 31, 2017
Syrians with TPS get 18 more months but...
The Department of Homeland Security is extending Temporary Protected Status for almost 7,000 Syrians until September 30, 2019 as civil war continues to ravage Syria. However, DHS stopped short of redesignating TPS for Syria which would have extended the benefit to Syrians who arrived in the U.S. after 2016.
January 18, 2018
Haitians barred from temporary work visas
The Department of Homeland Security bars Haitians from applying for agricultural and non-agricultural temporary work visas. Haiti was omitted from the annual list of countries eligible for H-2A and H-2B visas. The DHS announcement cited Haiti for "high levels of fraud and abuse." Belize and Samoa were also removed from the list.
January 8, 2018
TPS ended for almost 200,000 Salvadorans
The Department of Homeland Security announces it is ending a 7-year "temporary" residency status for 200,000 Salvadorans, leaving them vulnerable to deportation in 18 months if they cannot secure legal residency in the U.S. The Salvadorans have lived in the U.S. since 2001, when two devastating earthquakes disrupted life in El Salvador and they were granted Temporary Protected Status (TPS) to live and work in the U.S., a provision that until now had been routinely renewed with little debate in Washington. The New York-based Center for Migration Studies said the Salvadorans represent more than 135,000 households, with 88 percent of them in the U.S. workforce.
December 14, 2017
Spousal work visas to end
The Department of Homeland Security announces it will end work permits (H-4 visas) for spouses of H-1B visa holders, who are seeking employment-based permanent resident status. About 41,000 H4 visas were issued in fiscal year 2016; 36,000 until the end of June in 2017. They are held mostly by women from India and China whose spouses come to the U.S. to work high-skilled – primarily high tech – jobs.
December 8, 2017
The travel ban is implemented
Four days after the Supreme Court gives the go-ahead to President Trump's order restricting travel, the State Department announces it has been implemented. This version bars entry into the U.S. of immigrants and non-immigrants from Chad, Libya and Yemen, on business, tourist or business-tourist visas; blocks entry of Iranian citizens, as immigrants or non-immigrants, but provides an exception for Iranian students with additional screening; bars all immigrants and non-immigrants from North Korea and Syria; prevents immigration by citizens of Somalia; and bars visitors from Venezuela with government ties.
November 20, 2017
Almost 60,000 Haitians Lose TPS Status
The U.S. government announces that Haiti will lose temporary protected status, granted after the country was devastated by the 2010 earthquake. In an after hours phone call, government officials said that Haitians will be given 18 months – until July 22, 2019 – to wrap up their lives in the U.S. and return to Haiti. The officials said that Haiti has recovered sufficiently to accept its nationals back. But advocates argue the country is not ready and was further damaged by hurricanes this year. According to a recent study by the Center for Migration Studies, most Haitians on TPS have been living in the United States for 13 years and have 27,000 U.S.-citizen children among them.
November 6, 2017
TPS ended for Nicaragua; 6-month delay for Honduras
The Department of Homeland Security ends Temporary Protected Status for several thousand Nicaraguans. DHS gives them a year to wrap up their American lives until January 5, 2019. Because of a lack of information, DHS delays a decision on Hondurans with TPS, extending their status for six months until next July. "However, given the information currently available to the Acting Secretary (Elaine Duke), it is possible that the TPS designation for Honduras will be terminated at the end of the six-month automatic extension with an appropriate delay," the announcement reads. 2016 figures show some 57,000 Hondurans with TPS.
October 23, 2017
US to revisit prior visa decisions
U.S. Citizenship and Immigration Services (USCIS) reverses its policy of respecting previous non-immigrant visa decisions as long as key elements were unchanged and there was no evidence of error or fraud. "This updated guidance provides clear direction to help advance policies that protect the interests of U.S. workers," said USCIS Director L. Francis Cissna about his first major policy decision. "There are a few reasons to be very concerned," tweeted immigration lawyer Greg Siskind. "First, workers in green card backlog categories face a serious threat,"
October 8, 2017
Non-immigrant visas suspended in Turkey
The U.S. suspends all non-immigrant visas at its diplomatic facilities in Turkey after the arrest of a U.S. consulate employee in Istanbul for alleged links to Fethullah Gulen, a U.S.-based Muslim leader blamed by Ankara for a failed coup attempt last year. Non-immigrant visas include those related to tourism, medical treatment, business, temporary work and study. Update: In late December,the U.S. embassy in Ankara announced it would begin taking applications again – in January, 2019.
September 29, 2017
Visa processing ended in Havana
The U.S. State Department halts visa processing at its embassy in Havana, Cuba indefinitely after 21 people associated with the embassy are afflicted with a variety of mysterious ailments. More than 100,000 Cubans had been in line for visas, mostly to reunite with relatives in U.S. The decision calls into question whether the U.S. will admit at least 20,000 Cuban immigrants this year, required under a 1994 migration agreement.
September 27, 2017
Refugee Admissions Cut to Historic Low
The Trump administration plans to cap refugee arrivals at 45,000 for fiscal year 2018, senior government officials say. The ceiling is the lowest since the U.S. refugee program in its current form began in 1980. The average annual ceiling has been about 96,000 since the program began in 1980, with an average of 81,000 spots filled every year. Already in FY 2017, the number of refugees admitted has been cut. U.S. officials estimate the country will welcome in only 54,000 refugees by the end of this fiscal year October 1.
White House issues new, tougher travel restrictions
As part of the previous travel ban expires, the Trump administration issues new rules affecting travel from 8 countries. They bar entry into the U.S. of immigrants and non-immigrants from Chad, Libya and Yemen, on business, tourist or business-tourist visas; block entry of Iranian citizens, as immigrants or non-immigrants, but provide an exception for Iranian students with additional screening; bar immigrants and non-immigrants from North Korea and Syria; and prevent immigration by citizens of Somalia. Sudan is removed from the list. The new rules go into effect October 18 except for those included in the current travel ban, which remain in effect. Subject to periodic reviews, the new restrictions continue indefinitely.
September 18, 2017
TPS ended for Sudan
The Trump administration says it will end Temporary Protected Status for nationals of Sudan in 2018. The Department of Homeland Security says that conditions in the country have improved and TPS is no longer warranted for Sudanese citizens. TPS for Sudan was set to expire November 2, but DHS is extending the program for a year to allow Sudanese nationals currently benefiting from TPS to wrap up their affairs in the U.S. Meanwhile, DHS is extending TPS for South Sudan until May 2019. At the end of 2016, some 1039 Sudanese and 49 South Sudanese held TPS status.
September 13, 2017
No new visitor visas for Eritreans; officials banned from Cambodia, Guinea and Sierra Leone
The U.S. Embassy in Asmara, Eritrea ceases issuing B1, B2 and B1/B2 visitor visas to "citizens, subjects, nationals, and residents of Eritrea" with limited exceptions. The step is taken under Section 243(d) of the Immigration and Nationality Act because Eritrea does not have a repatriation agreement with the U.S. to take back deported citizens. Foreign ministry officials and their families from three other countries – Cambodia, Guinea, and Sierra Leone – are also denied visas for the same reason. Only twice before have visas been denied to so called "recalcitrant" countries. Other countries listed as being recalcitrant in accepting deportees from the U.S. include China, Cuba, Vietnam, Laos, Iran, Burma, Morocco and South Sudan.
September 5, 2017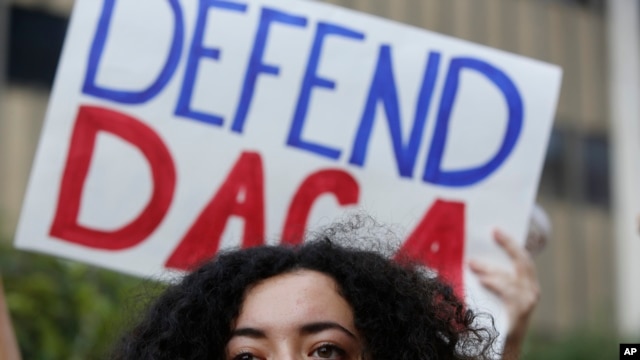 Trump ends DACA
"DACA is being rescinded," Attorney General Jeff Sessions announces, ending President Barack Obama's five-year-old Deferred Action for Childhood Arrivals program. There are currently about 800,000 DACA recipients in the U.S. No DACA authorizations will be revoked before March 5, 2018 if those whose permits expire during that time apply for renewals in early October. But all DACA authorizations will have expired by March 2020. The six month delay is intended to give Congress a chance to act on the program.
August 16
CAM Parole Program Ends
The Department of Homeland Security ends the Central American Minors (CAM) parole program, which granted Central American minors temporary legal residence in the United States. President Barack Obama established the CAM parole program in 2014 in response to an illegal influx of unaccompanied minors from El Salvador, Guatemala and Honduras. The program allowed young people under 21 to enter the U.S. on a two-year, renewable parole if they had a parent already legally present in the country. The Washington Post reports that termination of CAM parole excludes 2,714 minors who had conditional approval to enter the country.
August 2
Trump backs Senate immigration bill
The bill, written by Senators Tom Cotton and David Perdue, would cut legal immigration by 50%. It establishes a points system to reward would-be immigrants with points for speaking English and having marketable skills. Casting the measure as putting American families first, Trump's senior advisor for policy Stephen Miller called it a "permanent change to immigration that will endure through time." The bill faces a rocky road in the Senate.
July 17
15,000 temporary worker visas are added.
15,000 temporary worker visas are added, a one-time increase. Trump's resort in Florida, Mar-a-Lago seeks to obtain 70 of them.
July 14
Trump considers speeding up deportations
A leaked memo shows the Trump administration is considering expanding DHS's powers to speed up deportations.
July 12
Kelly: DACA won't stand up to challenge
DHS' Kelly tells lawmakers that the DACA (Deferred Action for Childhood Arrivals) program will probably not stand up to a legal challenge, threatened by 10 Republican state officials who gave the administration a 9/5 deadline before filing suit. Almost 800,000 young people who were brought to the US as children would be affected.
He also warns that Temporary Protected Status (TPS) is likely to be eliminated. Currently offered to people from ten countries that are considered unsafe, TPS allows them to live and work temporarily in the US.
July 11
DHS halts International Entrepreneurship Rule
DHS issues a notice delaying implementation of the International Entrepreneurship Rule until March, 2018. In the meantime, DHS plans to solicit comments on why the program should be scrapped. Earlier, DHS had estimated the program would result in 3,000 new startups every year and many more jobs.
June 29
Travel ban takes effect
The travel ban takes effect, using Supreme Court mandated rules that only people with "bona fide" family, business or educational ties be allowed in from six mostly Muslim countries or as refugees.
June 21
Trump slows down visa processing
In an executive order, Trump rescinds an Obama-era rule to speed up visa processing.
June 15
DHS ends protections for undocumented parents with US children
DHS formally ends the DAPA program (Deferred Action for Parents of Americans). DAPA had been in litigation since 2015 and never took effect. It would have protected parents with U.S. children from deportation.
May 22
Sessions seeks to withhold funding from sanctuary cities
Attorney General Jeff Sessions issues a memo defining sanctuary jurisdictions as those that "willfully refuse" to comply with a federal law that bars local governments from prohibiting their law enforcement officers to share information about the immigration status of people in their custody.
Sessions says the executive order "will be applied solely to federal grants administered by the Department of Justice or the DHS and not to other sources of federal funding." A federal court had blocked (4/25) the federal government from penalizing sanctuary jurisdictions.
March 17
DHS Calls for Wall Designs
DHS issues two requests for proposals from companies interested in building a wall on the U.S./Mexican border. The bids for both concrete and non-concrete barriers will be winnowed down to 8 -10 winners who will build prototypes on the border near San Diego, CA. While no wall is to be built soon, the talk has a chilling effect and illegal border crossings start to fall off.
February 21
DHS implements Trump's order
Department of Homeland Security Secretary John Kelly implements Trump's January executive orders with 2 memos. They do away with prioritizing for deportation those who have committed crimes. "Unless otherwise directed, Department personnel may initiate enforcement actions against removable aliens encountered during the performance of their official duties," Kelly wrote.
The memos also expand the definition of a "criminal alien." Anyone who has been convicted of a crime, been charged with a crime, or even committed anything that might be a "chargeable criminal offense" can be deported.
Thirdly, the memos call for an increase in the 287(g) program which allows local law enforcement agencies to participate as an active partner in identifying criminal aliens in their custody, and placing ICE detainers on these individuals.
January 25, 2017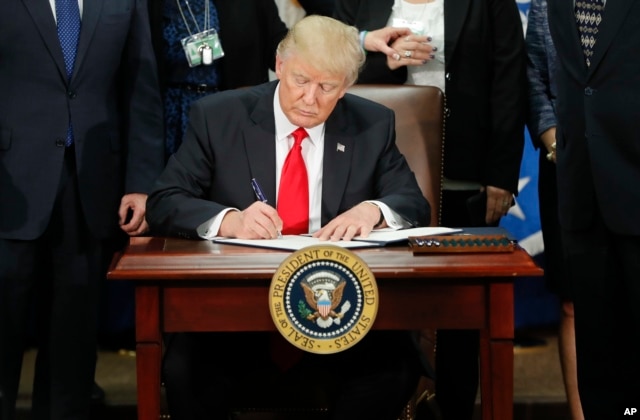 Trump wastes no time addressing immigration
Five days into his presidency, President Trump issues two executive orders on improving immigration enforcement and enhancing public safety in the interior of the U.S.